England and Pakistan play out a highly entertaining 2-2 draw, a cricketing feast that left us longing for more
Whatever the rankings say, Pakistan probably have a better claim than most to being the number one side in the world at the moment, showing an ability to win games away that most other nations seem unable to regularly reproduce.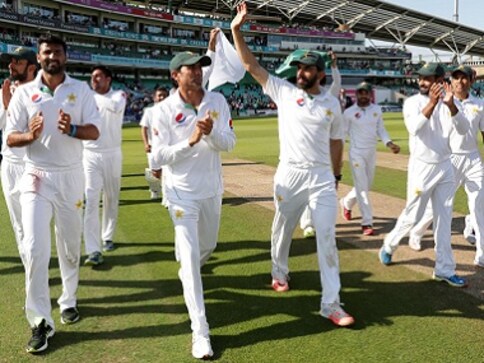 On a day when Pakistan commemorated its Independence Day, Misbah ul-Haq and his merry men ensured the celebrations carried all the way across to south London, routing England by 10 wickets at The Oval and squaring the four-match Investec Test series at 2-2.
After a frenetic month of cricket, stuffed to the gills with four contrasting Tests, the drawn series was ultimately a fair reflection of things, both sides deserving to take something from this fascinating and well-matched contest.
After the high of their against the odds victory in Birmingham last week, this was a jolt back to reality for England, whose quest to be the side holding all eight bilateral Test trophies – something of a made-up achievement it has to be said – fell at the final hurdle.
Ultimately there were just too many holes in Alastair Cook's creaking ship, too many weaknesses for Pakistan to prey upon and in the end it was no surprise that they did. England's primary concern has to be the state of their top-order batting, which time and time again left them in perilous positions.
After showing signs of adapting to the intricacies of being a Test match opener earlier in the summer against Sri Lanka, Alex Hales had a nightmare series, averaging just 18.12 and even managing to embroil himself in a controversy by showing dissent to the third umpire – however while he could not complain if he was dropped from the side, he has perhaps just shown enough glimpses over the course of England's summer that he might have what it takes to adapt and succeed in Test match cricket.
However, one player who has definitely not shown those qualities has been James Vince. Vince was fortunate just to retain his place in the side for as long as he has done; picked despite a modest record in Division One first-class cricket, the Hampshire captain has looked totally out of his depth at Test level, failing to learn from his mistakes and not once reaching 50 in 11 innings against Pakistan and Sri Lanka. His time may yet come again, but for now he must be dropped.
Unfortunately for the selectors, England's middle-order woes do not end with Vince; Gary Ballance also found it tough upon his return to the side, averaging below 30, but he did show enough to suggest that he is a man to be persisted with, at least for the time being.
With tours to Bangladesh and India coming up, another major concern for England will be their spin bowling; Moeen Ali is unable to give his captain enough of either a wicket taking threat or adequate control with the ball to keep pressure on sides.
With a lack of real alternatives in county cricket, this does not look like being a quick fix for England, who can at least console themselves with the invaluable runs he has provided lower down the order.
However, given they did win two Tests in the series, it has not been all doom and gloom for England who have seen Cook looking back to his best at the top of the order as well as Joe Root successfully bedding in at number three in the line-up. Jonny Bairstow has also continued to excel with the bat, and as the series wore on, even showed signs that perhaps his wicket-keeping is starting to improve — yet another area that was a real concern for England.
But the standout performer for the hosts in this series was by far Chris Woakes, who continues to impress. The all-rounder finished the series with 26 wickets at an average of just 16.73, as well as a very useful batting average of over 35, ensuring the loss of Ben Stokes through injury was barely even felt and has established himself as one of cricket's rising stars.
For Pakistan, this series proved to be a case of what might have been. Whatever the rankings say, they probably have a better claim than most to being the number one side in the world at the moment, showing an ability to win games away that most other nations seem unable to regularly reproduce.
There remain questions as to how they will cope when their veteran stars Younis Khan and Misbah-ul-Haq inevitably retire, and their lack of a fifth bowler to relieve the strain on their four-man attack cost them on several occasions — with England able to punish tired bowlers in long final sessions — not to mention the poor fielding, a real concern for both sides who repeatedly let the other off the hook with dropped catches.
However, there was much to celebrate for Pakistan, who welcomed back Mohammad Amir to Test match cricket; and while it was not the explosive return to the game that many had hoped for, there were some encouraging early signs for Pakistan fans.
Yasir Shah, albeit in only two of the four Tests, showed that he has the skill and ability to thrive as a bowler outside Asian conditions, and strongly stamped his claim to being the best spin bowler currently operating in world cricket.
While with the bat, Sami Aslam made a promising start to his career and Asad Shafiq showed that his future belongs much higher up the order for Pakistan.
Given the one-sided nature of many recent Test series, it was ultimately enjoyable for fans of both sides and neutrals alike to witness such a closely-fought series, a cricketing feast in four courses that like all good things left you longing for just that little bit more.
First Cricket News
Joe Root has thus far scored 10,285 runs from 121 Tests at an average of 50.17.
First Cricket News
When CSK lifted their fourth IPL title in 2021, Moeen Ali was one of the star players responsible for the feat. The southpaw recorded 357 runs and picked up 6 wickets in 15 contests last year.
First Cricket News
With Ben Stokes leading the side, coming out as a fresh change in English cricket circles, and Bairstow ruthless form, England have a slight edge over India going into the fifth Test match.