El Clasico: Real Madrid must halt Barcelona's 41-game unbeaten run to build momentum for Champions League title clash
Real Madrid will be looking for a win at Camp Nou to end Barcelona's unbeaten streak and build momentum ahead of the Champions League final against Liverpool
The second El Clasico of the season comes at a time when there is nothing left to pay for in the league. Barcelona sealed the title last week and will retain a two-point lead at the top of the table even if they lose all their remaining matches. Special emphasis on the term lose here, as that is what the Catalan side are fighting to preserve – they have not lost a game in the league this season and are on a 41-match unbeaten run going back to last season.
On Sunday, both teams would be going at each other's throats during those 90 minutes on the hallowed grass of Camp Nou. Real Madrid will have only one objective – revenge for their 3-0 thrashing at the Santiago Bernabeu, with the ulterior motive of halting their rival's unbeaten run. The fact that they have a big Champions League final coming up, their only chance of silverware this season, means that they would want to use this fixture to build momentum.
Despite not having anything in the league to fight for, this El Clasico brings the age-old question back to the fore –are league and cup double better than winning the Champions League? And not just any double, an unbeaten double, pitted against a third consecutive Champions League title. Naturally, the whole week has been full of publications favouring Barcelona claiming that a double is as good as it can get, while papers in support of Real harp on their history in the Champions League and how winning three in a row is unprecedented in the Champions League era.
There's also the question of the pasillo, or as we call it, the guard of honour. Not ready to give an inch, Madrid coach Zinedine Zidane decided that his side will not give the champions a guard of honour, primarily because they did not get one when they faced the Catalan side after winning the Club World Cup. Barcelona coach Ernesto Valverde said that the guard of honour becomes more humiliation than a tribute earlier this week, and that might be true, considering how adamant Real Madrid have been in their stance.
Apart from that, every Clasico has the all-pervasive debate – Cristiano Ronaldo or Lionel Messi, as one of the underlying themes. Both players have had very good seasons – the former particularly in Europe, where he has been head and shoulders above everyone else, while the latter has been exceptionally consistent and impressive as he has embraced a floating role, acting as the chief creator for his team.
For the season, the Portuguese forward has 39 goals while the Argentine has scored 46 goals. To aid Real's charge for their third Champions League title in a row, Ronaldo has been frequently rested by Zidane, while Messi has been so crucial to Barcelona's chances that he has had to play even when nursing a niggling hamstring injury.
Without both superstars, both teams are nowhere close to as good as they are with them, which is a testament to the durability and quality of these two. Having been outperformed by Messi in their first encounter in the league, Ronaldo would be keen to lead his team to a win tonight.
Despite the intense rivalry, relations between players at both clubs have never been better as they imbibe the personalities of their calm managers, who have both insisted this is nothing more than another match, without diminishing the history and significance of the clash.
This clash also is a challenge to both the managers to take the next step – Valverde in terms of infusing his team's style of play with more dynamism and creativity, while Zidane has to get more consistency from his team – that is the only way they would be able to pair what they have already achieved with what they could achieve in the future – creating another dynasty for the next decade or so.

An interesting tidbit about this encounter is that Barcelona have won only three out of the last 11 Clasicos at the Camp Nou. Similarly, Real Madrid have been on the winning side only twice in the last 10 Clasicos at the Santiago Bernabeu. This reflects that both teams have always been up for the moment when facing off at their opponent's home, as they look to silence the crowd and soak up the atmosphere of a famous win on enemy turf.
There have been the famous celebrations – from Ronaldo's "Calma" moment during the 2011-12 season to Messi's jersey brandishing celebration last season, the Camp Nou and the Bernabeu have been witness to some of the most iconic celebrations of their opponents.
As this season's final Clasico is almost upon us, it remains to be seen whether the Blaugrana can break Los Blancos' hold at the Camp Nou and show everyone why they have been the best team in the league. Real, on the other hand, are focused on the Champions League final against Liverpool. They will approach this match as ideal preparation for the title clash in Kiev on 26 May. A win at Camp Nou will not only help them get revenge but also end their rival's unbeaten streak.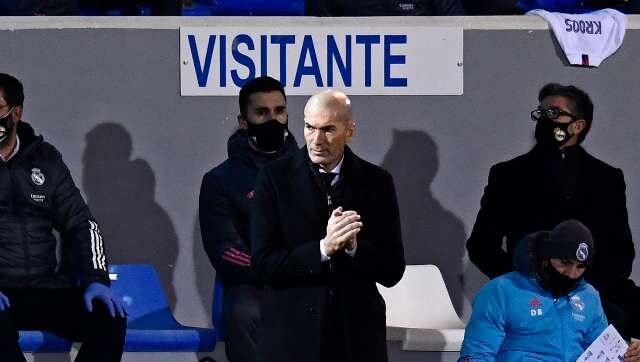 Sports
An impressive week has put Madrid in sight of winning both La Liga and the Champions League, after they beat Barcelona in the Clasico last weekend before knocking out Liverpool on Wednesday.
Sports
Here are eight records that have defined this era of the El Clasico and the classic rivalry between Real Madrid and Barcelona.
Sports
Real Madrid now own the better head-to-head against both of their rivals while Barcelona and Atletico still have to play each other at Camp Nou in the run-in.