El Clasico: Christian Karembeu on what makes Real Madrid vs Barcelona the biggest clash of all
Ahead of a hotly contested El Clasico clash between Real Madrid and Barcelona, ex-Real player Christian Karembeu talks to Firstpost about the importance of the match.
The Estadio Santiago Bernabeu will be on its feet on Sunday night as the hotly contested El Clasico clash between the two giants of the Spanish game — Real Madrid and Barcelona — will potentially decide the deserving owner of the 2016-2017 La Liga title.
Till date, all of the 233 official El Clasicos have been gruelling and enticing. But ever wondered what makes it so special?
"It's cultural, political and is a super fight. (What adds to the edge is that) Barcelona are from Catalunya and Real Madrid from Spain. The way it looks on the pitch is beautiful. A very attractive game knowing that when these two step out on the field, nobody is time wasting. One would be at the stadium or at home watching it. The streets will be empty in Spain and people from countries like Mexico and even India would be watching it. So, it's a global game and that's why we see millions of fans viewing," says Christian Karembeu, who is in Mumbai as part of the Sony Six's expert panel for the El Clasico.
Interestingly, the Los Blancos have registered 93 wins while the Los Cules have emerged victorious on 91 occasions. Even though Madrid and Barca have shared the spoils 49 times, the matches did not disappoint because of the fervour of the game. However, a 50th draw in Spain's city of elegant boulevards would hand a major boost to Zinedine Zidane's title hopes with a game in hand.
"(It's the) Biggest clash of all. It is true that the El Clasico is the top game in the Spanish league. We expect a successful game for both teams as I know Barcelona need to save their season with this game even though they have qualified for the Copa del Rey final but they are out of the Champions League. Contrary to that, if Madrid win, they are champions," he added.
On being asked what the game meant to him, Karembeu could only come up with: "Wow! How can I explain that?"
Barcelona boss Luis Enrique has experienced some tough times ahead of the clash after the disappointing loss against Juventus in the UEFA Champions League. However, a loss against arch-rivals would be equally disastrous thinking from a psychological point of view and with Luis Enrique's exit already confirmed, the Blaugrana have a mountain to climb to avoid such a result before signing off.
"I think it is never easy when you announce that you are going out as you lose a bit of control over the dressing room, the announcement is a bit confusing, knowing that Luis Enrique is going out and the players lose the concentration. This becomes difficult to handle and console the players because the new manager, maybe they also know who is going to be the new one. But again, Enrique has a great CV. He was one of the best players in Spain and now with Barcelona he showed that he is a great manager. So, he deserves respect too. I know he knows Madrid very well having played (against) them. He obviously knows Barcelona as he is managing them so he will try his best to win at Bernabeu because they used to win there. I hope my side, Real Madrid, will control that and try to win that game at home. After that it will be easy for them to focus and prepare for the Champions League game," added Karembeu, who has played for three seasons at the Madrid club.
The visiting side enters its title defence with the absence of Neymar which will allow Madrid to compound their biggest rival's misery and seal the deal. However, his absence can prove to be a blessing as he hasn't scored against Real in five games. Madrid, on the other hand, will be hungry to shrug off their poor show at home as Los Blancos have only won three El Clasicos since the last seven seasons. Of the 13 matches played at the Bernabeu in that time, the Catalan side has actually recorded seven victories. Given that Cristiano Ronaldo is in such phenomenal form heading into the fixture, with the Portuguese forward scoring five goals over the two matches against Bayern Munich, it would be worthwhile for the Blaugrana to work diligently at stopping crosses being sent into their penalty area.
For Madrid, Zidane's 'firepower' Ronaldo has been in an extra-ordinary form as the Portuguese forward's exploits against Bayern Munich was enough to see them through to the semi-final of the Champions League. It would be interesting to see how Barcelona responds to this and stay on course of winning yet another title.
Football
Messi scored in each half in the meeting at Miami's Hard Rock Stadium as Lionel Scaloni's men extended their unbeaten run to 34 games ahead of the FIFA World Cup in Qatar later this year.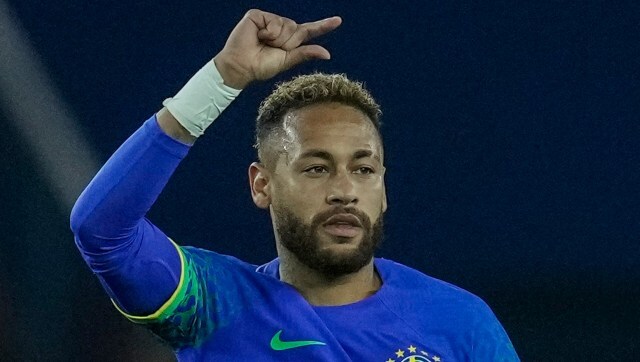 Football
Neymar did not get into politics in the brief message to Bolsonaro thanking him for visiting the player's charitable children's foundation.
Football
Messi's goals capped an emphatic win for Argentina, who have now gone 35 games unbeaten in a streak stretching back to 2019