Easy isn't Andy Murray's style, but this might be his best shot at French Open
The last British player to win the French Open was Fred Perry in 1935. If Andy Murray can emulate him as he did at Wimbledon in 2013, he would make some history of his own.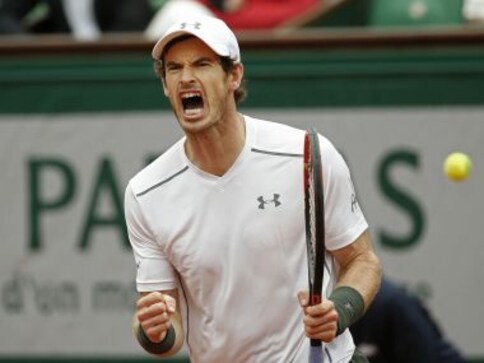 Of all the top players in the world, Murray makes tennis look the hardest. He isn't pretty to watch, like Roger Federer. He doesn't stalk the court like Rafael Nadal. He doesn't possess the all-around brilliance of Novak Djokovic. He toils on the court, often seeming to battle himself more than his opponent. He can produce some scintillating tennis one moment, then proceed to fall apart the next.
Watching Murray rarely gives you the impression that he is in control of a match. Even when he is playing his best tennis, he seems a mere handful of points away from an implosion.
He took the hard road to the 2016 French Open final too. He had to fight back from two sets to love down in his opening match against Radek Stepanek, a player ranked 148th in the world. This came just days after he had beaten World No. 1 Djokovic in the final of the Rome Masters. Murray then tried to get himself knocked out of the tournament again in the second round, falling behind two sets to one against Mathias Bourgue, whose ranking is 164.
Once again he recovered just in time but you wondered if he had used up all his good juju in the tournament. If he was struggling against guys ranked in the hundreds, how would he cope with the higher ranked players he would face deeper in the tournament?
Turns out he would cope just fine. A brief blip in the third set aside, he dominated defending champion Stan Wawrinka in their semi-final, controlling the tempo of the match from the start and keeping Wawrinka from consistently unleashing his devastating backhand.
By reaching the final at Roland Garros, Murray completed a Grand Slam quartet of his own. He has now reached the championship match in all four major tournaments, something greats such Pete Sampras, Boris Becker, Jimmy Connors and John McEnroe failed to accomplish. Bjorn Borg never made the final of the Australian Open, but he played the tournament just once, reaching the third round. The problem for Murray is that he has won just two of his nine previous Grand Slam finals, losing three to Federer and four to Djokovic (Murray and Wawrinka, his vanquished semi-final opponent, have actually won the same number of tennis majors: two).
The last British player to win the French Open was Fred Perry in 1935. If Murray can emulate him as he did at Wimbledon in 2013, he would make some history of his own. Victory would leave him three quarters of the way to the career Grand Slam as well, with only the Australian Open remaining, where Murray has made the finals five times but lost each time (once to Federer and four times to Djokovic).
Prior to the semi-finals, John McEnroe said he thought this was Murray's best chance to win the French Open. ""I don't know if he's going to be able to keep this up, so to me he has got his best shot ever.
Of course, to do all that, Murray only has to beat Djokovic, the best player in the world and possibly ever. Djokovic, of course, is looking to complete the career Grand Slam and keep alive his chances of pulling off the calendar Grand Slam and getting close to Roger Federer's record of 17 Grand Slam titles too. Those are big stakes. The biggest really, so perhaps Djokovic might show a few nerves come Sunday. Murray might need him to if he is to win.
Djokovic dominates their head-to-heard record 23-11. He holds a 4-1 edge on clay too, having beaten Murray in the 2014 and 2015 semi-finals in Paris. But Murray has been in the form of his life on the red stuff this season, winning 18 of 20 matches and beating Djokovic for the first time on clay in Rome.
Again, easy isn't the Murray way. There is one similarity between the two men's finalists though. Whoever wins will set a new record for the most number of French Opens played before winning the tournament. The loser will be left hoping he can break that record again in the future.
also read
Tennis
Novak Djokovic, 35, accused Cameron Norrie of using tactics that he were legal but not "fair play."
Tennis
Back in 2005, when Nadal's remarkable 14 titles on the Parisian clay were still in the future, Lars Burgsmuller faced the Mallorca native in the first round.
Tennis
The 22-time Grand Slam winner Nadal has called for a press conference on Thursday to reveal his French Open decision.