Dubai World Superseries Finals, Highlights: PV Sindhu suffers defeat in semi-final
LIVE NEWS and UPDATES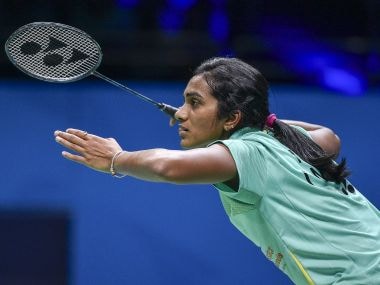 21:17 (IST)

PV Sindhu goes down fighting. She loses 15-21, 21-18, 15-21 to South Korea's Sung Ji Hyun!

21:04 (IST)

Five match points for Sung Ji Hyun!

20:59 (IST)

It's all Sung at the moment. Sindhu making way too many errors under pressure. The South Korean leads 18-12.

20:56 (IST)

A six-point gap and PV Sindhu falls further behind the South Korean. 9-15.

20:54 (IST)

PV Sindhu looks rattled. Sung has shifted gears and Sindhu is feeling the pressure at the moment. 13-9 to Sung.

20:53 (IST)

PV Sindhu is being pushed further and further behind by her Korean opponent. The Indian is struggling to defend from that far back on the court. Sindhu trails 8-12.

20:52 (IST)

Sung Ji Hyun with a five-point advantage at the break in the final game. She leads 11-6 over PV Sindhu.

20:48 (IST)

Very impressive point from Sung Ji Hyun! She is returning everything that PV Sindhu throws at her. The Korean's defence has been impeccable and she leads 8-5.

20:46 (IST)

PV Sindhu doing her best to fight back but the Korean has stepped up her game. Sindhu trails 5-8.

20:45 (IST)

Sung Ji-hyun races away to a 3-0 lead in the final game. PV Sindhu needs to win back her momentum.

20:40 (IST)

It's one-game all! PV Sindhu wins the second game 21-18 vs Sung Ji-hyun. What a stunning finish by the Indian.

20:39 (IST)

TWO GAME POINTS FOR PV SINDHU!

With the longest rally of the match, the Indian brings up an opportunity to level the match.

20:35 (IST)

Tanatalising end approaching. It's 18-18 with Sung Ji Hyun to serve.

20:30 (IST)

The South Korean doing a great job of staying on Sindhu's heels. Every time the Indian tried to surge ahead, she pulls a point back. 15-15.

20:29 (IST)

PV Sindhu and Sung Ji Hyun exchange some magnificent shots in the second game. It's turning out to quite the tense battle. 13-13.

20:26 (IST)

At the break in the second game, PV Sindhu leads by a narrow margin. 11-10.

20:23 (IST)

PV Sindhu just has one challenge remaining as she has made three incorrect ones. Her lead has suddenly disappeared as Sung Ji Hyun has fought back. 9-9.

20:18 (IST)

PV Sindhu has hit 6 rear court winners as compared to Sung Ji Hyun's 5.

And those are the ones helping the Indian. She leads 8-6.

20:17 (IST)

PV Sindhu putting up a much better show in the second game. She makes it 4-4 with a powerful smash.

20:14 (IST)

Excellent rally to start the second game! But PV Sindhu ends up on the losing end of it. 0-1.

20:10 (IST)

Sung Ji Hyun takes the opening game over PV Sindhu 21-15 in just 22 minutes.

20:10 (IST)

Game point for Sung Ji Hyun!

20:08 (IST)

Excellent cross court smash by PV Sindhu and the gap is reduced to 15-19. Sindhu really needs to move her opponent around the court more.

20:06 (IST)

PV Sindhu in danger of losing the first game as she trails 14-18. Her movement and reaction have been sluggish today.

20:03 (IST)

The Indian has been quite passive so far but is staying in touch with her Korean opponent.

A stunning winner from the rear court and it's 14-15 to PV Sindhu.

20:01 (IST)

Sung Ji Hyun forces PV Sindhu to go on full stretch and her return clips the net to fall back on the same side. The Indian now trails 11-14. She needs to keep the gap to a minimum to stay alive in this game.

19:56 (IST)

PV Sindhu wins two consecutive points to make it 9-10 in the opening game.

But her shot sails long on the next point and she trails 9-11 at the break.

19:54 (IST)

PV Sindhu makes it 6-8 with an excellent smash.

19:52 (IST)

It's been neck and neck so far but the South Korean has made fewer errors and leads 8-5.

19:50 (IST)

Brilliant cross-court forehand from Sindhu to make it 4-4.

19:49 (IST)

Amazing crowd support for the India who are cheering the Olympic silver medallist from the word go. PV Sindhu currently trails 3-4.

19:47 (IST)

Sung starts the match by serving first. And she takes the first point as well with a deft touch.

19:41 (IST)

We are just moments away from the start of PV Sindhu's match! On her debut in the Dubai World Superseries Finals, she has made it to the last four!

She will be aiming to make the final tomorrow by defeating Sung Ji Hyun.

19:09 (IST)

In their career head-to-head, PV Sindhu has an impressive 6-3 advantage over Sung Ji Hyun, including victories in three of their last four meetings, all in the course of 2016.

18:07 (IST)

Dubai Superseries Finals: PV Sindhu enjoys psychological advantage in semis - Firstpost}

For a player who barely managed to squeeze into the top eight, Sindhu has performed far better than her world ranking of 10 would suggest.

https://www.firstpost.com

18:07 (IST)

Hello and welcome to our live coverage of the Dubai World Superseries Finals! India's PV Sindhu will shortly be in action in her semi-final clash against Ji Hyun Sung.
Preview: Olympic 2016 silver medallist shuttler P.V. Sindhu vanquished her Rio tormentor Carolina Marin of Spain in Group B to sail into the semi-finals of the BWF Superseries Finals here on Friday.
World No.10 Sindhu moved past World No.2 and reigning world champion Carolina 21-17, 21-13 in 46 minutes to enter the last four stage of the season-ending tournament.
The 22-year-old Indian, who had beaten Akane Yamaguchi of Japan in the opener before losing to Sun Yu of China, needed the win over Carolina to progress to the semi-finals.
The 23-year-old Spanish ferocious talent had already lost two consecutive matches and was already ruled out from the race to the semi-finals.
For her it was a matter of playing for her pride and for Sindhu, it was more than a matter of moving past an opponent who had a 5-3 head-to-head advantage coming into the contest.
And she looked determined to avenge her losses right from the start. Even though the Spaniard took a 7-3 lead, the Indian fought back, not only equalising but also taking an 8-7 lead with the help of five consecutive points.
Carolina again stood at a two-point lead at 10-8 but soon Sindhu equalised at 11-point mark. After the mid-game break, Sindhu looked much better playing an attacking game and not allowing space to Carolina.
Riding on a five-point stretch which helped her going to 16-11, Sindhu never allowed Carolina to catch up with her. And three points on the trot helped her gain a six-point advantage at 19-13 and afterwards it was a formality.
In the second game, Sindhu started off strongly and raced away to a 9-5 lead which soon became 13-6. The huge lead allowed her to control the game and thereon, she kept on rattling points.
Carolina ended up earning only 13 points till the end, as the Indian, with her childhood and national head coach Pullela Gopichand urging her on, overcame a big barrier.
In the Group A, Tai Tzu Ying of Chinese Taipei and Sung ji-Hyun of South Korea advanced to the knock-outs.
In the men's singles category, Chinese Tian Houwei and Denmark's Jan 'O' Jorgensen advanced from Group A, while Wan Ho Son of South Korea and Viktor Axelsen of Denmark qualified from Group B. Malaysian icon Lee Chong Wei was eliminated after winning only one match.
Updated Date: Dec 17, 2016 21:54:59 IST