Dubai World Superseries Finals 2017: PV Sindhu holds off He Bingjiao; reality check for Kidambi Srikanth
Going by the storming start Sindhu made on Wednesday, it appeared as if she was keen to get the match over with in under the half-hour mark.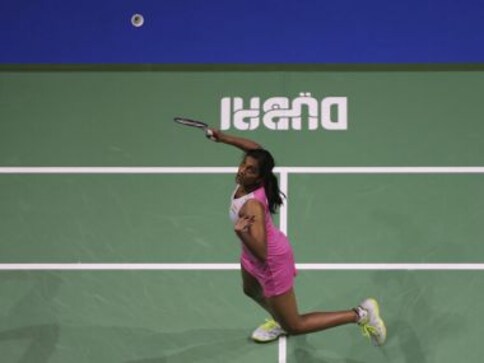 On a day of mixed fortunes for Indian contenders for the singles titles at the year-ending Dubai World Superseries Finals, PV Sindhu just about managed to hold off a strong challenge from Chinese left-hander He Bingjiao, while compatriot Kidambi Srikanth was mercilessly cut down to size by the reigning world champion from Denmark, Viktor Axelsen.
After an outstanding start to the opening game of her campaign in the $1 million prize money tournament, Sindhu struggled to read the bewildering mix of slices, half-smashes and full-blooded smashes doled out by her rival. But she managed to withstand the barrage and run out a 21-11, 16-21, 21-18 winner in an absorbing Group 'A' contest that lasted four minutes over the hour mark.
Srikanth made an equally bright start to his opening Group 'B' joust against the towering 6' 4" Axelsen, but faded away in the face of a sustained counter-attack by the 23-year-old defending champion, and caved in by a 13-21, 17-21 scoreline in just 37 minutes, much to the disappointment of a sizeable Indian contingent in the stands of the Sheikh Hamdan Indoor Stadium.
Sindhu heaved a huge sigh of relief after closing out her nervy duel against He (pronounced 'Huh'), posting her second successive triumph against the Chinese southpaw, and locking their head-to-head series at 5-5. The Indian's victory also snapped the pattern of their previous eight encounters, which had featured alternate wins by the two players.
Going by the storming start Sindhu made on Wednesday, it appeared as if she was keen to get the match over with in under the half-hour mark. Winning the toss, and choosing the side from which she was able to play against the stadium drift, the Indian exploited that advantage to the hilt, as her opponent seemed slow and subdued, and made a string of unforced errors by hitting into the sidelines. Once Sindhu went into a slim 3-2 lead, she never relinquished that advantage and powered to 19-8 with some sprightly footwork and aggressive smashing.
But the stocky Chinese left-hander shook off the blues in the second half of the second stanza, and began moving a half-step faster, to pile on the pressure on the lanky Indian. There was nothing to separate them at 12-all, but then Sindhu fell prey to nerves, and allowed her opponent to pull away, and restore parity.
She continued her rampaging form at the start of the decider, and pulled away to 5-2, before the Indian, egged on from the sidelines, by coach Pullela Gopichand, got over her initial lethargy to level at 6-all, and then grab the initiative to go up 11-6. She appeared to be in full control at 13-8, only to find her lead whittled down to a single point at 17-16.
At 20-16, she suffered from her familiar game-closing blues, and the nerveless Chinese pulled two points back with excellent overhead sideline smashes. A desperate Sindhu, it must be said, was distinctly lucky to see her return off a tight He dribble being netted by the Chinese as she was a fraction of a second slow to tap it.
"I always have trouble against Bingjiao, and I am so relieved to have got past her," a modest Sindhu said later. "After winning the first game so easily, I did not expect her to mount such a strong challenge in the second. The third game could have gone either way, but I managed to stay ahead most of the way, and was lucky she missed that last tap at the net. I need to play better against Sayaka Sato tomorrow."
Much had been expected of Srikanth's clash against Axelsen, with whom he was locked at 3-3 in career meetings, but against whom he had snapped a three-match losing streak by beating his Danish rival in three games in their most recent clash — at the Denmark Open Superseries Premier quarter-final in Axelsen's home town of Odense in late-October this year.
The 24-year-old Indian was at his best when he pocketed eight straight points, to overturn a 1-4 deficit into a 9-4 advantage. His court movements were sprightly, and he cleverly varied the pace, angle and direction of his overhead shots, to repeatedly catch Axelsen on the wrong foot.
However, as the world champion got used to the Indian's strategy, he was able to put up a resolute defence, blocking Srikanth's best smashes and using his height to launch a swift counter-attack. The Indian often failed to read the direction of Axelsen's overhead shots, and was overhauled immediately after the mid-game interval.
Once he grabbed the lead, there was no stopping Axelsen; and one could see that the momentum of the match changed when the Dane went into a 13-12 lead. A five-point burst, punctuated by a couple of unforced errors from Srikanth, took Axelsen to 18-12, and he closed out the opening game for the loss of a further point.
The second stanza saw the Dane lead from start to finish; and, though Srikanth came within striking distance several times, he simply could not wrest the lead. Coincidentally, the score was 13-12 when Axelsen stepped on the gas pedal, and took a four-point lead at 16-12, an advantage that the Indian failed to reduce.
In the aftermath of his patchy performance, a subdued Srikanth acknowledged that the six-week break he had taken after the Indian Nationals, in order to heal a strained thigh, had possibly put the brakes on his rampaging run during the 2017 international season, when he had been the most successful player, bagging four Superseries titles and finishing runner-up in a fifth championship.
"I have to improve a lot if I hope to progress in this tournament," the Andhra Pradesh native admitted. "If I continue playing like this, I don't think I can go forward. I started well but then I made simple mistakes, and I can't afford that at the highest level. Viktor played well in the crucial moments, when it mattered. He played aggressively, and his attack was bang on target for most of the match."
Axelsen agreed with the Indian that it had been his aggressive play that had allowed him to slay his redoubtable antagonist: "Today, my attack was really good. It was important that I didn't give too many chances away. I started a bit slow, but I came out on top, and that is what's important. To win in straight games was really important. There are tough matches all the way, and you have to play well every day."
The Indian next runs into Chinese Taipei's Chou Tien Chen, against whom he is deadlocked 1-1 in career head-to-heads, but whom he has not encountered on the circuit since losing to the Taiwanese in this very tournament in 2015. Having shown substantial improvement since then, Srikanth is favoured to beat Chou, who suffered a close 19-21, 17-21 reverse at the hands of China's Shi Yuqi on Wednesday.
There was some consternation in Group 'A' of the men's singles, when two-time former world champion and 2016 Olympic gold medalist Chen Long of China failed to turn up for his opening match against South Korea's Son Wan Ho, and conceded walk-overs to the other three players in his group.
Women's coach Gong Zhichao, who had bagged the gold medal at the 2000 Sydney Olympics, and is leading the Chinese delegation in Dubai, revealed that Chen had failed to recover from a long-standing wrist injury that had got aggravated during practice for this event.
Chen's absence makes the task of the other players in the group that much easier; and Korean Son Wan Ho and Malaysia's Lee Chong Wei are now heavily favoured to go through to the play-off semi-finals over the weekend. Lee claimed a facile 21-14, 21-13 victory on Wednesday over Hong Kong's Ng Ka Long Angus, who is slated to clash with Son on Thursday.
Business
According to MCX, gold futures decreased by 0.33 per cent to Rs 50,820.00 and silver futures witnessed a drop of 1.10 per cent and settled at Rs 60,849.00
Business
The updated Multi Commodity Exchange (MCX) data reveals that gold futures decreased by 0.93 percent to Rs 50,195.00. Silver futures, which are set to mature on 5 July 2022 slid 1.34 percent and settled at Rs 59,500.00.
Business
According to the MCX data, gold futures fell 0.20 percent to Rs 51,600.00 and silver futures observed a decline of 0.77 percent and settled at Rs 61,453.00