Dubai World Superseries Finals 2017: PV Sindhu goes down fighting against Akane Yamaguchi to claim silver
It was Sindhu's third loss in a major final, following her narrow defeats at the Rio Olympics and Glasgow World Championships.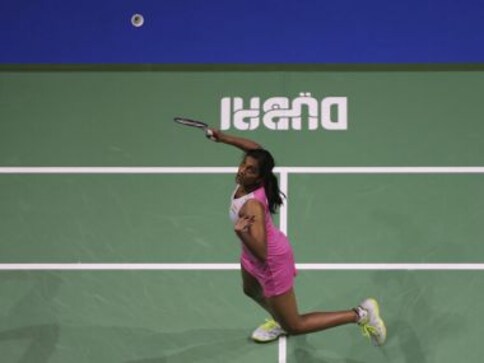 Dubai: Top Indian shuttler PV Sindhu suffered yet another final loss, going down fighting against World No 2 Akane Yamaguchi of Japan in a pulsating women's singles summit clash of the Dubai Super Series Final on Sunday.
In the prestigious season-ending tournament finale, Sindhu played her hearts out before losing 21-15, 12-21, 19-21 to Yamaguchi in an energy-sapping summit clash that lasted an hour and 31 minutes.
The 22-year-old came agonisingly close to clinching the title before finishing runner-up once again in her third major tournament, following last year's Rio Olympics and this year's Glasgow World Championships.
In scenes similar to the World Championship final in Glasgow in August, the summit clash went down to the wire as the duo engaged in a battle of attrition and nerves.
Playing her fourth final of the season, Sindhu logged the first point with a magnificent down the line smash. However, a couple of unforced errors and a wrong judgement at the baseline allowed Yamaguchi to make it 3-2.
A lucky netchord gave another point to the Japanese. However, Sindhu unleashed a superb cross court smash to draw parity at 5-5.
The Indian went wide next and another lucky net chord saw Yamaguchi open a 7-5 lead. The Japanese produced another cross court return to gain another point before Sindhu grabbed six straight points to turn the tables.
Sindhu won a couple of points before levelling 8-8 after closing out a pulsating rally, consisting of 33 shots, with a overhead return. She led 10-8 before entering the break with a three-point advantage after producing another scintillating cross court smash on her rival's backhand.
After the interval, Sindhu moved to 13-8 after grabbing two points. Yamaguchi grabbed three points, which included a successful video referral, to narrow the lead to 11-14. The racquet slipped out of Sindhu's hand and then she found the net as Yamaguchi breathed down her neck at 13-14.
The Japanese, however, could not capilatise as she hit wide and Sindhu unleashed two sensational returns, including a quick return on serve, to once again open up a five-point cushion.
The Indian finally earned seven game point opportunities with a quick smash near the court. Yamaguchi saved two game points before Sindhu's cross court smash came to her rescue as the Indian pocketed the first game in 23 minutes.
In second game, Sindhu came out all cylinders blazing as she zoomed to a 5-0 lead. However, the Indian was called for a service fault and she ended up giving another point to her rival, before a wide shot from the Japanese took her to 6-2.
A couple of unforced errors by Sindhu allowed Yamaguchi to narrow the gap to 7-8. The Japanese then set up the next point superbly, closing it with a body smash to draw parity at 8-8.
Yamaguchi then opened up a 10-8 lead after winning another exhausting rally before entering the break with a two-point advantage.
Sindhu missed the line twice to allow Yamaguchi lead 13-10. The Japanese consolidated on the lead to swell to 15-11. The Indian seemed slightly exhausted and ended up committing unforced errors. It helped Yamaguchi to grab the second game and roar back into the contest.
In the decider, Sindhu opened up a 4-0 lead early on, which included winning an engrossing rally comprising 51 shots. However, Yamaguchi once again clawed her way back to 5 -5 with a body smash and an onrushing return at the backline.
Sindhu again eked out a 8-6 lead with a return on her rival's forehand. Yamaguchi too missed the line again as the Indian led 9-7. A backhand tap near the net gave another point to Sindhu, who entered the interval with a three-point advantage after Yamaguchi sent another to the net.
After the change of ends, Yamaguchi narrowed the deficit to 10-11 before Sindhu grabbed a point after being goaded by an animated India coach Pullela Gopichand from the sidelines.
At 13-12, Sindhu missed the line again after another rally to allow Yamaguchi draw parity. What ensued next was yet another engrossing rally where the Indian returned two smashes before leaving her opponent sprawling on the court.
Yamaguchi grabbed two quick points after Sindhu hit wide twice but the Indian then unleashed a jump cross court smash to again make it 15-15.
Sindhu missed the line again and then Yamaguchi pushed the shuttle away at the back as the lead exchanged hands again.
A cross court return on the line earned Sindhu a point and she draw level when Yamaguchi's miscued drop shot went to the net. Sindhu produced a precise cross court smash but Yamaguchi unleashed a prompt return to serve to move to 19-18.
A couple of shots on her rival's backhand helped Sindhu claw back again at 19-19 but the Indian found the net next to hand over the championship point to Yamaguchi, who sealed it when the Indian's return got buried at the net.
Sports
The Indonesian doubles player had won the 2008 Olympic gold medal, 2006 World Cup and 2007 World Championships titles with Hendra Setiawan.
Sports
From Neeraj Chopra to Kevin Durant, here are some of the biggest stars to watch out for in Tokyo Olympics 2020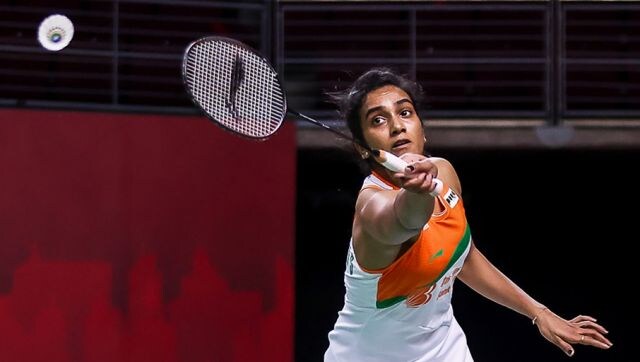 Sports
Jwala also said the fact that players have not been able to play a lot of tournaments this time due to COVID-19 is also a concern.