Drunk man interrupts Wasim Akram's TV interview after India-Australia World T20 clash
Wasim Akram was witness to unidentified goons rudely interrupted the Zee News broadcast in Mumbai following India's six-wicket win over Australia.
Pakistan pace legend Wasim Akram was reportedly rudely interrupted live on air by an unidentified person during a news channel broadcast late on Sunday evening not long after India beat Australia by six wickets in the ICC World T20. However, it was later clarified that a drunkard had created a scene, and that Akram as well as the crew were safe at the location.
Wasim, who has been quite active with the Indian media and has been commentating for Star Sports, was talking about Virat Kohli for Aaj Tak from Mumbai when the incident took place at around 11.05 pm (local time).
The former Pakistan captain wore a startled look on his face when an unidentified person appeared in the frame, seemingly to disrupt the cameras, according to a report on The Indian Express. Here's a video of the incident.
Aaj Tak anchor Vikrant Gupta had initially assured the masses of Wasim's safety, adding that a few people had 'objected' to the camera being placed at the said location.
Friends no need to panic. Nothing wrong with @wasimakramlive - a few people just objected to the cameras there. That's it

— Vikrant Gupta (@vikrantgupta73) March 27, 2016
However, Akram himself later confirmed himself to be safe, with the perpetrator turning out to be a drunkard who was creating a scene, as tweeted by Gupta.
The incident that took place in Mumbai was not directed at me and has since been professionally dealt with. Thank you for all your concern.

— Wasim Akram (@wasimakramlive) March 28, 2016
About last night, nothing happened to @wasimakramlive n nobody even touched him. 1 drunkard created scene seeing live cameras for attention

— Vikrant Gupta (@vikrantgupta73) March 28, 2016
According to a report on DNA, the incident took place in Lower Parel in Mumbai, with the drunkard reportedly disrupting another shoot hosted by former Indian cricketer Murali Karthik for the ABP news channel right next to the Aaj Tak setup.
Earlier in the day, the attacks prompted the Twitterati from both sides of the border to react, including wicketkeeper-batsman Kamran Akmal:
It is terrible what has happened with our cricket legend @wasimakramlive in India.i condemn it strongly.

— Kamran Akmal (@KamiAkmal23) March 28, 2016
@wasimakramlive just watched you being heckled in mumbai, hope you are fine

— Muhammad Naqash (@naqash1) March 28, 2016
Action of a group of people can't represent #India. We should not forget the warm welcome given to our legends in #IndvsPak mtch #WasimAkram

— Sohaib Khan (@Saibkhan) March 28, 2016
Stay strong @wasimakramlive. This isn't abt #Pakistan #India. Intolerance goes beyond religion & nationality! Let's resist whrevr it exists

— Umair Jaliawala (@jaliawala) March 28, 2016
No dearth of idiots in our country. Those who heckled @wasimakramlive when he was analysing India's win on Aaj Tak should be ashamed. Sorry.

— Nitin Naik (@Nitnaik) March 28, 2016
Now that the air has been cleared by Akram himself, let us wish him a happy stay in India along the road further up ahead.
First Cricket News
Follow live score and commentary from Day 3 of the first Test between Zimbabwe and Pakistan.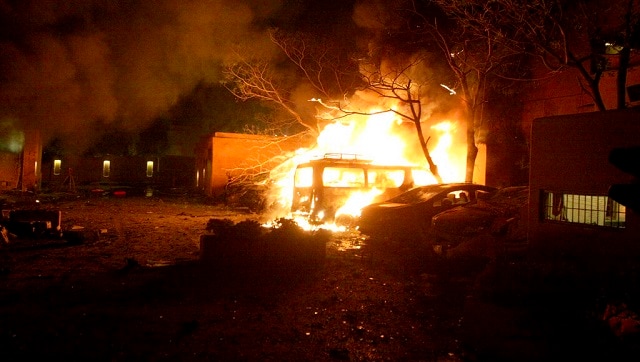 World
Balochistan home minister Ziaullah Langove said that the Chinese ambassador was staying at the hotel at the time and the motive behind the attack was unclear
First Cricket News
Hockley insisted that Australian players are feeling safe and secure in the IPL bio-bubble but his comments came before it emerged that two KKR players have tested positive