If there was anyone from the England squad who should not have made two errors that presented two scoring opportunities to Luis Suarez, it was Steven Gerrard. And with five Liverpool players in their line-up, if there was any team which could have stopped the 27-year-old, it should have been England.
England's selection is to be blamed for what happened against Uruguay and Gerrard and Rooney have no defence against anyone who thinks that the two biggest stars in this England side need to shoulder the blame.
To go a step further, it is time for England to drop Gerrard and Rooney (more on Danny Welbeck later).
Gerrard had the worst passing rate among all midfielders (78 percent) and Rooney the worst among the forwards (71 percent). Any team who has a deep lying playmaker and No 10 passing like that will suffer distribution anxiety. Considering that England had 62 percent possession, those stats look even more ridiculous.
The England captain played a total of 40 passes in 90 minutes. Of these, just nine were made in a forward direction. His seven other attempts to pass the ball forward missed their mark. Two of his seven crosses failed and his only shot missed the target.
His mistake allowed Suarez to start the move for Uruguay's opener and it was his glanced header that put his club-mate on the way to his second.
As for Rooney, he has finally got his World Cup goal — but he missed two good chances to score from point-blank range. The first was the header where he leaped a fraction late and the other a much easier chance to score on the turn when he could only find the keeper. In a match of this magnitude, you have to make the most of your chances — especially when you're one of the country's best marksmen.
Now for Danny Welbeck. He did nothing much that was worth while — his heat map below proves as much. (he attempted 22 passes at 68 percent accuracy and took 36 touches — Joe Hart got 34). So he made no contribution at all and it for anyone who understands football, it's difficult to gauge why he is getting the nod ahead of Adam Lallana, Ross Barkley, Jack Wilshere or Rickie Lambert.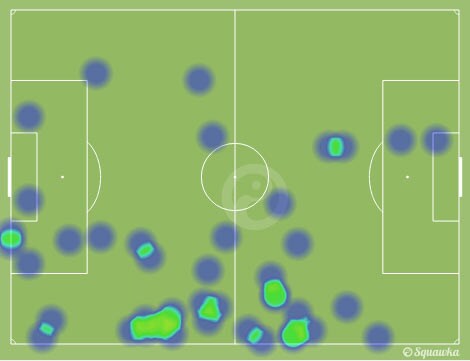 Bonus stat: There was not a single through ball attempt made by the whole England team. Barkley and Lallana had passing accuracy rates of 91 percent and 100 percent respectively. Barkley was also 100 percent accurate against Italy while Wilshere was 92 percent.
There is a simple solution to this — and everyone but the England setup can see it. Gerrard's deep lying role should be played by Henderson while the skipper makes way for Jack Wilshere, who is as inventive as an English midfielder gets.
Rooney needs to go off for Ross Barkley — the new Paul Gascoigne bursting with energy, creativity and the ability to do the unexpected. Welbeck makes way for Lallana.
England have one chance to unleash a new set of players — just like Germany did in 2010, and Spain did at the Euro 2008. It is time they have a go at Costa Rica and score as many goals as possible. There is nothing to lose, but a glimpse of the future to gain and an outside chance of making the knockouts.
This was the World Cup where England weren't burdened by expectations — the perfect opportunity to blood the youngsters without pressure — a chance for the next generation to show what they can do.
Probably a more adventurous England XI may still have lost but what is certain is that they could not be any worse than the group that lost to Uruguay.
Updated Date: Jun 20, 2014 16:21 PM