Don't target Sachin Tendulkar for presenting BMWs to Olympic stars, he did nothing wrong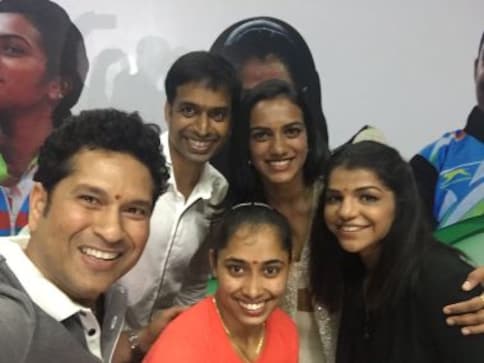 Don't blame Sachin Tendukar because the media gets it wrong. If the headlines says Sachin has gifted BMWs to our Olympic medal winners, we all presume it is his largesse. If TV anchors bobble on the screen and shriek about it, we accept it. He never said he had done it nor is he quoted as having paid for these cars, but because of some people jumping to conclusions, we raise the ace cricketer to the top of the pedestal and applaud his beneficence.
What a great guy.
All he did was preside over the presentation ceremony in his capacity as the brand ambassador for BMW.
What, you mean he didn't pay for them?
Okay, so now with no trace of Sachin having pulled a fast one or told to fib or taken the credit, we have to go into attack mode.
Because we got it wrong we have to find someone to blame.
Shobhaa De, an old friend, starts it off with a mild salvo over whether these athletes will be able to afford these pricey beasts. With the money being thrown at them, they could afford Lamborghinis so that doesn't fly.
Here's a small, annoying but pertinent question: Did Sachin T pay for the BMWs he 'gave away ' to Rio athletes?

— Shobhaa De (@DeShobhaa) August 28, 2016
Then comes the slightly snide round two; did Sachin actually pay for these cars?
Here's a small, annoying but pertinent question: Did Sachin T pay for the BMWs he 'gave away ' to Rio athletes?

— Shobhaa De (@DeShobhaa) August 28, 2016
He never said he did. At no stage did he grab the credit from Hyderabad-based businessman Chamundeshwarnath who reportedly paid for them and is chief of the state badminton association. Maybe he got them cheap, perhaps he bartered the cars for ad space or made it a business deal. Maybe he has a garage full of cars, where do we fit in?
Suddenly guess who is the bad guy? Sachin. Oooh, taking false credit, huh? Never even paid for it and there he is taking selfies with the players. How could he do that, damned by innuendo.
Tendulkar never even opened his mouth.
So there has to be more vilification. What an ad for BMW? Why not, what's the big deal. You have duty free raffles all over the world and the car gets top billing, be it a Bentley, a Rolls or an Aston Martin. Gone are the days when you said a '5-star hotel neat the Gateway of India' when you wished to mention the Taj in an article.
Where is the crime in mentioning the BMWs? Maybe the Bavarian Motor Works said okay, we'll give you the cars for much less if our brand ambassador can give away the keys and be there in person because while you might be a millionaire, Sachin's name will get us more mileage. Mr Chamundeshwarnath, probably thought that wasn't a bad idea – he gets to meet the legend and so much more coverage in the papers. Win win situation for all.
And then there is poor Sachin who still hasn't said a word, having to play on the backfoot for being a decent cove and doing his duty as a brand ambassador, for which he gets paid.
Get it right and let the guy be.
Entertainment
Allu Arjun was seen in an engagement ceremony of Industrialist Nimmagadda Prasad's son, Nikhil in Hyderabad, where he was captured with P. V. Sindhu.
India
India's UN mission should back up statements on religiophobia with concrete action on anti-Hindu, anti-Buddhist hate speech.
Badminton
Two stalwarts of Indian women's badminton, PV Sindhu and Saina Nehwal, suffered contrasting fates at the Malaysia Open Super 750 tournament.