Discuss thrower and newly-elected Congress MLA Krishna Poonia says winning elections tougher than preparing for Olympics
Far removed from the starry aura of a celebrity sportsperson, Poonia was seen by the residents as one of their very own who identified herself with all their problems and was always accessible.
Be it at an informal gathering of the village elders discussing the farming woes over hookah or a women's meet to demand quality health care, Krishna Poonia holds the centre stage in the town of Rajgarh in northern Rajasthan.
Far removed from the starry aura of a celebrity sportsperson, Poonia was seen by the residents as one of their very own who identified herself with all their problems and was always accessible.
The Commonwealth Games gold medallist representing Congress in Rajasthan, emerged victorious from the Sadulpur constituency beating a couple of political heavyweights. "For the last five years, I have been working non-stop for twelve hours a day, meeting people and attending to the problems of the people. This journey has been tougher than preparing for the Olympics,'' Poonia said in an exclusive interview with Firstpost.
"I realised my star appeal will not matter until I create a close bond with my electorate and be with them when they needed me. It was a very difficult election, and perhaps one of the toughest constituencies for Congress.'' Poonia went on to win by a comfortable margin of 18,000 votes despite being locked in a three way contest which also featured the sitting MLA Manoj Kumar Nyangali of BSP and the Lok Sabha MP from Churu, Ram Singh Kaswan of BJP.
"My first aim is to develop a sporting facility in my constituency which will have synthetic tracks for running and residential facilities for athletes." The town of Rajgarh which comes under the Sadulpur Vidhan Sabha constituency is home to a number of very promising athletes and Poonia is keen to harness these talents.
In the 2014 Lok Sabha elections, another Olympian Colonel Rajyavardhan Singh Rathod had successfully contested from Jaipur Rural constituency. The silver medallist in Athens Olympics in double trap shooting, Rathod has gone on to hold several ministerial berths in the Union Government. Currently, he holds the independent charge of Ministry of Sports and Youth Affairs along with the ministry of information and broadcasting.
Basking in the success in the Commonwealth Games and a creditable sixth place finish in the London Olympics in 2012, Poonia was invited to a couple of public gatherings by the then Chief Minister of Rajasthan, Ashok Gehlot. Poonia struck an instant rapport with the masses and she was invited to contest the Assembly polls in 2013 on a Congress ticket. A strong anti-incumbency wave against the ruling Congress party and her inexperience saw her suffering a crushing defeat. But she did not lose heart and for the next five years prepared herself for another shot at glory.
Poonia's husband and coach Virender shaped her athletics career, helping her to bounce back from several career threatening injuries. Virender, once again, mentored her political career. "The transformation in her was remarkable. For someone who had no clue about politics even a few years back, she was surprisingly a big crowd puller in all her public gatherings. She struck a chord with her speeches and she was an inspirational figure for the rural women who were inspired by her stories,'' says Virender, who hails from Rajgarh, the reason for Poonia to represent the constituency. Dominated by Jats, the main occupation of the people is farming.
Poonia grew up in Hissar and took to discus seriously after her marriage to Virender who was a hammer thrower. A tall frame which ensured an impressive arm span, Poonia had all the qualities to become a good discus thrower. "I was always a fighter, never willing to give up. After having a caeserian surgery during the birth of my son, I resumed my training a couple of weeks later ignoring all medical advice. There was pain but I just ignored it because it was important for me to take part in the Inter-Railways meet as I needed a job.'' Krishna went on to win the gold medal at that meet and landed the job.
Her first major break in the international arena came in the Asian Games in Doha where she bagged a bronze. But her biggest success was at the Commonwealth Games in 2010 in New Delhi where she became the first Indian woman to win a gold in track and field at the Commonwealth Games. Poonia continues to hold the national record in women's discus with a throw of 64.76 metres. Despite a lingering knee injury, she tried to make a brief comeback in 2016 to gun for a medal in the Rio Olympics. But she failed to make the cut and decided to call time to her athletics career.
"I do not get to watch them in action but I still closely follow Indian athletics. With the emergence of Hima Das and Neeraj Chopra, the future of Indian track and field looks bright.''
Poonia is non-committal on whether she wants to fight in the next year's Lok Sabha elections. For the moment, the former discus champion wants to hit the ground running to transform the inconspicuous town of Rajgarh into a buzzing sporting hub.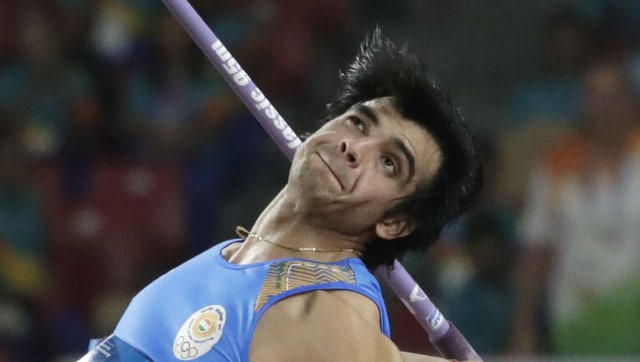 Sports
Apart from Chopra and fellow Olympic bound javelin thrower Shivpal Singh, country's relay racers (both 4x100m and 4x400m men and women) will be part of the 40-odd contingent that also includes coaches.
Sports
In remarks to reporters ahead of a US Olympic team media event, USOPC president Susanne Lyons said the organisation firmly believed that boycotts were ineffective.
Sports
India's elite athletes including the Olympic-bound ones train at Patiala and their functional area is already in the "Green Zone" and out of bounds for anyone residing outside the campus.