Discrimination, demands and delays: Paralympian Girisha's fight is not just for Khel Ratna
Girisha's fight is not just about the award -- this is a battle on all fronts: against discrimination and the delays.
Bengaluru: HN Girisha reads out a passage from a report on a news website published in the run-up to the presentation of the Khel Ratna award — the highest honour given for sports achievement in India.
"Sania Mirza is the frontrunner for the award with Deepika Pallikal, Vikas Gowda and Seema Punia also in the mix," the 2012 Paralympics silver medallist reads out, jabbing the computer screen with his left index finger. Then, with a sudden change in tone, he lifts up the mouse with his right hand and slams it down: "Fine, they didn't give me the award, but why am I not even mentioned? Haan? Not even a mention?"
This is as explosive as the interview gets. Three other administrators sitting hunched in front of computers at the Paralympic Committee of India's office get startled at the sudden outburst by the otherwise soft-spoken Girisha.
Last month Girisha created a stir when he filed a petition against the decision to award the Khel Ratna to women's doubles world No 1 Mirza. This follows a slew of cases of sportsmen (and even coaches) have filed against the sports ministry -- demanding an award after they felt they were unfairly left out. Boxer Manoj Kumar was successfully conferred the Arjuna Award after going to court and former wrestling coach Vinod Kumar's case is pending after a stay order.
Girisha tells us that he has nothing against Mirza -- his fight is against the sports ministry's refusal to oversee all the rules they themselves have set when it comes to awards.
"That they've given it to Sania is secondary. I am not angry or upset over the issue, I was disappointed. The government should treat (these cases) according to the criteria they have made. I salute Sania for her achievements, she is a very good tennis player in the country. I am not against her, my only point is, if you've made the criteria, follow it. Otherwise what's the point?"
Girisha has a total of 90 points for his achievements in the last four years: 70 points for his Paralympics 2012 silver medal and 20 points for a bronze at the Asian Para Games last year. The high-jumper believes that the events for which he is demanding points come once in four years while Sania plays 'open after open every year.' Her Wimbledon doubles title came in 2015, an achievement that came outside of the Khel Ratna points calculation for this year.
Sania has won singles and doubles medals (silver and bronze) at the Asian and Commonwealth Games in 2010 and the Asian Games in 2014 -- but the ministry hasn't stated the exact four year period for the award, so Sania's 2010 medals may not count. It's a bit of a muddle, but Girisha is clear in his head.
"Sania wasn't representing India during the tennis opens. She was playing as an individual with partners who were foreigners," he said.
"I also won at the same stadium on the same podium -- India's flag went up when I won too. If former Khel Ratna recipients have won just on the merit of a bronze at the Olympics, then I have a silver, at a similarly mega event. All this shows one thing -- discrimination. Yes, the Paralympic Committee and the Sports Authority of India have supported me a great deal, but there's no doubt that there is discrimination against us [paralympians]."
He also tells us that nobody influenced him on the decision: "I decided to fight for my rights."
There's another oddity in the situation. According to Girisha, he was told that one has to be an Arjuna Award winner to apply for the Khel Ratna. "If that was the case, how did MS Dhoni get it in 2007 without winning the Arjuna Award?"
Girisha's fight is not just about the award -- this is a battle on all fronts: against discrimination and the delays. Girisha had to wait longer than most Olympic participants to get a job too. While he is pleased that the government has finally approved his SAI coach/officer job, he had to tussle for three years for it.
Girisha limps as he gets up to open a sliding door of a cabin for a helper who brings in coffee. Not the natural limp due to his disability, but one caused by a fall he took during training. "It's an everyday struggle, for every athlete. Not just Olympians, even paralympians struggle you know? We are equal," he says.
He leads the way back to the outer room, where he opens up the points criteria system, does numerous calculations, even adds some free points to Sania's achievements and reiterates: "So we give her 10 points for this, ok? Okay fine, we'll give five more... 15. Still, can't beat 90."
Firstpost explained to Girisha that there are certain clauses in the circular that could be interpreted as the committee having the power to overlook the points system and award the Khel Ratna purely for sporting greatness or achievement, like this one:
"Sometimes, the Selection Committee may feel that as per the given criteria, a very deserving sportsperson in a team game may not get Rajiv Gandhi Khel Ratna. In such a situation, it may recommend such name giving full justification in writing."
Still, Girisha is unmoved. For him, his achievements are as good as Sania's — however unnoticed they may go in the media ("why doesn't any channel show the paralympics live? Just because it is paralympics it is okay to not show it? Imagine the number of people who will get inspired if they saw us perform too.").
He is so flabbergasted by his exclusion from the awards list that the only way he can explain it is by saying that his file wasn't even seen by the committee: "Somebody... somebody has stopped my file from even reaching the committee." But does he know so, or does he feel so? "I feel so," he adds.
He insists he is happy with his current financial situation -- that the Khel Ratna prize money of Rs 7.5 lakhs isn't important at all: "When we organised Karnataka's paralympic games in Bengaluru, we were expecting 700 athletes to turn up. A thousand came. I spent Rs 5 lakhs from my own pocket for the games -- so no, money is not the issue."
Girisha compares this situation to what happened in Ghaziabad at the 15th National Paralympics Meet — the event which led to the Paralympic Committee of India getting suspended: "I'm not surprised -- the budget was Rs 2 lakhs and 1200 athletes turned up. Why don't you calculate the amount of money available to spend on each athlete?"
The high-jumper is probably India's most popular paralympian ("I have fans and they are upset with the Khel Ratna decision") and he wants to use this position to wrong the rights that his fellow paralympians face.
"When I won the silver, Narendra Modi was the first to congratulate me on Twitter despite the fact that it was 2 AM in India. The president of India wrote a congratulatory message too. So when I ask for things, I feel sometimes: 'Sir, you congratulated me... you said right? That I made the country proud? Then give me what was promised. If you are promising something, give it. That's all'," he said.
91-year-old Dronacharya Award winning coach N Lingappa pulled open the slidng doors of the interior room at this point. He and Girisha embrace and have a discussion in rapid Kannada. Lingappa introduces me to Girisha: "You know the day he received the Arjuna, I received the Dronacharya. Same stage. He is Girisha, a great athlete."
Lingappa had to wait for years to be recognised. This is a man who started coaching in 1956 -- and the award followed only after countless letters to the ministry. Girisha, and many others, are doing the same today. Girisha's point of view may be right or wrong, but his is a battle that proves that the same issues which Lingappa faced still persist — when athletes need to beg for jobs, pensions and awards, it doesn't make for great headlines.
"If I stand on that podium with the Khel Ratna, thousands will be inspired. Thousands," Girisha says, before adding that he's not going to give up.
The writer tweets @TheFalseNo9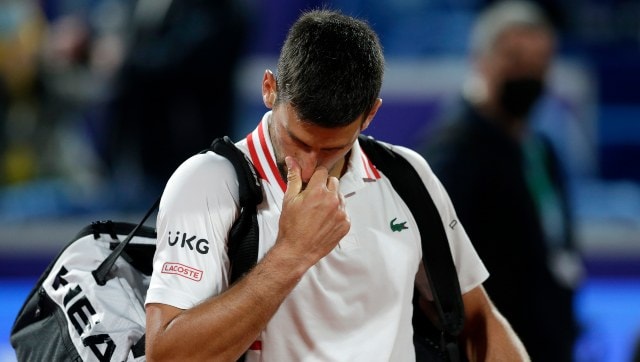 Sports
The 28th-ranked Karatsev saved 23 of 28 breakpoints to advance to his second final of the year following a 7-5, 4-6, 6-4 victory, gaining a measure of revenge for his defeat by Djokovic in the last four of the Australian Open.
Sports
On whether or not he will be vaccinated to guarantee entry to tournaments, 33-year-old Djokovic refused to commit himself.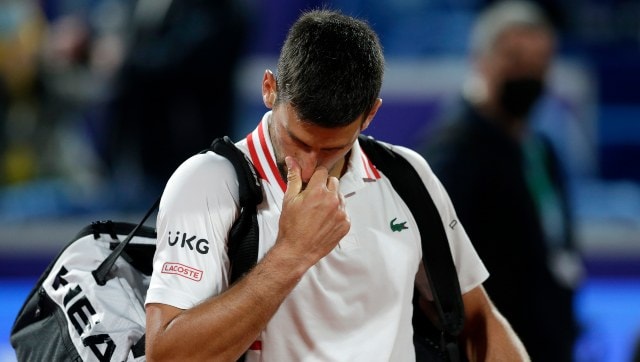 Sports
A message from the tournament's official twitter account read: "Novak Djokovic will not be playing in the Mutua Madrid Open. 'Sorry that I won't be able to travel to Madrid this year and meet all my fans", said Djokovic. 'It's been two years already, quite a long time. Hope to see you all next year!'".