Dipa Karmakar is set to miss World Gymnastics Championships due to knee injury
23-year old Indian gymnast Dipa Karmakar will not be taking part in World Gymnastics Championship as she is on her way to recover completely from knee injury.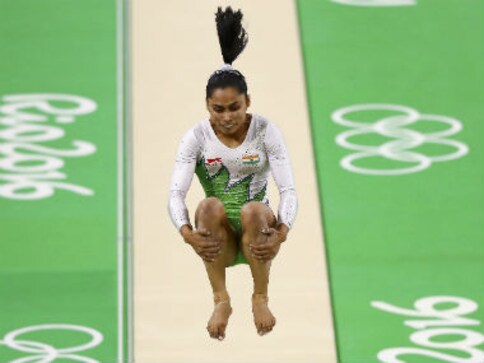 New Delhi: Indian gymnast Dipa Karmakar, who has not competed since her historic fourth place finish in the Rio Olympics, is all set to miss the World Gymnastics Championships as she is recovering from a knee surgery.
It is another setback of sorts for the 23-year-old who also missed the Asian Championships earlier this year due to the anterior crucial ligament (ACL) injury.
She had undergone the surgery in April and her rehab will take at least six months before she can resume training. The World Championships will be held in Canada in October.
"There is not much you can do in case of an injury. It is frustrating as an athlete but I won't call it a setback. Though it is surely a challenge," Karmakar told PTI.
Karmakar, who is camping at the IG Stadium in presence of her coach Bisweshwar Nandi, has started jogging but can only think about training once six months of rehab is over.
Coach Nandi said that her ward will not be competition ready for the World Championships and therefore the focus shifts to the Commonwealth and Asian Games next year.
"I would not want her to go to worlds for mere participation. And it won't be possible for her to be fully ready for the big event," said Nandi.
"Coming back after an injury is a challenge but then you also have to keep in mind that you can get injured also in the competition. Like it happened with one of the participants in Rio. Gymnastics is a dangerous sport at all times," he said.
As she is not competing, Karmakar said she is using the time to work on fitness and completing her studies.
"I gave one MA exam last year, now I am preparing for another," said the diminutive athlete.
Asked about the age factor in the sport since she is losing out on crucial time due to injury, Karmakar said: "One of the gymnast who took part in Rio was 43 years old. So if she can do it, I can too."
Karmakar had created history by finishing fourth in the vault final of the Rio Olympics, missing the bronze by a whisker.
This was after she became the first Indian female gymnast to qualify for the Olympics.
Sports
Gal Fridman won Israel's first gold in men's sailboard at the 2004 Athens Games
Sports
The 32-year-old, who won gold at London 2012, posted a score of 61.235 in the men's final to take silver behind Belarus's Ivan Litvinovich, who scored 61.715. New Zealand's Dylan Schmidt won bronze.
Sports
Biles said on Friday she was struggling with the "twisties", the mental block that has sidelined her in Tokyo.