Dilip Tirkey spreads message of hockey in India's 'Red Corridor' with 1500-team tournament
With the Biju Patnaik Rural Hockey Championships, that will will feature 1,500 rural teams, Dilip Tirkey hopes to inspire youth in the naxalite-hit states of India to pick up a hockey stick instead of a gun.
No one knows what Dilip Tirkey really felt as a boy growing up. But he did have a fear of crowds.
"I preferred empty spaces and somehow a hockey field was big enough to hide and play at the same time," says Dilip.
But on 10 December in Rourkela, a steel township built by the Germans, Tirkey stood in front of a packed Biju Patnaik Hockey Stadium and addressed a young enthusiastic bunch of more than 20,000 hockey players. The idea was to create the 1st Rural Hockey Championships of more than 1,500 participating teams. Not 1,500 athletes but 1,500 teams! The Biju Patnaik Rural Hockey Championships that began on 14 December will be played over three months, with the grand finale on 5 March, 2017.
As he stood on the podium, watched by India's Vice President Hamid Ansari and Odisha's Chief Minister Naveen Patnaik, Tirkey spoke at length about giving back to the sport which apart from enabling him to captain India at the 2004 Olympic Games, also sees him debating in the Rajya Sabha as a MP representing the Biju Janata Dal party (BJD) at present.
"I have played hockey in almost every major city in India and the world. But today when I see each of you assembled here to play a sport that has given all of us so much, I realise that the soul of hockey is alive here," said Tirkey.
Being organized under the aegis of the Dilip Tirkey Sports Research and Development Foundation, 1,500 teams will play across Jharkhand, Chattisgarh and Odisha – all distinctly tribal. Towards, the end of his speech, Dilip said, "We do have a problem in our midst and that is a few our young friends have strayed from the path of righteousness. I also ask them to come back and pick up a hockey stick, instead of a gun."
Dilip was referring to the youth of the three states who had somehow strayed over to the side of the Maoists. That tribal belt linking the three states of Chhattisgarh, Odisha, Jharkhand to parts of Andhra Pradesh, Bihar, Madhya Pradesh, Maharashtra, Telengana and West Bengal is known as the Red Corridor. Apart from over-population, illiteracy, unemployment and poverty characterize these very areas with the Maoists exploiting the youth, pushing them to be renegades. "This is the only chance we have of establishing what I call the 'Hockey Order' so that we can organize the youth towards an activity which gives them a chance to get jobs in various sectors," he said.
Just before winding up his speech, Dilip asked the assembled teams to check the list of the players who have played state, national and international hockey and said 'if you do it with utmost devotion, there are jobs waiting for you."
"It's also about self-respect," he said later in the evening. "Trying to discipline the youngsters cannot just be the job of educationists. Somewhere sport has to play a part. What would I have been, if I hadn't picked up a hockey stick?"
Dilip grew up in these parts. Sundergarh was the capital of the princely state of Gangpur and later became a district headquarters after Independence in 1947. Nothing much has changed even though the area is rich in iron-ore, limestone and manganese. Dilip Tirkey grew up in the village of Sounamora, around 40 kms from Sundergarh. The only past-time was hockey apart from long treks in the forests which surround the district of Sundergarh. In fact, in the city, football was the main sport and in the rural areas, it was hockey.
Everything changed on 14 November, 1991 when Bhawani Shankar High School beat Sports College Lucknow to clinch the Nehru Cup Hockey final in Delhi. Sundergarh now embraced hockey. Today, if you walk through the city, you would see posters of Dilip on almost every important roundabout. It's also here that in 2014, after being nominated for the Rajya Sabha by the BJD, Dilip decided to run for the Lok Sabha and lost the elections by a narrow margin of 9,000 votes.
His opponents were Jual Oram (BJP) and the former Odisha CM, Hemananda Biswal (Congress). Many say Dilip is once again laying the foundation for a crack at the Lok Sabha elections scheduled for 2019. "I don't see anything wrong in that," says long-time friend and a Santosh Trophy footballer, Shakti Singh. "If he is empowering the youth, why criticize that? Today, he has brought forward hockey as an instrument for change. I think we should appreciate it."
Oram, who beat Tirkey in a three-way contest in 2014, was also on stage as a guest during the opening of the Biju Patnaik Rural Hockey Championships. "I beat Dilip bhai during the elections, though I know he can easily beat me on a hockey ground," he said to the gathering. The significance of that wasn't lost on anyone. Indirectly, Oram pointed out a touch of politics in what is a pure sporting event.
Santosh Samal is a former OAS officer who left service to fight for the MLA's post and didn't win. He is from the BJP, but does publicly say that he is a dear friend of Tirkey. "We all here do believe that Tirkey has done a lot for Sundergarh as a hockey player and if today people know the district, it's because of him," he says.
Asked about the possible political overtones to the world's largest hockey gathering over the next three months, the former Indian Olympic captain says, "I am clear that this is a hockey event and there is nothing political about it," he said. "If I called the Indian vice-president, it was because he is a sports lover. And since the tournament is named after Biju Patnaik, his son Naveen Babu is the right man to be present here to also bless it."
The vice-president, in fact, told the gathering, "Dilip said that the soul of hockey is present here. But I believe even the water and wind of this area has the soul of hockey in it. I have so many times asked 'how do you people play such good hockey and what is the secret' but he never divulges it."
Shakti believes linking the tournament to Dilip's future political goals is not right. "He is a man who can today call a gathering of 50,000 people and they will come. This place (Sundergarh) loves him. Yes, I can also say that in the next elections of 2019, nobody can beat him."
Tileikani, Jamupali, Sounamora and Lukudhi may be just names for a lot of people in India. But these are villages where virtually every winter almost 500-600 teams play hockey – all in a radius of not more than 20 kms. To that is added the Biju Patnaik Rural Hockey Tournament with its professional approach of team listings, scorer's charts and keeping an eye out for talent which might go on and represent India.
"When we used to play, there were 5-6 players in the national team. And that is not seen now as only Birendra Lakra is there. Yes, it is true that more kids should be involved. When we were young, there was a craze for hockey, even today it is there. But, what it used to be, it isn't there and has gone down, so, this is to generate the craze back among the youth," explains Dilip.
Former Indian hockey captain and the man who scored the match-winner in the 1975 World Cup triumph against Pakistan, Ashok Kumar said finding such a tournament in the world is very difficult.
"So many players in Odisha under one belt. We need to encourage them and support them. It is to be noted that if the government, sponsors or corporations do not help us, a player will not move forward," said Ashok.
"But now, we are feeling that a good atmosphere has been created. I congratulate Dilip Tirkey for this work. He has created this atmosphere in the entire country."
Former Indian Olympic and the 1998 Asian Games gold medal winning goalkeeper AB Subbiah was elated with the response to the tournament. "This is a very good initiative by Dilip and its good that the Odisha government is supporting in a full way. This is rural hockey and in such a huge way. It is going to benefit youth of Odisha who is going to participate in this tournament."
In the 1997 Junior World Cup at Milton Keynes, India lost a touch-and-go final to Australia 2-3. A British journalist, impressed by Dilip's defending through the tournament asked him that since he played the 1996 Olympics before wearing a Junior World Cup jersey, where he eventually saw his career heading. Dilip not comfortable with interviews (he still isn't) understood the question but replied in Hindi, "Aage badhte rehna hai (I need to keep moving forward; which was translated by the then coach V Bhaskaran). Nineteen years later, Dilip Tirkey is doing exactly that.
Find latest and upcoming tech gadgets online on Tech2 Gadgets. Get technology news, gadgets reviews & ratings. Popular gadgets including laptop, tablet and mobile specifications, features, prices, comparison.
Sports
With exactly a year to go for the Tokyo Games both India men's and women's hockey team captains recalled their experience at the Olympics.
Sports
Indian men's hockey team captain Manpreet Singh speaks on challenges during long break from hockey and postponement of Olympics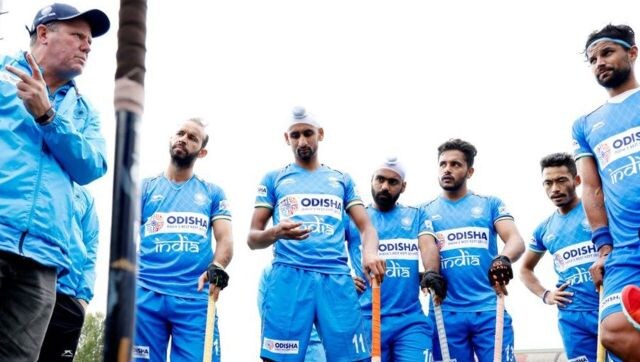 Sports
While there is room to improve in all aspects of the game, Graham Reid emphasised on building a mentally tough team to face the 'uncertain times'.