Diego Maradona dead at 60: Tributes pour in for Argentine legend after his demise
Diego Maradona, Argentine football legend and 1986 World Cup winner, passed away in Buenos Aires on Wednesday. He was 60.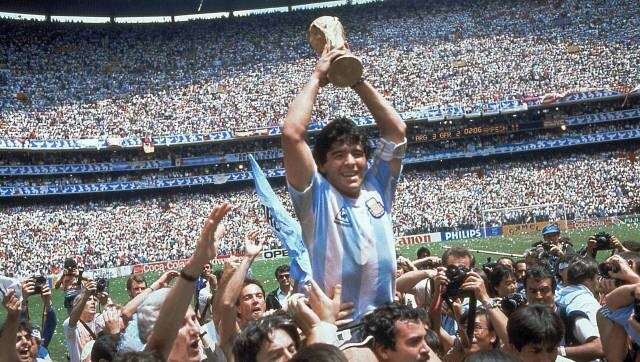 Tributes poured in for Argentine footballing legend Diego Maradona after his demise on Wednesday. The tragic death of the 1986 World Cup winner left everyone shocked. He was 60 when he passed away after suffering a cardiac arrest at his home in Buenos Aires.
The 1986 World Cup witnessed the best of Maradona as he led Argentina to glory. The different traits of Diego were witnessed during the 2-1 quarterfinal win over England where he scored arguably the greatest goal of all time. In the same game he leapt in the air and scored with his hand for the infamous 'Hand of God'.
At club level, Maradona achieved success with multiple clubs but most notably with Serie A side Napoli. He led the small Italian club to the title in 1987, 1990 alongside an Italian Cup in 1987 and UEFA Cup in 1991. Such was his impact that Napoli retired his No. 10 shirt in 2000.
Former football players and figures from around the world were quick to pay tribute to the former Napoli and Barcelona star, who was the manager of Argentinian club side Gimnasia at the time of his demise.
The Argentine football association tweeted, "The Argentine Football Association, through its President Claudio Tapia, expresses its deepest sorrow for the death of our legend, Diego Armando Maradona. You will always be in our hearts."
Lionel Messi, who took up the baton for the Argentine team but hasn't achieved the same success, paid his tribute. "A very sad day for all Argentinians and for football. He leaves us, but he is not gone because Diego is eternal. I stay with all the beautiful moments I lived with him and I wanted to send my condolences to his family and friends."
In the new age rivalry, a la Pele vs Maradona, Messi is pit against Cristiano Ronaldo. The Portugal and Juventus forward said, "Today I say goodbye to a friend and the world says goodbye to an eternal genius. One of the best ever. An unrivaled magician. He departs too soon, but leaves a legacy with no limits and an emptiness that will never be filled."
Former Brazilian great Romario also expressed his sadness. He tweeted, "My friend is gone. Maradona, the legend! The Argentine who conquered the world with the ball at his feet, but also for his joy and unique personality. I have already said a few times, of the players I saw on the pitch, he was the best."
"His passage around the world brought a lot of happiness to his country and delighted us all. I will never forget the laughs we had together. Certainly, he was never an opponent. He called me Chapolin and treated me like a brother."
"A boy, gone too soon. My hug to the Argentines, to the family. What a sadness, go with God, brother!"
Argentina president Alberto Fernandez has declared that there will be three days of national mourning.
Gimnasia, the club Maradona was managing, changed their club logo on Twitter in tribute.
Manchester City manager and a former Barcelona player and coach Pep Guardiola said, "There was a banner in Argentina, one year ago I read it. It said, 'No matter what you have have done with your life, Diego, it matters what you have done for our lives.' I think it expresses perfectly what this guy gave us. The amount of joy and the pleasure and his commitment for world football. He made world football better."
"He had everything technically: Left foot, control, shooting, and he was also very lively. To avoid the assassins (on the field) in the 1970s and 80s you were better off being very, very lively, and he was a dribbler, too. He would dribble, dribble, dribble," said former France great Michel Platini.
Brazilian great Pele, who was compared with Maradona for the G.O.A.T. debate, paid his tribute, admitting he is sad to "lose friends this way". He added: "Certainly one day we'll kick a ball together in the sky above."
Indian cricket team head coach Ravi Shastri, too, offered his condolence on Thursday.
As also did Mithali Raj:
also read
Football
Olivier Giroud struck a hat-trick as AC Milan crushed relegated Sampdoria 5-1 on Saturday to keep alive hopes of a top four finish in Serie A.
Football
Victory left Newcastle third in the Premier League table and needing just one win from their remaining two league games this season to secure a place among Europe's elite.
Football
Lamela connected perfectly with Bryan Gil's cross in the 95th minute to delight the Ramon Sanchez-Pizjuan, and Sevilla held on to reach the final for the first time since 2020.