Davis Cup: Tennis world divided over ITF's proposal to introduce 18-nation World Cup-style event
Former players, pundits and journalists have expressed contrasting opinions about ITF's proposed plan to replace the Davis Cup with a World Cup-style event.
The International Tennis Federation (ITF) announced a massive shake-up of the Davis Cup competition that will see the formation of an 18-nation World Cup of Tennis Finals at the end of the season.
In this revamp, the World Cup of Tennis would be played over seven days in the traditional week of the Davis Cup final, rather than across four weekends in February, July, September, and November, pending approval by the ITF Board.
Ties are hosted by one or other of the competing nations, producing a partisan atmosphere which has become a popular feature of the Davis Cup.
Each tie is best-of-five-matches, four singles and one doubles.
A 25-year, $3 billion partnership with investment group Kosmos, whose founder and president is Barcelona and Spanish football player Gerard Pique, has been announced by the ITF president David Haggerty.
"Our vision is to create a major season-ending finale that will be a festival of tennis and entertainment, featuring the world's greatest players representing their nations to decide the Davis Cup champions," he said.
The new event represents a huge revamp for the Davis Cup which has been in existence since 1900 but has suffered in recent years with top players not turning out for their nations.
"We think the change we are making will make it so much more appealing and tangible to the top players," Haggerty added.
World number one Roger Federer has not played for Switzerland since 2015 while Rafael Nadal has only played one doubles rubber for Spain in the past two years.
Earlier, Andy Murray and Novak Djokovic had backed the proposal for an annual season-ending event, starting in 2019.
The investment from Kosmos will include significant increases in prize money for players and ITF member nations, according to the sport's London-based governing body.
Yet, the tennis world was divided over the proposal,
Former tennis player Kafelnikov Yevgeny expressed his dissatisfaction with the revamped format, and Jonas Bjorkman agreed with his views on Twitter.
Meanwhile, Andy Roddick believes that the radical revamp is needed for the survival of the prestigious tournament.
A prize pool of $20 million would be up for grabs for the 18 qualifying nations. Haggerty further said that the proposal is a complete game-changer for the ITF and for tennis.
The plans will be submitted to the ITF Annual General Meeting, to be held in August in Orlando, Florida and a two-thirds majority will be required for final approval.
The event would be run on a round-robin format before a knockout phase with matches consisting of two singles and one doubles rubber. Ties will be played over one day with matches using a best-of-three-set format.
Sixteen World Group nations will automatically qualify for the Finals, with a further two nations to be selected.
The eight teams failing to qualify for the quarter-finals would then play off against the eight zonal Group One qualifiers to try to qualify for the following year's Finals.
Zonal Groups I and II home-and-away ties will continue to be played during the traditional three weeks of the calendar.
"Kosmos is thrilled to join in this exciting partnership with the ITF," Pique said.
"Together we can elevate Davis Cup by BNP Paribas to new heights by putting on a must-see World Cup of Tennis Finals featuring the top nations and top players," he concluded.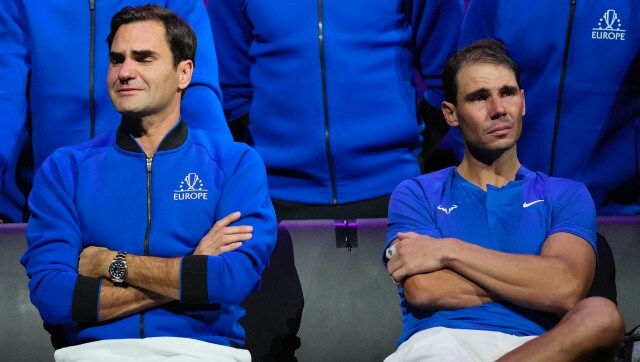 Tennis
Roger Federer's last career match expectedly produced plenty of tears with the Swiss, his wife, kids, family and even longtime rival Rafael Nadal reduced to tears.
Tennis
Roger Federer hogs the media attention ahead of the Ryder Cup-style Laver Cup team event that gets underway in London on Friday.
Tennis
Laver Cup: Team World's Jack Sock and Frances Tiafoe denied Roger Federer a fairytale goodbye as he played his last match