Davis Cup: Saketh Myneni could partner Leander Paes, hints Anand Amritraj
Indian captain Anand Amritraj hinted that Saketh Myneni could be Leander Paes' partner for the doubles rubber in the Davis Cup play-off tie against Spain
New Delhi: Indian captain Anand Amritraj on Tuesday hinted that Saketh Myneni could be Leander Paes' partner for the doubles rubber in the World Group Davis Cup play-off tie, in which he thinks the hosts have a "good chance" to earn a point against the formidable Spain.
Not only India but Spain are also undecided about the doubles combination as the two captains said the pairings would depend on proceedings of the first day.
Amritraj said if Saketh is not drained out completely on the opening day, he could well be fielded on Saturday.
"I am waiting to see end of day one. How long and tough is the first match for Saketh. We have three options," Amritraj said at the pre-draw press conference where Spicejet was announced as sponsor of the Indian team.
Spanish captain Conchita Martinez also said that outcome of the first day will determine who they field on Saturday.
They have French Open champions Marc and Feliciano Lopez and Rio Olympics gold medallists Marc and Rafael Nadal to choose from.
In a sort of damage control, Amritraj said in hindsight he feels playing in the evening is a good option as he would need Saketh to play on two days in absence of Rohan Bopanna.
"I changed my mind. Now we don't have Rohan anymore. Saketh has to be ready for two matches. If we had played in the morning, would have been tougher. In hindsight, looks like a good option," he said as the packed press conference burst into laughter.
The 64-year-old, though, said he still has fitness concerns about his players even though the matches would be played in the evening.
"I am still worried about fitness issues. Just because sun is not beating down at 5pm, it does not mean it is not humid. It's still tough, even for the Spanish guys as well. In morning, they looked like half dead, Feliciano Lopez I am talking about. In our case, our guy has to be in good shape to give it a best shot," he said.
Even as Paes does not have a solid partner, the Indian captain was optimistic of taking a point.
"Doubles has always been our strength. That is still our best shot to win a match. Lopez and Lopez were seeded eighth at US Open. On a court like this we have a chance. It's closer to 50-50 and than singles. Definitely have a chance no questions about that," he said.
Myneni vowed to give his best.
"Mind is ready but I have to see if body permits. I have to challenge myself. Playing five sets is not easy. Still fight through it and bring out the best in me," Myneni, ranked 137 now, said. " Team atmosphere keeps me going. It's a big boost. Few weeks (in Davis Cup) I get to learn different things from different people."
Paes ruled out playing singles in near future even as his father had said that Leander was targetting to get the record of most singles wins in Davis Cup.
"At this stage of my career, to find new goals. Right now not looking at these places. If captain wants to throw me in a dead rubber I would love to," he said.
Sports
Roger Federer has announced that he's withdrawing from Tokyo Olympics 2020 due to an injury he sustained during the grass court season.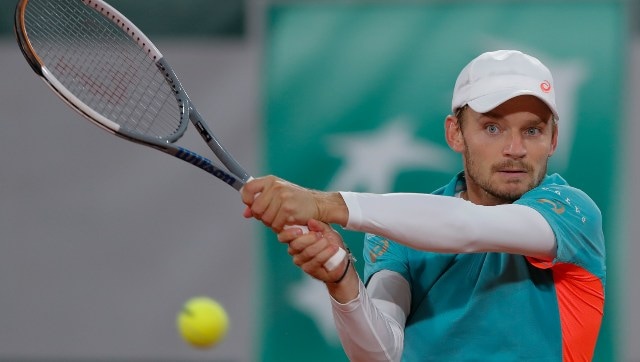 Sports
Goffin joins several high-profile players who have already withdrawn from the Olympics.
Sports
A sixth victory at the All England Club for Djokovic, who was playing in his 30th final at the Slams, added to his nine Australian Opens, two Roland Garros titles as well as three at the US Open.