Davis Cup: Prajnesh Gunneswaran emerges from the shadows to make a mark against Uzbekistan
Having lost five years to injury, 27-year-old Prajnesh Gunneswaran is furiously trying to make up for lost time. On Friday, the man with the big forehand stunned Uzbekistan's top-ranked player Sanjar Fayziev.
Having lost five years to injury, Prajnesh Gunneswaran had spent a lifetime on the sidelines.
On Friday, when he was given a chance to step out of the shadows, the 27-year-old shone bright. In a nerveless performance, and possibly the most confident Davis Cup debut for India in recent times, Prajnesh defeated Uzbekistan's top-ranked player Sanjar Fayziev 7-5, 3-6, 6-3, 6-4.
Going into the match, the Indian team and support staff knew he was an explosive player capable of causing an upset. He was the man with the big forehand, maybe even the best forehand in Indian tennis since Sania Mirza. But not many expected him to keep up the level of play, even as his opponent conjured some sublime tennis in the second set, through the match to give India a 2-0 jump on the first day itself.
"He showed no nerves at all," said India coach Zeeshan Ali. "There is a lot of pressure playing Davis Cup matches. Given that it was his debut, he played a brilliant match."
Gunneswaran, who found a place in the playing four after India's leading player Yuki Bhambri pulled out with a knee injury, had come into the tie on the back of some good form. He had made it to three Futures finals (winning two), including one in Bangalore just last month.
Since Bengaluru is at an altitude — more than 900 metres above sea level — the ball bounces higher and moves faster through the air. But he handled the conditions with ease.
Prajnesh served with pace and precision, and his powerfully struck forehand was jumping up on his opponent with spite and making life difficult for Fayziev in extended rallies. The lanky Uzbek has a heart condition — arrhythmia — and with Prajnesh moving his opponent around the court, it resurfaced in the third set.
Although he was aided by his rival's physical concerns, Prajnesh's unrelenting intensity, in his first ever best of five sets match, won him the captain's vote.
"The kind of quality tennis that Prajnesh played in his first match is a sign of things to come," said Mahesh Bhupathi, in his first Davis Cup tie as non-playing captain.
Aged 27, Prajnesh is furiously trying to make up for lost time.
The Chennai native spent a lot of his prime playing years — five in total — treating chronic injuries in both knees.
"They couldn't really diagnose what the issue was," said Prajnesh. "In 2009, I was in the US for a year (to do a finance degree) and I decided to go pro. I trained for three months and started having knee problems. It would alternate between both knees. We did a bunch of tests. Initially I'd try to push through the pain. Clinically there were no issues; but then I had stress fractures. They figured out there were some muscular imbalances, and I worked on it and it went away."
Through his struggles with injury, he kept in touch with tennis, playing for recreation as and when he could.
"I compartmentalised it. I didn't think of the fact that I couldn't step on the court every day. I did everything I could. I would go to the physio. I would live out the rest of my life, tennis was only one part of it," he said.
"There was a period where I probably didn't touch a racquet for a year. After four years, there came a point when I thought I'd stop. But dad said that I should try just once more. 'Just go play till you can't stand. Then you can quit.' I didn't want to look back after 20 years and say, 'man! the highest I reached was 800.' I felt I could do a lot better than that. I'm glad I gave it that one last shot."
Even though athletes are hardened to the fact that injuries are inevitable, it takes a lot of mental tenacity to keep pushing for five long years. He finally made the return to the tour in July, 2015 and started at the bottom rung – 1590 in the ATP rankings.
In 2016, he played his first full year on the professional tour, participating in 18 tournaments. Starting the year at 484, he had already reached a career high of 284 in November and has maintained that mark.
He has spent the past couple of years on the reserves bench in the Indian Davis Cup team, gleaning as much experience as possible from the sidelines. Stepping out on court for a Davis Cup match, with high stakes involved, is a different beat altogether. But Prajnesh tackled it with ease.
"I was nervous, but I approached it as close [as] I would a regular match. I thought I wouldn't handle the pressure as well as I did. I went in and I thought (it was) OK. I was surprised," said Prajnesh of Friday's performance. He is scheduled to play the reverse singles, in the Uzbekistan tie, on Sunday against Temur Ismailov.
"I'm 27, not young anymore," he said wryly. "It is what it is. I need to find a way to get to the highest level I can and to stay there for as long as I can." For now, the Davis Cup is as big as it gets.
Find latest and upcoming tech gadgets online on Tech2 Gadgets. Get technology news, gadgets reviews & ratings. Popular gadgets including laptop, tablet and mobile specifications, features, prices, comparison.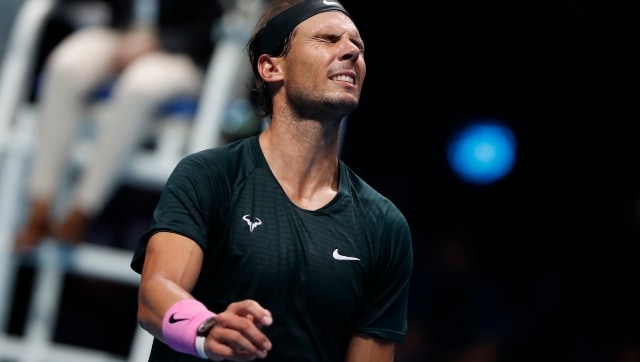 Sports
The Spaniard, who has never won the elite eight-man event, was beaten 3-6, 7-6 (7/4), 6-3 by in-form Russian Daniil Medvedev, who will play Dominic Thiem in Sunday's final.
Sports
Several major American sports have a policy setting out a procedure to be followed in such situations, and Djokovic believes tennis should go down the same route.
Sports
It was a case of third time lucky for the Dutch-Croatian fifth seeds, who lost their first two finals, in Marseille and at the US Open, earlier in the year.