Davis Cup: Leander Paes-Rohan Bopanna's experience, fit-again Prajnesh Gunneswaran's tenacity guide India past China
India will now be making a trip to the World Group Playoffs, to be held in September, for the fifth time in a row.
As another forehand from Yibing Wu sailed long, Prajnesh Gunneswaran pumped his fist. And even before he was done with his celebratory roar, the Indian team was heaping upon him. It had been one tricky, treacherous ride for these men in blue, and they had overcome it, one obstacle at a time.
Friday had started and finished disastrously for the Indian Davis Cup team, as they took on China in the port city of Tianjin. They had lost both their singles matches and were looking vulnerable against opponents ranked much lower than them. They would have lapped up any affirmations sent their way. Including the one non-playing captain Mahesh Bhupathi tweeted on Saturday morning: 'You haven't come this far to only come this far.'
With the early morning sun peeping out, India was ready to make a fight out of it. Every match they would play on Saturday was make or break. And they survived all three to defeat China 3-2 in the Davis Cup Asia-Oceania Group I round two. India will now be making a trip to the World Group Playoffs, to be held in September, for the fifth time in a row.
"We played and more importantly fought as a team like we are capable of and it translated into results," Bhupathi told Firstpost after the match. "I have said since I have taken over as captain this is the first time in the history of Indian tennis we have so much depth in the men's game and with Yuki (Bhambri) missing, I was able to call on three others who delivered for us. We are ecstatic with the way we were able to turn this tie around. Doing it away from 2-0 down is even more special," he added.
The experienced pair of Leander Paes and Rohan Bopanna paved the way for a comeback with a nervy 5-7, 7-6, 7-6 win over Ze Zhang and Mao-Xin Gong. Ramkumar Ramanathan followed it up with a 7-6, 6-3 win over Di Wu before Gunneswaran clinched the tie with a confident 6-4, 6-2 victory over teen sensation Yibing Wu.
The way things panned out, though, Saturday was also as much about team tactics as it was about sheer guts. Hoping to close in on India in the doubles itself, China threw in Friday's hero Zhang into the mix. China had initially named Di Wu for the doubles tie, but on the day of the match fielded Zhang, whose confident play had humbled Sumit Nagal in the singles.
China banked on Zhang's momentum and the gamble very nearly paid off. The 6'2" player brought on the flair and fearlessness against Bopanna-Paes, before the Indian duo was able to escape to victory in two tense tie-breakers. But with Zhang spent in the two-hour 25-minute contest, Chinese captain Wei Jiang had to bring on Di Wu for the reverse singles.
Meanwhile, India decided against playing 20-year-old Nagal, and chose Gunneswaran to bring home the crucial deciding point. It proved to be a strategic masterstroke as Gunneswaran's cool, calculated play was enough to derail a romping Wu.
"After the end of play on Friday, it was Prajnesh who came up to us and said that he would like to play today," Leander Paes said. "He was the one who set the ball rolling. He's been practising very hard and hitting the ball well. More importantly, it showed a lot of character from him. A lot of players want to play when the team is doing well but he put his hand up and said he wanted to play even in such a difficult situation."
Captain Bhupathi took upon Gunneswaran's suggestion. "He's good on hard courts," Bhupathi said. "And after seeing the kid (Yibing Wu) play on day one, I didn't think Sumit's game would match up well with him. Prajnesh has been looking good in practice and was hungry to play so I took a punt."
As the junior singles and doubles champion at last year's US Open, Wu had come into the tie with a reputation. In the off-season, he had trained with the best of the best in the world, including Roger Federer, during the ATP World Tour Finals. Wu is an exciting prospect, hailing from possibly the fastest growing market, and the tennis world is waiting with bated breath for him to shine. And Wu gave a good account of that much-anticipated talent in the first match, when he out-hit India's top-ranked player Ramkumar Ramanathan.
But Wu is still a diamond in the rough. And Gunneswaran used that knowledge to his advantage, to turn Wu's strengths against him. Wu's hurried, sometimes impatient, shot-making proved to be his downfall and Gunneswaran stood solid at the baseline and lured him into errors. The Indian moved Wu around till he cracked, especially on the favoured forehand side. The Indian also fired seven aces and broke Wu's serve four times in the match to rush to victory in 65 minutes.
Given a second chance at tennis, Gunneswaran is trying to make the most of it. The 28-year-old from Chennai had lost five years to injuries, but made a comeback to the professional circuit in 2016. He has risen up the ranks steadily, and on Saturday, played much better than his ranking of 263 suggests.
Earlier in the day, Ramkumar had shrugged off his indifferent performance in the first singles match to ease to a straight-sets win over Di Wu. The highest-ranked player in the tie, at 132, the Indian finally came good on Saturday despite a wobble in the first set. He lost serve while serving for the opening set, first at 5-2, and then at 5-4. He served 11 aces, and was a lot more aggressive with his stroke-play than on the first day.
It wasn't a match of the highest quality – the second set had five breaks of serve —but Ramkumar just had enough spunk to win the day. On a day of revivals for India, the spirited 23-year-old wasn't going to be the one to trip up.
Sports
The last-minute pullout because of the recurring back and calf spasms that Sharath has suffered in the past two months have dealt a blow to the organisers and the local spectators.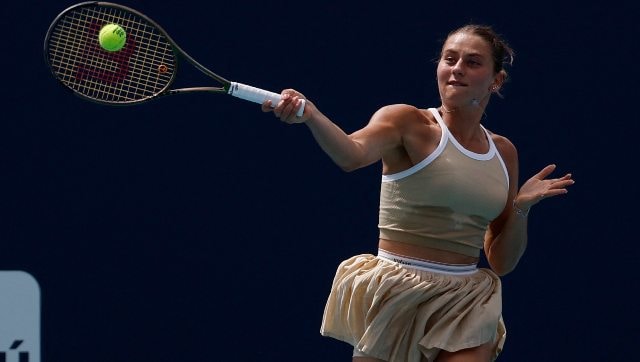 Tennis
Ukraine's Marta Kostyuk says the WTA Tour has ignored a request for a meeting with players from the war-torn nation in the latest signs of the conflict-related tensions in women's tennis.
Tennis
Martina Navratilova revealed in January she had been diagnosed with throat and breast cancer.