Davis Cup: Why has Spain sent a full strength side to face a minnow like India?
While India may want to portray itself as a nation top Davis Cup teams can no longer relax against, it's only because of the heroics of Brazil and Russia that the hosts are being afforded so much respect by Spain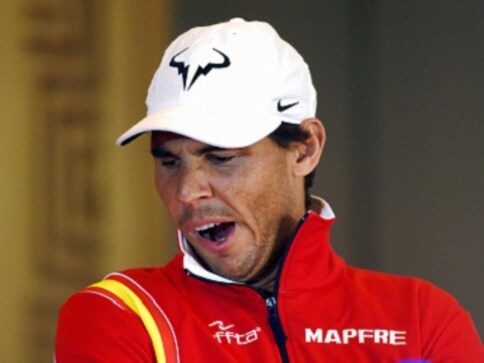 It's the Davis Cup weekend and a surreal feeling surrounds India's World Group play-off against Spain. A full-strength Spanish contingent, including the great Rafael Nadal, turning up in New Delhi appears to have caught many by surprise — even though the visitors had declared their line-up 10 days ago.
There's an understated buzz around the city, which doesn't come close to tallying with the stature of the players on show. The Davis Cup, which comes under the purview of the All India Tennis Association (AITA), has traditionally been a poorly marketed event broadcasted only on the free-to-air DD Sports.
Even in the internet age, word that Nadal is in town spread slowly with increasing media coverage. Tickets (free passes, basically) had been made available two weeks prior to the event, but there was no mad rush to collect them in week one. Only the two days leading up to the actual event have seen longer queues.
This distribution of free passes was a throwback to the '90s. The only method to obtain these was to collect them physically from the match venue, the RK Khanna Tennis Stadium. The only way to even know of this method was through a post on the official Facebook page of the Delhi Lawn Tennis Association (DLTA), a page which is followed by a grand total of 2,863 people.
Ordinarily, the highlight of a Davis Cup weekend in India would be on day two, when Leander Paes plays in the doubles rubber in front of a small yet adoring home crowd. But this time around, Nadal and David Ferrer are in action on day one, which makes each day a mega event in itself.
So while one ticket was initially valid for all three days, this was later revised to distributing a separate ticket for each day — a move that reaffirmed how Spain had caught people unaware. There's much to be admired about the professionalism with which the five-time Davis Cup winners have approached this tie. It's the reaction of a proud tennis nation hurt by two years of disappointment.
"It's tough for us not to be in the World Group," Nadal had told journalists in Delhi, his words reflecting a nation's pain. "We have to return there." If India are playing for pride, there's bad news for the home nation: Spain too are playing for pride.
A strong sense of duty to the nation has been evident in the conduct of the Spanish players upon landing in India. Intense training sessions in the heat and grime of Delhi, even for preparation for matches scheduled in the evenings, showed steely determination to be ready for the contest.
When the draws were made in July, it was considered a near impossibility that Nadal, then struggling with injuries, or even Ferrer would fly to face a tennis minnow like India. The gulf in talent between the two nations is so wide that even a third-string Spanish team could easily overcome the Indian challenge. Nadal (world number five), Ferrer (13) and Feliciano Lopez (26) are three of 11 Spaniards in the top 100 of ATP men's rankings. No other country has more.
On the other hand, Saketh Myneni, ranked 137, is India's best, while Ramkumar Ramanathan, the other singles player in the Indian team, is at 206. Even the doubles pair of Feliciano Lopez and Marc Lopez, who are French Open champions and fifth-best in the world, have an edge over India's Paes and Myneni.
But so troubled has been Spain's recent Davis Cup past, riddled with off-field crises and shock defeats, that the visitors cannot afford to leave anything to chance. Since a comprehensive defeat to Germany in the first round of the 2014 World Group, the Spanish have been in free fall. That defeat meant Spain entered a World Group play-off (similar to the India tie) against Brazil, a nation the Spaniards were expected to beat easily. An understrength Spain, though, were stunned by the South Americans, which meant they exited the World Group for the first time since 1996. In those 18 years, they had won the Davis Cup five times (2000, 2004, 2008, 2009 and 2011) to establish themselves as a powerhouse.
In 2015, another surprise defeat to lowly Russia saw Spain fall one tie short of qualifying for the World Group play-off, which would've then given them a direct chance to return to the World Group.
Against both Brazil and Russia, several players, including Nadal and Ferrer, had made themselves unavailable. Carlos Moya, Spain's non-playing captain, had resigned following the defeat to Brazil citing player unavailability as his biggest pain point. Serious questions were raised back home.
Now, in 2016, against India, Spain have a shot at returning to the 2017 World Group — or, as Nadal put it, returning to "where they belong". India haven't qualified for the same stage since 2011; a lack of world-beating singles players has been hampering the country's progress.
While India may want to grab this opportunity and portray itself as a nation the top Davis Cup teams can no longer afford to relax against, it couldn't be further from the truth. It's only because of the heroics of Brazil and Russia that the home nation is being afforded so much respect by Spain in this tie.
In reality, India's tennis scene at the highest level is stagnant. Promising singles players, such as Yuki Bhambri and Somdev Devvarman, have failed to scale greater heights. Same goes for Ramanathan; though he's only 21 and has time on his side. Myneni, at least, is coming off a heroic US Open performance — but he's almost 29 and can only improve so much, if at all.
But at least, India now appears to be a destination that top tennis players are comfortable visiting. Watching them in the flesh can inspire our next generation of tennis stars, or even the current one — young Ramanathan, for instance, will gain invaluable experience lining up against Nadal on Friday. These three days will likely be tough on the Indian contingent. Spain isn't in the mood to give an inch.
also read
Tennis
Novak Djokovic lost to Holger Rune in three sets while Iga Swiatek retired in the third set of her quarter-final against Kazakhstan's Elena Rybakina.
Explainers
'Europe's back garden' Spain is running out of water and is on the path to becoming a desert. April was the driest month since records began in 1961, with temperatures reaching a high of 38.7 degrees Celsius. Currently, 27 per cent of Spanish territory is in a drought 'emergency' or 'alert'
World
In a televised address, Sanchez said he had informed King Felipe VI of his decision to dissolve parliament and "call a general election"