Davis Cup 2018: Serbia still a difficult proposition for India despite the absence of Novak Djokovic
The problem at hand for Bhupati and Co is how to break down the Serbians in Serbia, on what has historically been the least favourite surface for India.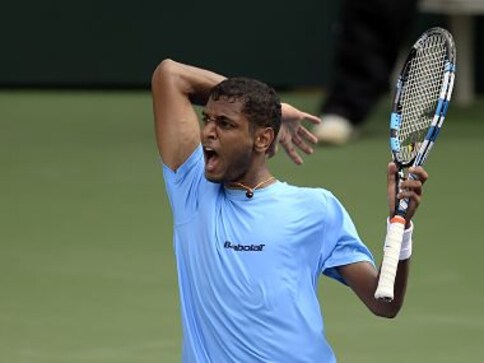 The Indian team is treading with quiet hope as they prepare to tackle Serbia in Serbia in the Davis Cup World Group Playoff, starting on Friday. While the prospect of playing one of the bigger teams in the tennis world on their least favourite surface – clay—is daunting, the visitors were thrown a lease of life when Serbia's top two singles players withdrew from the tie.
Recently crowned US Open champion Novak Djokovic will not compete in the tie, which will be played on indoor clay courts in Kraljevo, Serbia. Only a few days ahead of the contest, Filip Krajinovic, who is currently ranked 33rd in the world, also pulled out with a shoulder injury. Though having either would have heavily tilted the scaled in the hosts' favour, they have enough depth to still field two top-100 players. In Djokovic's absence, Dusan Lajovic (ranked 56) will spearhead the squad while Laslo Djere (86) will be the second singles players.
They are still ranked well ahead of the Indian singles players: Ramkumar Ramanathan at 156 and Prajnesh Gunneswaran at 162.
Ramkumar will begin the proceedings for India, against Djere, in the first singles rubber on Friday while the in-form Gunneswaran will take on Lajovic. Doubles will once again be India's ray of hope as the experienced Rohan Bopanna will team up with N Sriram Balaji against the Serbian scratch pair of Nikola Milojevic and Danilo Petrovic. While Milojevic has played only one doubles rubber in Davis Cup, Petrovic will be making his Cup debut.
The Indian team was also hit with injuries ahead of the Serbia trip. Their top-ranked player, Yuki Bhambri, who has been struggling with knee injuries since the French Open, was forced out. Divij Sharan, who recently won the Asian Games gold medal with Bopanna, missed out on his Davis Cup debut because of a shoulder injury.
"We will miss them for sure," said India's non-playing captain Mahesh Bhupathi. "But luckily our depth across singles and doubles is now adequately about to cover for them."
"Playing a European team on clay is always a challenge since it's not a surface we like," Bhupathi added. "Historically results show this but Prajnesh and Ram can change that. We have been practising here on indoor clay since Sunday and are getting used to the conditions. With Novak not playing, we feel we have a chance but we have to play a very high quality over three days."
In the Davis Cup, India hasn't travelled well in recent times. The last time they beat a European nation in the team competition was way back in 1996, when they defeated the Netherlands. And the last time they won in Europe was in 1993, when Leander Paes' win over the legendary Henri Leconte handed France a 3-2 shock defeat on clay in Frejus. Aware of India's weakness on the surface, European rivals have laid out the red dirt for them regularly and it was no surprise when Serbia opted for indoor clay as their choice of surface for the September tie.
However, the singles players that India will field this time around are no strangers to European clay. Ramkumar has been bred on the slow clay courts in Spain and has the physical attributes to last on it.
The 28-year-old Gunneswaran, who is having the best year of his career, has a base in Germany and trains at the Schuettler-Waske Academy. Having lost five years to injury, Gunneswaran is enjoying the second wind and has taken big strides on the tour this year. He won his biggest title — a $150,000 Challenger event in Anning, China in April and also claimed a singles bronze medal at the Asian Games. He made his presence felt in the Indian jersey when he squared up against teen sensation Yibing Wu in the fifth and deciding rubber during the zonal tie against China in April, and nervelessly sprinted to victory.
Ramkumar's form has been patchy, but he had a great run this summer when he went all the way to the finals of the Newport ATP event, the first Indian to do so in seven years.
Rankings rarely matter in Davis Cup ties. And even though Lajovic and Djere are ranked in the top-100, neither of them will start as overwhelming favourites against the Indians. The 28-year-old Lajovic has an 8-7 win-loss record in Davis Cups, while Djere is still looking for his first win in only his third cap for Serbia. These numbers are enough to keep the Indian team hanging on to hope against Serbia, who have won three of their four head to head ties.
It might even be one of the better chances India has had in the World Group Playoffs. The team has stumbled at that stage for four straight years now. They were edged out by Serbia 3-2 in Bangalore in 2014, then have gone on to lose against Czech Republic (2015), Spain (2016) and Canada (2017) in Canada.
With the Davis Cup set for a revamp in 2019, India, or Serbia for that matter, won't get a direct entry into the World Group if they win. According to the new format, the winner will be one of 12 seeded teams in the Davis Cup qualifying round in February next year. The qualifying round will see 12 seeded — the four losing quarter-finalists in 2018 (Belgium, Germany, Italy and Kazakhstan) and the eight winners of the 2018 World Group play-offs — go up against 12 unseeded teams, with the winners progressing to the Davis Cup Finals in November.
But that's a puzzle for another day. The problem at hand is how to break down the Serbians in Serbia, on what has historically been the least favourite surface for India.
Draw
Friday singles:
Rubber 1: Laslo Djere v Ramkumar Ramanathan
Rubber 2: Dusan Lajovic v Prajnesh Gunneswaran
Saturday doubles:
Rubber 3: Nikola Milojevic/Danilo Petrovic v Rohan Bopanna/N Sriram Balaji
Sunday singles:
Rubber 4: Dusan Lajovic v Ramkumar Ramanathan
Rubber 5: Laso Djere v Prajnesh Gunneswaran
also read
Tennis
Novak Djokovic lost to Holger Rune in three sets while Iga Swiatek retired in the third set of her quarter-final against Kazakhstan's Elena Rybakina.
Tennis
Without Rafael Nadal, for the first time since 2004, French Open will wear a different look. Iga Swiatek chases a second straight title. A look at the talking points at Roland Garros.
Tennis
Novak Djokovic's loss in the fourth round as the defending Italian Open champion in Rome dropped him to No. 3.