Da Da Ding: Meet the athletes featured in Deepika Padukone's Nike ad
You may have seen Deepika's Nike ad that's going viral right now, but there are some other accomplished ladies from the world of sports in the ad as well!
The new 'Queen of Hearts' Deepika Padukone is now forging ahead to become the Queen of Sports as well! Nike's new viral campaign 'Da da ding' has the whole internet abuzz. Deepika is seen in her badminton avatar and she impressively maneuvers through strenuous training in the ad. She even mentions how important sports have been in teaching her how to handle success and failure while sharing the campaign:
While Deepika's done a mighty brilliant job, it isn't just the Bollywood diva that deserves the spotlight.
This ad displays compelling visuals that highlight the growing participation of females athletes in Indian sport. It throws some much needed light on the best that the female sporting world has to offer. Here are the inspiring and accomplished athletes featured in the ad:
Rani Rampal


Rani was the youngest player in the Indian women's national field hockey team in 2010. She was merely 15 years old when she joined the squad. She is the only Indian to have been nominated for the International Hockey Federation (FIH) Women's Young Player of the Year Award in 2010.
The feisty forward has humble roots, hailing from a small town in Delhi, but that has never stopped her. "Coming from a small village never stopped me; every time I won a medal I kept getting stronger and more confident to take on the world."
For Rani, sports are her means of self assurance and helped her expand her dreams. We're sure she inspired many other young women in sports to follow their dreams too.
Jyoti Ann Burrett


Jyoti is a petite footballer at 5 foot 3 inches, but she packs quite a punch on the field. Jyoti is the striker of the Indian women's football team.
The 26-year-old footballer began her journey with the Indian women's team in 2013 and intends to give the women's football team the exposure that it deserves. She has a Masters degree in Sports and Health Science from University of Exeter and had no dearth of lucrative jobs, but decided to go for football instead. Why? Passion.
Despite being ranked 57 in the FIFA rankings, which is leaps better than the men's team ranking of 163, the women's team barely gets any visibility. "The men have a lot more exposure, they can play for their states in regular national tournaments, and they have more foreign trips. They can be full-time footballers; Indian women don't have that luxury." Jyoti said in an interview with The Ladies Finger. With players like Jyoti on the squad we're sure that the women's football team will start getting the attention they deserve.
Joshna Chinappa


Joshna Chinappa is a squash player, and quite an accomplished one at that. She reached a career-high world ranking of World No. 10 this month. She was the youngest Indian women's national champion in squash and also the only Indian to win the British Squash Championship title in 2003. She even won the squash women's doubles gold medal along with Dipika Pallikal. Another Indian women's athlete who has shone for the country an won accolades with her performances.
Ishita Malaviya


Ishita is India's first professional female surfer. Her ambition is to promote the vast Indian coastline as an international surfing destination. We couldn't think of a better face than her for this task!
Nike isn't her first sports fashion gig. She has been making waves for brands like Roxy and Quicksilver as well. Malaviya is already materialising her ambition. She has co-founded one of the country's foremost surf schools, Shaka Surf Club, along with partner Tushar Pathiyan.
Namrata Purohit


Namrata is one of the youngest fully-trained Stott Pilates instructors in the world, and her tryst with fitness began at the tender age of 16. She has trained the likes of cricketers Abhishek Nayar and Dhawal Kulkarni, football players Renedy Singh and Manandeep Singh and even celebrities like Neha Dhupia, Bruna Abdullah, Hazel Keech and Shibani Dandekar.
Namrata was a talented national-level squash player, but falling off a horse at age 16 and undergoing knee surgery, her sporting career saw a tragic end. But that didn't stop her; she decided to give Pilates a try after her physical rehabilitation and the rest, as they say, is history.
The young trainer is like any other young fitness freak; she has a weekly cheat meal and also goes for dance classes. But it's trainers like her are the reason why India is sending its largest Olympic contingent this year.
Harmanpreet Kaur


Harmanpreet is the top all-rounder in the Indian women's cricket team. Harmanpreet is also set to become the first India women's cricketer to be signed by an overseas Twenty20 franchise. She will join Sydney Thunder to compete in the Women's Big Bash League. The Indian women's team almost made it to the World T20 semi-finals. Harmanpreet was India's leading run scorer and wicket-taker in the tournament. The Indian women's cricket team, including her, is a force to be reckoned with and are ranked fourth in the ICC rankings. More power to Indian women in cricket.
Shubhlakshmi Sharma


Shubhlakshmi is another formidable member of the Indian women's cricket team. She is a right-hand batter and right-arm medium bowler. She made it as a regular in the team when she was 18 years old.
From being a mischievous girl in school who had to compete against her five brothers in just about everything, to realizing her goal of giving Indian women's cricket international exposure, Shubhlakshmi has come a long way.
Smriti Mandhana


The third member of the Indian women's cricket team to feature in the ad, Smriti caught the attention of the cricketing community when she scored a half-century in her Test debut to help her team win against England.
The left-hand batsman was just nine when she was picked for Maharashtra's Under-15 state side. It was in 10th standard — when she had to choose between choosing science or pursuing her passion — that she made her decision. She had her doubts along the way, but they were all dismissed after her remarkable performance in England.
Other celebrities like sprinter Shweta Hakke and model Gabriella Demetriades also feature in the video. The popularity of this ad is truly an indication that female athletes are no longer an anomaly in India, where athletics had remained a male dominated field for a long time. We must appreciate Nike's push for more inclusivity in sports. With Rio 2016 just around the corner, let's chant 'Da Da Ding' and cheer for our female athletes on their way to success!
In case you missed it, watch the ad here:
Find latest and upcoming tech gadgets online on Tech2 Gadgets. Get technology news, gadgets reviews & ratings. Popular gadgets including laptop, tablet and mobile specifications, features, prices, comparison.
Sports
From the Opening Ceremony to life in the village on Tokyo Bay, the postponed 2020 Olympics will be like no other. There'll be stringent rules and guidelines.
Sports
The 26-year-old Mihambo has sprinted occasionally during her career and set a personal best of 11.21 seconds in the 100 last year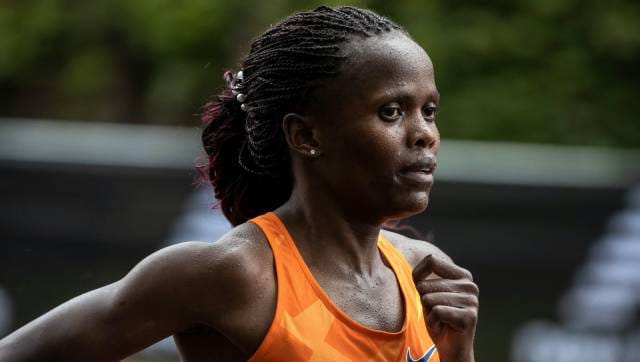 Sports
At the Chicago Marathon in October 2019, Kenya's Kosgei stunned the world when she broke the long-standing women's world marathon record by more than a minute, clocking 2:14:04.