Countdown to Olympics: Meeting track legend Carl Lewis
Nine-time Olympic gold medalist Carl Lewis chats up with CNN-IBN special correspondent Amrita Tripathi.
by Amrita Tripathi
Don't always believe what you read... I was bracing myself for arrogance before meeting athlete Carl Lewis, having read an article on the nine-time Olympic gold medalist. ESPN.com called him King Carl, but also said he came across as "haughty and arrogant, cold and calculating, aloof and abrasive".
The Olympics, the ultimate spectator sport, had left an indelible image in my child's mind of a sprinting Carl Lewis. It seemed even back then that people warmed much faster to the much-later-discredited Ben Johnson. Johnson, even before his apology for the drug use, seemed to be more human, more humane.
There's no question about Lewis' place in history, given his prowess in track and the long jump and yet, as that same article said, he never reached the league of America's heroes, Michael Jordan or Magic Johnson. The problem reportedly is humility.
And yet Lewis is funny and gracious during our promo shoot in New Jersey. No fuss at all. He's gallant, even! Saying "No, that can't be! You're too young to have seen me at the '88 Olympics!" the second time that comes up in conversation. Trust me, I'm old enough that the statement certainly rates as a compliment!
Chatting with me and the Washington-based journalists Asif and Bala Chandran who were at the shoot, Lewis says his current passion is trying to pump life back into his home town of Willingboro, New Jersey. He's working with a partner to set up a community center, senior citizens center, track and basketball court in his home town, because it has "lost its confidence."
Something that's changed since he was a child, apparently, something that's possibly mirrored across America of the Noughties.
Lewis tells us an anecdote about pumping some of that confidence into a local high school. He apparently told an unbelieving bunch of ninth graders they'd be state champions by the time they graduated high school. And so it was! Not because of a change in coach, Lewis explains, but "it's all about expectations", about saying it's not okay to deliver below-par.
"It's saying you won't accept anything below the best someone can give," he tells me. I swear I've seen this in one of those inspiring sports movies, and it's quite moving to hear in real life too. I wish him luck for the community center project, but that's not what he needs so much as "a lot of money", he laughs, saying what does he know?! He "did track", not investment!
Be that as it may, he's quick on the draw.
"Can you still do 100 in 10?" Asif asks, in between takes.
"Nooo."
"And (jump) 26 feet?"
"Give me 2 weeks," Lewis says, laughing. That's the Olympian in him.
He won't predict a winner at the 100m at the London Olympics though, saying he never does, since predictions just serve to add to the pressure on athletes. But he's emphatically rooting for America. He also privately does voice some concerns about a specific country. He doesn't say it in as many words, but the allusion is clearly to performance enhancing drugs. Daal mein kuch kaala hein, he might say if he were Indian.
All in all, there's no doubt that Lewis is engaging. He brings up his idol Jesse Owens, saying he'd love to have that experience mirrored: "I'd love to have someone say they met me as a kid...and then break my records," he laughs towards the end of our conversation. "Take 'em all!"
Carl Lewis will be providing expert commentary right through the London Olympics, on CNN-IBN.
Amrita Tripathi is a CNN-IBN special correspondent based in New York. You can comment right here or tweet your comments @amritat and @firstpostin
Subscribe to Moneycontrol Pro at ₹499 for the first year. Use code PRO499. Limited period offer. *T&C apply
Sports
The US freestyle great, whose 15 world titles are the most of any woman swimmer, adapted and adjusted along with the rest of the world in 2020, but she isn't giving any ground when it comes to her goals in the pool.
Sports
Pompeo, a vociferous critic of Beijing while he was Donald Trump's top diplomat, said the previous administration had tried in its final months to persuade the International Olympic Committee to move the Winter Games.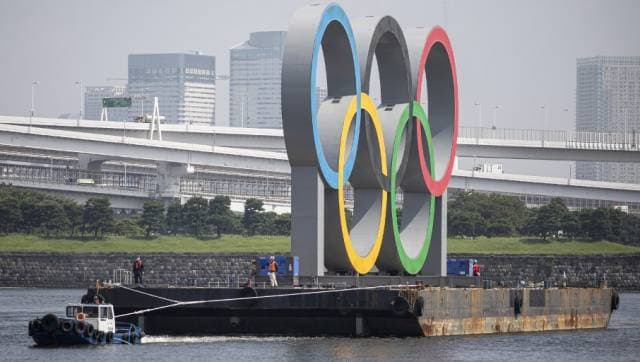 Sports
Despite persistent concerns about the safety of holding the Games this summer, organisers say the massive event can go ahead and the torch relay will kick off as planned on 25 March.