Conor McGregor could get seriously injured against Floyd Mayweather, says former champion Amir Khan
British boxer Amir Khan fears Conor McGregor could face serious injury as the Irishman prepares to face Floyd Mayweather here Saturday.
Las Vegas: British boxer Amir Khan fears Conor McGregor could face serious injury as the Irishman prepares to face Floyd Mayweather here Saturday.
Former light-welterweight world champion Khan told the MMA Hour television show Friday he believed mixed martial arts star McGregor could be hurt in what he expects will be a one-sided meeting with Mayweather in Las Vegas.
McGregor has never fought in a professional boxing contest and is a huge underdog against Mayweather, a 49-0 fighter regarded as one of the best boxers in history.
"It's like a tennis player trying to play badminton," Khan said.
"So he (McGregor) should not show too much too balls in this fight. If he starts getting a beating — step out man," he added.
"He needs to think about himself in this fight, because if he gets seriously injured, he might not ever be the same fighter or he might not even fight again."
Khan's fears reflect wider misgivings by some in the boxing community who believe Saturday's money-spinning superfight should never have been sanctioned on safety grounds.
The head of the Association of Ringside Physicians, Larry Lovelace, is among those who believe Nevada should not have granted a licence to the fight.
"We were very surprised this bout was even sanctioned and was going to be permitted to carry on," Lovelace was quoted as saying by the New York Times.
"The thing I really fear, truly fear, is that somebody's going to get really hurt."
The Nevada State Athletic Commission, which sanctioned the fight, has a financial interest in the fight going ahead, earning a slice of the gross ticket receipts.
With the bout expected to bring in more than $60 million at the gate, the commission could earn as much as $1.2 million.
But Bob Bennett, the executive director of the commission, hit back at suggestions of a conflict of interest.
"As a regulator, I take offense to the fact that we're approving this fight for fiduciary reasons," Bennett said. "That's totally unfair, and it's simply not true."
World
A donor conference in Geneva on Monday saw countries promise a total of $1.2 billion in aid for Afghanistan, which was taken over by the hardline Islamist group last month in a lightning offensive that took retreating US troops by surprise.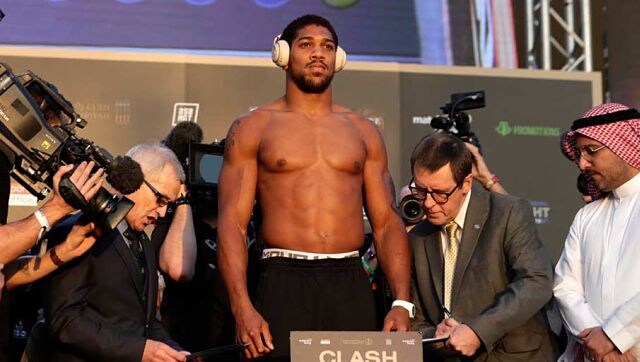 Sports
Joshua is set to face World Boxing Organization (WBO) mandatory challenger Usyk in London on Saturday, with a crowd of some 60,000 expected at Tottenham Hotspur Stadium, the home of the Premier League club.
Sports
Sachin was up against one of the strongest contenders for the title in Gaurav (Railways Sports Promotion Board) and came out triumphant by a 4-1 margin.