U-19 World Cup: Confident, unfazed 17-year-old Armaan Jaffer is set for his biggest test yet
There is an air of confidence about Armaan's batting that he also exudes when he speaks. This is the biggest test of his career so far — he doesn't shy away in admitting it — but he isn't over-thinking it and hasn't overloaded himself with a cluttered mind.
It's a typically busy Thursday afternoon at the Cross Maidan — situated in the heart of South Mumbai — as youngsters clad in whites are concentrating hard on the field, where three or four matches are taking place simultaneously. Batsmen — all padded-up and wearing their helmets — are sitting in the tents outside the boundary ropes, waiting for their chance to arrive.
At the Karnatak Sports Association ground, the scenes are vaguely similar except for one thing. News arrived that Armaan Jaffer — 17-year old nephew of former India cricketer Wasim Jaffer -- who had recently been selected in India's U-19 World Cup squad, would be visiting the ground for a net session.
As he arrives, the academy bowlers rush to greet him, but Armaan is calm and composed. As soon as he opens the kit bag, there is a sense of thrill and excitement, the academy boys swarm around him as he lifts the India Under-19 helmet from the kit bag. Armaan had a similar reaction when he first received his World Cup kit in the India U-19 camp.
"I was really excited when I got the India Under-19 kit. I was in the camp when I got it so couldn't do much. But as soon as I reached the hotel, I unpacked the kit and wore the jersey and the cap. It was an Indian jersey so I was really excited," Armaan tells Firstpost.
There is a sense of excitement because it will be Armaan's first big tournament. More so because he has earned his place in the World Cup squad through immense hard work and by scoring heavily in the U-19 Cooch Behar Trophy after being ignored by the India U-19 selectors for a couple of tri-series leading up to the World Cup.
At the KSA ground, there's also a sense of history.
It was here that Armaan shot to fame when he broke Sarfaraz Khan's record for the highest individual score in Indian school cricket, when he hit 498 for Rizvi Springfield School against IES Raja Shivaji School in the Giles Shield tournament.
But in the past two or three years, he's been on a bumpy journey.
Setbacks
In 2013, Armaan suffered an ankle injury that would rule him out of action for nine months and that meant he missed the bus for the 2014 U-19 World Cup.
He was in contention for selection with a brilliant performance in the U-16 Vijay Merchant Trophy where he ended the season with 1,036 runs from eight matches at 94. But it was his innings of 290 in the final against Delhi that made the selectors sit back and take notice.
"It was a tough time as I hadn't played cricket for six months; I didn't even walk for three months," Armaan explains. "I hadn't recovered fully when I made a comeback for the U-19 one-dayers which affected my performance. I played one match and again got injured, so it was a difficult phase for me and the comeback was difficult too."
However, with sheer determination and hard work, he got back on track.
"I didn't need to change my game, I practiced a lot and was back to normal after that," he adds.
This time though he was determined not to miss out on the biggest extravaganza.
However, he received a major setback two months before the U-19 World Cup selection.
An average performance in the U-19 Challenger Trophy where he scored 75 runs from 3 matches at 25 for India Green meant that Armaan fell off the radar of the junior team selectors — headed by former India seamer Venkatesh Prasad — and missed out on a tri-series featuring Afghanistan and Bangladesh in Kolkata. He also missed the tri-series involving Sri Lanka and England in Sri Lanka.
It was a major setback considering the fact that it was a part of the build-up towards the U-19 World Cup and time was running out.
"I was disappointed at the start but then I spoke to my dad (Kalim Jaffer) and U-19 coach Vinod Sir. They told me not to worry too much about selection, and to just 'keep playing the way you are, keep performing, keep scoring runs and then it will be hard for the selectors to ignore you'," Armaan says.
Back in contention
Armaan heeded the advice as he let his bat do the talking and conjured an amazing turnaround with three double centuries on the trot — 224 vs Madhya Pradesh, 223 vs Orissa and 218 not out against Karnataka in the U-19 Cooch Behar Trophy, in process amassing a phenomenal 1,018 runs from seven innings at 169.66.
"By the time I had been ignored for the second tri-series, I had scored 174 and a couple of double centuries. There was disappointment and I had only one option — to score runs. After that, I hit another double century (against Karnataka) and then got selected for the U-19 WC. So I had just one motto — score as many runs as possible," Armaan says.
Somewhere down the line, what kept him motivated was coach Rahul Dravid's advice to the team during the U-19 Challenger Trophy. "He told us, don't get depressed if you don't get selected for the U-19 India team, it's not that if you don't get selected, you won't be able to play for the senior team. In fact, most players who have represented India at the highest level haven't played U-19 cricket for India."
There is an air of confidence about Armaan's batting that he also exudes when he speaks. This is the biggest test of his career so far — he doesn't shy away in admitting it — but he isn't over-thinking it and hasn't overloaded himself with a cluttered mind.
"Even if it's on a smaller stage, there is pressure. In cricket, you will always be under pressure at every stage," Armaan says pragmatically.
Armaan's growth as a player
The one big change in Armaan since his epic 498 is his increase in strength. "At that time, I had hit 77 fours and not a single six. Now my strength has increased and I am also focusing on hitting the big shots and trying to be more aggressive. This will help me in the World Cup," Armaan says.
At Cross Maidan, Armaan has come up with a strategy for the net session: "Step out hone pe zyaada concentrate kar raha hoon, late step out, spinners ka ball release hone ke baad. (I've been focusing on stepping out of the crease late, after the spinners have released the ball)"
Armaan hasn't had much time to practice with the white ball, but Kalim has made sure that the preparations are intense ever since his selection in the World Cup squad. He sets up a match simulation in the nets to train him for different situations.
"We have worked on his skill, fitness and mental toughness. You have to go through different situations in World Cup matches. Sometimes you will be setting targets, sometimes you will be chasing. There might be a situation, where as a middle-order batsman, you will arrive at the crease in the eighth over or you may even arrive with 25 overs left. So in every scenario, you have to be a different player," Kalim says.
"So we put him in a match simulation and gave him targets by setting fields according to the phases of the game. Like in the first 15 overs, what will your strategy be? In the next lot of 15, you have to rely on singles and twos, placements and finding the gaps. And in the final 15 overs, you have to go all out depending on the type of batsmen on the other end, and accordingly strategise," Kalim adds.
His new teammates
The surprising thing this year is that a lot of small-town players have made the cut and players from the metros are a rarity. Armaan, who prefers to bat at No. 4, is the only Mumbai batsman to have made it to the squad. Unlike some of his teammates — Sarfaraz Khan, Rishabh Pant, Ishan Kishan and Avesh Khan, he hasn't played First Class or List A cricket. He admits that it will make a difference, but is confident of succeeding regardless.
"It will make a difference because you get that experience by playing at the First Class level. The players who have played for the country, they also play in the Ranji Trophy and in First Class matches, so it's a different experience," Armaan says.
He also says that having Dravid as a coach will add an altogether different dimension to the team. "His presence will definitely give India an extra edge. He's had good amount of experience in ODIs too, which will help us strategically as well as tactically," Armaan adds.
His consistent performances have attracted interests from IPL teams in the past couple of years, but he has chosen to stay away from it because of the fear of his focus being diverted due to the glamour quotient involved. His aim is to first make it to the Ranji team and then the senior national side.
However, right now he is primarily focused on carrying forward his form in the World Cup and trying to win the title as a team.
Looking ahead to the U-19 World Cup
So what's going to be his biggest challenge in the World Cup?
"I am not thinking that way — I have this challenge, I have that challenge — I am just concentrating on playing my natural cricket. I haven't studied much about the opponents either, because there is hardly any telecast of their matches," he says.
"But the more I don't know about them the better, because I try not to think about my opponent or pitches. I just play my own game," he adds. Kalim says that the tournament is crucial only because it has the tag of World Cup, but in his eyes, they are just normal matches and he has trained his son accordingly.
"I told Armaan just take it as a normal match, 80 percent of the pressure will automatically be released. Just stick to the basics the way you did right from childhood. It will be a set of high-intensity games and you have to manage yourself, and I definitely think he can manage himself," adds Kalim.
For most of his career so far, Armaan has played red-ball cricket, and there is a notion among the cricketing fraternity that he is only suited for the longer format of the game. But Armaan says there won't be much difficulty in the transition from the longer to shorter format.
"I've been playing cricket in Mumbai right from childhood and there was no shorter format in my U-14 and U-16 days.  But I don't think much about what people say," Armaan says and adds, "I know there won't be much difficulty in transitioning from four-day cricket to ODI. There is not much difference. In 50 overs, you don't have to go bang-bang right from the word go like T20s. You have to be clever with your singles and twos, and then go for the bowling in the death overs which isn't that tough," says Armaan confidently.
His father Kalim gives the example of the recently concluded World Cup practice match against the Board President's XI at the Brabourne Stadium to explain the case.
"Any cricketing shot is an extension of defence.  Now, when and where to use that extension depends from individual to individual and he (Armaan) knows what he has to do," Kalim says. "He can adapt to the shorter format. In the practice match against the Board President's XI, he played against the likes of Harshal Patel, Ishwar Pandey, Jaidev Unadkat, Shreyas Gopal — some of whom have represented the senior national team, went out to bat with 25 overs left and scored 90 from 70 balls. Doesn't it tell the story?" he asks.
So which will be the one quality that will help him the most at the World Cup?
"Imagine if wickets fall early and he goes to bat in the middle order, he will bring in stability, he has all the copybook strokes and can change gears whenever required. He can be a good asset for the team because of his temperament," Kalim adds confidently.
As the interview comes to a close, it's clear that Armaan's day is far from done. It was an intense hour-long net session where Armaan engages in friendly banter with the bowlers toiling hard to get him out. There was an instance when a spinner walked up to Armaan and mumbled cheekily, "Itna easy nahi mujhe maarna." (Not so easy to hit me!) Armaan reminded him, "Teen chauke aur teen chhake khaa chuka hai tu aab tak." (You have already been hit for three fours, and three sixes)
The entertaining net-session was followed by throw-downs for around 15 minutes, his father Kalim then asks him to pack up, as he has to reach home in Bandra for dinner, and then rush to the team hotel in Andheri. For the 17-year old, destiny awaits, after all.
The next few weeks will be the biggest test of the confident youngster's career so far.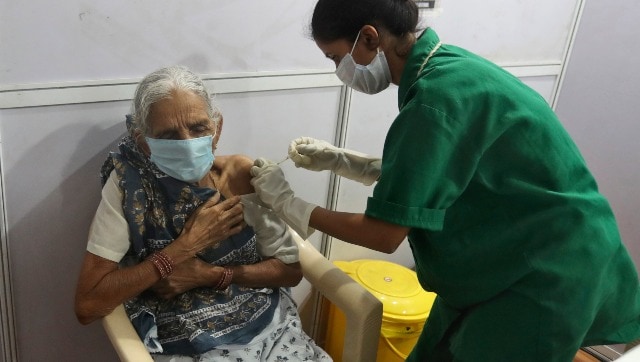 India
The court made the observation while hearing a PIL seeking a direction to the Centre and state governments to start door-to-door vaccination for those who cannot step out of their homes and travel to vaccination centres
First Cricket News
A member of the 1996 World Cup-winning team, Tillakaratne has held several coaching positions before his latest elevation.
First Cricket News
Nine members of Krishnamurthy's family battled the disease and her mother and sister passed away within two weeks of each other in May in Karnataka.