Confederations Cup 2017: Second-string Germany winning title, VAR debate and other hits and misses
Check out some of the interesting instances from the recently concluded Confederations Cup, including Germany's second-string's emphatic performances to controversial VAR decisions.
The 2017 Confederations Cup witnessed top-quality football, but what intrigued the fans were instances such as Germany's domination despite missing out on most of their star-studded players, attacking football from Chile's golden generation and not to forget, some of the refereeing decisions via the new video assistant referee (VAR) technology.
Let's look at some of the hits and misses from the tournament.

Germany 'second-string' players strike gold (Hit)

Germany coach Joachim Loew has every reason to be immensely proud of his 'second-string' side that showed maturity beyond their tender age to bag their maiden Confederations Cup title.
Not that they were a group of teenagers, with the average age of Loew's starting 11 being 24. Captain Julian Draxler ended up becoming the top-performing player of the tournament, winning the Golden Ball, while the Golden Boot was won by striker Timo Werner, with three goals and two assists in four matches. Lars Stindl and Leon Goretzka both collected the Silver Boot with three goals each. Though the team was without the likes of Mesut Ozil, Toni Kroos or Mats Hummels, the young side handled the pressure well in their absence.
This comes after Germany's star-studded U-21 side won the UEFA European Championship by beating high-flying Spain the final. Thus, within the space of 48 hours, Germany bagged two international football tournaments.
The new VAR technology made its presence felt (Miss)
FIFA president Gianni Infantino had on Saturday termed the video assistant referee (VAR) as the 'future of football', though some players opined otherwise.
On Sunday, Mexico captain Rafa Marquez slammed FIFA's decision-making in choosing the officials for their third-place playoff against Portugal. The 38-year-old was unhappy with the refereeing in general in the 2-1 defeat, but the he was infuriated when Pepe deliberately pushed Hector Moreno.
"I don't know on what grounds they bring these types of referees," said Marquez after the game. "I don't know where he is from, but I think they should bring the world's best referees," Marquez told ESPN.
Man of the match Guillermo Ochoa too was frustrated and demanded the decisions be fairer for both sides.
"I have a lot of witnesses, (FIFA president Gianni) Infantino was there and I don't think he went away without seeing it," said Ochoa. "It is a (controversial) topic and it will continue to be so. Some plays, yes [they refer], and others no. They will have to find a fairer way," said Ochoa.
It created confusion in the final as well, this time when Chile's Gonzalo Jara escaped a red card while elbowing Timo Werner in his face in the final, with referee Milorad Mazic failing to notice the incident
The Germans surrounded the Serbian referee, trying to get him to go for a second view of the incident on the video screen, only to see Mazic brandish a yellow card rather than a red to the German players' surprise.
Earlier, in the tournament, Sebastien Siani was mistakenly red-carded when Ernest Mabouka really was the guilty party for a foul on Emre Can. Despite watching the replay, the referee decided to send off the wrong player, leading to outrage among the Cameroonian squad.
Bravo - Penalty shoot-outs (Hit)
Surprisingly, Chile's biggest asset at the tournament wasn't the flashy dribbling skill of Alexis Sanchez or even Arturo Vidal's robustness. But, it was Manchester City outcast goalkeeper Claudio Bravo, whose bravery between the sticks allowed La Roja to beat Portugal in penalties and seal a place in the final.
Bravo, who had recently recovered from an injury, swept his inconsistent Premier League form aside in Wednesday's penalty shootout win over Portugal, stopping every shot he faced. The Manchester City goalkeeper saved three penalties from Ricardo Quaresma, Joao Moutinho and Nani, while Arturo Vidal, Charles Aranguiz and Alexis Sanchez nailed their spot-kicks for the South Americans. He also made a key stop early in the game, which finished 0-0 after extra time.
Interestingly, the number of saves in the semi-final were equal in number to what he made in the entire season under Pep Guardiola.
Ronaldo-less Portugal make an awful error (Miss)

While Cristiano Ronaldo was busy spending invaluable time with his adorable twins, there was a moment when the Euro 2016 champions missed the 30-year-old's presence on the field. Portugal were awarded a free kick on the edge of the box and the rest was a comedy.
William Carvalho stood over the ball in what ideally should have been a delicate back-heel for Ricardo Quaresma, who ran over the ball and then passed back to Carvalho. Under pressure from two Mexican players, Carvalho finished the move by playing the ball straight out for a throw-in, summing up how valuable Ronaldo really is for the Portuguese side as a set-piece hero. Despite the awful free-kick routine, Portugal went on to claim the bronze medal after a narrow 2-1 win over Mexico in extra-time.
Video Courtesy: SportsJoe.UK

Jonathan dos Santos better than Giovani? (Hit)
Giovani dos Santos is a journeyman who has gained experience from around the world. But at the event in Russia, his brother Jonathan dos Santos stole the limelight. One of the reasons why Jonathan is a regular starter is because of his immaculate range of passing and his ability to control the midfield alongside Hector Herrera. It was evident how the 27-year-old was an integral part of the national team despite being left out of the 2010 World Cup squad. Notably, the midfielder played every crucial game for Villareal in the La Liga and it has helped the Monterrey lad make a name for himself in the national team.
There have been a few murmurs about Jonathan's move to join brother Giovani in the Major Soccer League (MLS), but the younger one thinks he still has a lot to do in Europe.
Find latest and upcoming tech gadgets online on Tech2 Gadgets. Get technology news, gadgets reviews & ratings. Popular gadgets including laptop, tablet and mobile specifications, features, prices, comparison.
Sports
Inter Milan sealed second place with a 2-0 win over high-scoring Atalanta, who hadn't been held to a clean sheet since November.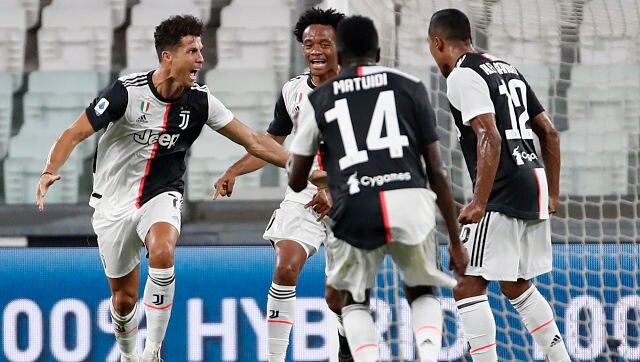 Sports
It was Juventus' first title under coach Maurizio Sarri, who brought in a completely new system.
Sports
It will be no exaggeration to say that Cristiano Ronaldo had more of an impact on Juventus' record-extending ninth straight Serie A title than anyone else.