Complacent, confused, underprepared: Three words that sum up Australia's sorry World T20 campaign
But as they now must slowly realise, Australia can't be so complacent in their approach, even if the next World T20 will be on home soil for the first time. They need to start treating the World T20 like how they methodically approach an ODI World Cup.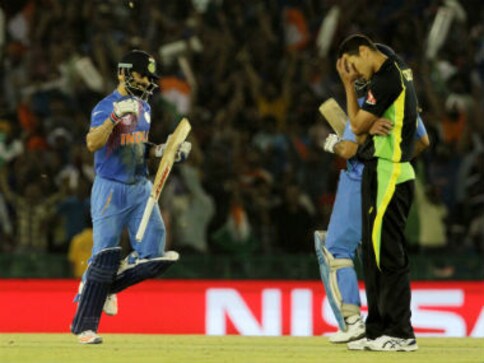 A couple of days have passed since Australia were brutally knocked out of the World T20 by a Virat Kohli masterclass. For Australia and their fans the disappointment lingers, as much more than a Super-10 exit was demanded from a team with a proud cricket tradition.
But as the dust settles, it is becoming painfully obvious that Australia were headed for a debacle. Australia entered the World T20 as the second favourites according to most bookmakers but many conveniently ignored the writing on the wall. The telltale signs were there but Australia command such universal respect for their achievements in longer formats that they were still viewed as genuine contenders.
That misplaced rationale turned out to be delusional because the Aussies came into the tournament woefully underprepared and unsure of their identity. They played a pitiful one T20 International in 2015, and a three-match series against India in January served as essentially a trio of World T20 selection tryouts. Australia played three matches in South Africa ahead of the World T20, which was basically rendered meaningless considering the contrast in conditions there compared to India.
There is plenty that Australia need to do during the next four years, but ensuring they play more T20Is is an absolute must and, surely, should not be too difficult to schedule.
Considering how little they play in the format, it was no wonder Australia had the feel of a disorganised team, one which lacked cohesion and clarity. They were constantly second-guessing themselves, making decisions on the fly as if there was no clear strategy. It can be said, however, that T20 cricket is completely unpredictable, as evidenced by five different winners of the World T20 and perhaps the associated unreliability can knock some edge off precise strategising.
Still, it was particularly jarring to see Australia look so disjointed and ragged for a major tournament. It is something you generally expect from incoherence-prone teams such as England, Pakistan or the West Indies.
Generally, you can ensure Australia are prepared. Well, this rings true in ODIs anyway, where Australia start shaping their team well in advance of a World Cup. Prime examples include former captain Mark Taylor and wicketkeeper Ian Healy being dumped from the ODI squad 18 months ahead of the 1999 World Cup, and the axing of the Waugh twins one year before the 2003 edition. Both sets of decisions proved to be masterstrokes but were also indicative of Australia's attentiveness and assuredness.
In a notable contrast, Australia made the decision to replace incumbent T20 captain Aaron Finch with Steve Smith just six weeks before the World T20.
Australia have seemingly never had the same focus and meticulousness for the World T20. Perhaps you can forgive them in the early years of T20, when they seemed to not really take the format seriously but those apathetic days should be over.
Their strategy was bewildering, exacerbated by a mishmash of strange selections. Australia never truly seemed to totally grasp their 'flexibility' mantra and perhaps it would have been wiser just to pick the best players for each spot. Australia seemed to be too clever with their methodology, hence their penchant of playing a slew of all-rounders.
The Aussies have always traded on a healthy dose of bravado, which fuelled them memorably 12 months ago to ODI World Cup glory on home soil. But you sense the original selection of the World T20 team was marked by arrogance.
Australia bullishly believed they could thrive on Indian conditions with just one specialist spinner, so Big Bash League (BBL) star Cameron Boyce was overlooked as was Test incumbent Nathan Lyon. Bizarrely, all-rounder Ashton Agar was selected as the second spinner even though his left-arm orthodox was rarely seen in the BBL, where he was primarily used as a middle-order batsman by Perth Scorchers.
Chief selector Rod Marsh labelled Agar as a "15th man" selection, suggesting he was unlikely to be needed. Of course, Agar played in Australia's opening loss to New Zealand and bowled just one over for 18 runs. To state the obvious, Australia could have used Boyce or Lyon to complement leg-spinner Adam Zampa.
Although perhaps another specialist spinner would have just been merely a waste of space because of Australia's overwhelming distrust of them in T20 cricket. You felt this ingrained psyche may have eroded after Zampa's exceptional performances against Bangladesh and Pakistan but it reared at a critical juncture versus India when Smith decided not to bowl his young leg-spinner late in the innings. Zampa bowled just two overs for 11 runs in India's innings.
Australia unluckily didn't have the services of injured spearhead Mitchell Starc but the pace attack chosen seemed much the same and lacked potency. You feel firebrand paceman Shaun Tait might have been a better gamble, especially considering his wealth of experience.
Instead, Andrew Tye, a death bowling specialist, was randomly chosen suggesting selectors believed he was capable of being Australia's late innings saviour. But he never played a game at the World T20 in a wasted selection. You would think Tye's original selection indicated he would play in the tournament, otherwise why pick him?
Perhaps most disappointingly, and revealingly, Australia's high-octane batting line-up failed to fire. Once again, a lot of their pain was self-inflicted. They mangled the batting order and sabotaged their best chances of succeeding. It is still baffling that they chose to persist with utilising David Warner at No.3 or 4 instead of his preferred opener's role.
It is also mystifying why Finch was overlooked for the opening two matches. Eventually he was recalled, but Finch could not tap into his destructive rhythm. You couldn't blame him considering the turbulent two months he had endured.
It was a bleak World T20 for Australia but the future still looks bright. There does not appear to be the need of a dramatic rebuild, with only Shane Watson heading off into the sunset. The core is relatively youngish and there is a slew of local talent showcasing their skills in the BBL annually.
But as they now must slowly realise, Australia can't be so complacent in their approach, even if the next World T20 will be on home soil for the first time. They need to start treating the World T20 like how they methodically approach an ODI World Cup.
Australia have four long years to learn from their mistakes.
First Cricket News
Chasing 161, the Capitals suffered an early blow after KS Bharat was sent back in the for a two-ball duck by Trent Boult.
First Cricket News
In 11 innings, Rajasthan Royals opener Jos Buttler has smashed 55 fours and the figure is streets ahead of the rest of the pack.
First Cricket News
Warner may have got out for a golden duck in the team's previous IPL match against Punjab Kings, but he made vital contributions in the field.