Commonwealth Games winner Mirabai Chanu aims to lift 210 kg, says it would be enough to win medals in global tournaments
Indian weightlifter Mirabai Chanu stated that she's attempting to lift up to 210 kg, which she has said will be enough for her to win a medal at any tournament.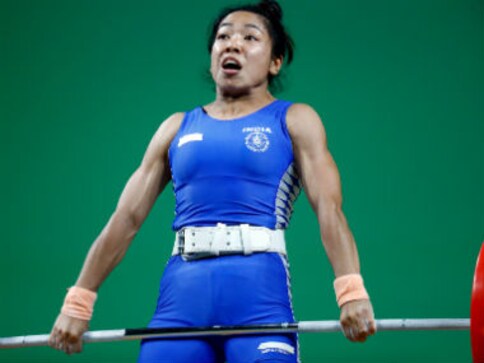 Mumbai: World champion weightlifter Mirabai Chanu said on Friday that if she can lift up to 210 kg, she would be able to win medals in any world level competition.
"I have lifted more than 192 kg. I have lifted 194 Kg in the World Championship and bagged the Gold medal. After that, I had lifted 196 Kg in the Commonwealth Games and that has been my best performance," Mirabai told reporters during a promotional event.
"Now I will have to do better because of change in rule. We were earlier 48 kg athletes, but now we have to participate in 49 Kg category. Now the aim is to lift 210 Kgs and doing so I will ensure that I can win medals in every competition," she said.
The weight-lifter is recovering from a back-injury and hence won't take part in the World Championships to be held in November, which is an Olympic qualifying event. The Rajiv Gandhi Khel Ratna awardee said she will have to take part in all competitions to be held next year.
"Before the Asian Games, I had a back injury, due to which I missed those Games. Now with the recovery, I have started training since a week. In November, there are World Championships — Olympic qualifiers — but I will not participate in it (the World Championships)," 24-year-old Chanu, who hails from Manipur, told reporters.
The World Weightlifting Championships will be held from 1-10 November in Ashgabat in Turkmenistan. "I am recovering from the back-injury and the rehab (rehabilitation) and treatment is ongoing at the Reliance Foundation in Mumbai. I am much better than earlier and have started training," she replied when quizzed on her reasons for non-participation in the World Championships.
"Because of it (not taking part in World Championships), I will have to participate in all the competitions in 2019. Now for Olympic qualifying, I will have to take part in total nine competitions. I have six competitions in the 2019 and will have to participate in all those," Chanu explained.
Chanu, who had broken the Commonwealth Games record, to win a Gold medal, expressed disappointment on missing the Asian Games. "I feel disappointed to miss the Asian Games. My dream was to win a medal in the Asian Games, but that has not happened. My next target is 2020 (Tokyo Olympics)," she added.
The weightlifter also stressed that she has changed training style after the Rio Olympics. "I have changed my practice since the (2016) Rio Olympics. I have changed my technique and now I train thrice a day. Earlier I used to train twice a day. I have been supported by my federation. I have been sent abroad for training," the ace weightlifter added.
Sports
Ravina defeated Megan deCler of Netherlands in the 63kg final to win India's second gold in the women's section and their 11th overall.
Sports
Besides the gold-winning trio, Bhawna Sharma (48 kg) and Ashish(54 kg) collected silver as India's medal count rose to 11 on the penultimate day of the competition.
Sports
Former world champion Mirabai Chanu will return to action for the first time since the Commonwealth Games.