Name: Vikas Thakur
Age: 24
Sport: Weightlifting
Category: 94 kg
Past Commonwealth Games performance: Silver in 85 kg category in 2014
Best performance: Broke national record in 85 kg category in 2015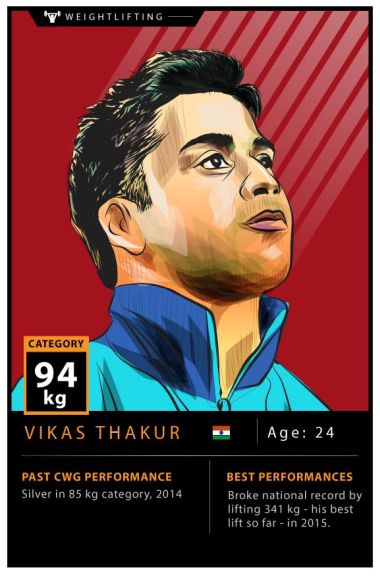 For a country that is a traditional heavyweight in weightlifting at the Commonwealth stage, Vikas Thakur is a relatively unknown figure. The reasons could range from general apathy towards the sport, pervading menace of doping, or simply the low-key nature of the athlete in question, but Thakur's obscurity doesn't take away the fact that he will land in Gold Coast, Australia as a genuine medal prospect for India.
The Ludhiana-based lifter shot into the limelight as a 20-year-old man-mountain in the previous edition of the Commonwealth Games in Glasgow. That was his maiden appearance at the CWG, and Thakur lifted 150 kg in snatch and 183 kg in clean and jerk to win a silver medal. His overall tally of 333 kg was just two kilogrammes short of New Zealand's Richard Patterson's lift.
Next year, at the National Weightlifting Championship in Patiala, Thakur lifted 341 kg (154 kg in snatch and 187 kg in clean and jerk) to create a national record. The previous record was also held by him — he had lifted 339 kg (153 kg in snatch and 186 kg in clean and jerk) at the 35th National Games in Thrissur, Kerala the same year.
Things, however, went downhill the following year for Thakur, who failed to seal a spot for the Rio Olympics. He lifted 192 kg in clean and jerk, but his effort was considered foul, the Times of India had reported. The youngster bounced back from that disappointment and bagged a bronze medal at the Commonwealth Championships in Gold Coast, in September 2017. He lifted 340 kg (150 kg in snatch and 190 kg in clean and jerk) — a steady improvement from his Glasgow effort even after taking into account the fact that Thakur had moved up his weight category to 94 kg.
A month later, he was named among the 16 Indian weightlifters who had made the cut for the 2018 Commonwealth Games. In the previous edition of the Games, India had bagged 12 medals, including three gold. Thakur, who had missed the yellow metal in 2014, would look to go one better this year. It would be interesting to see what bearing moving up weight category has on his performance, but Thakur will enter the arena as one of India's genuine medal hopes.
Click here to read profiles of other Indian athletes involved in the Commonwealth Games 2018
Updated Date: Mar 20, 2018 21:50:12 IST