Name: Mehuli Ghosh
Age: 17
Sport: Shooting
Category: 10m air rifle
Past CWG performance: Debut appearance
Best performance: Twin bronze at ISSF World Cup in Guadalajara, Mexico in 2017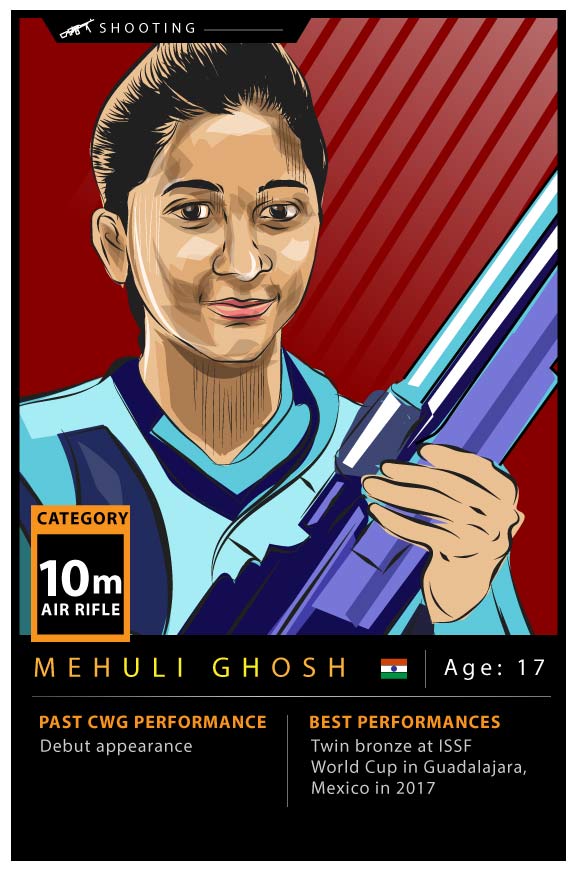 Mehuli Ghosh was 12 when guns and rifles caught her fascination. The source was as unlikely as one would imagine: the popular Hindi detective show "CID".
"I was 12 then and I so liked the actors with guns in hand. I wanted to try my hands at it," Mehuli told Times of India.
That fortuitous affliction gradually transformed into a passion strong enough for her to convince her father of modest means to invest in her. A year of persistence later, Mehuli's father – a temporary employee with the West Bengal government — collected enough money to enroll her in Serampore Rifle Club. It was not a smooth sail in the academy either, as two years back, a pellet fired by her hit a spectator. She was suspended from the academy, and it affected her confidence.
All of 14, she slipped into depression, her shooting dreams seemingly over. It took her mother, Mitali Ghosh, to resurrect her daughter's morale, and in the process, career.
According to a report in the Economic Times, Mitali arranged for psychological counselling for Mehuli, and took her to Joydeep Karmakar's shooting academy in Kolkata, about 40 kilometers from their residence.
Karmakar, an Olympian who narrowly missed a medal in London in 2012, took the youngster under his wings and the results began to flow.
Two medals came in the 2016 Nationals, eight in 2017 Nationals, followed by a gold medal in the youth category of the Asian Airgun Championships in Japan.
At the ISSF World Cup in Mexico, she finished third in the 10-metre Air Rifle event before pairing up with Deepak Kumar in the mixed team event for her second bronze at the event.
Part of the 27-member Indian shooting contingent for the upcoming Commonwealth Games (CWG) in Gold Coast, Australia, Mehuli would look to continue her rich form and win a medal in her maiden CWG appearance.
With four-time CWG gold medallist Abhinav Bindra as her inspiration, one may expect special things from Mehuli in coming months.
Click here to read profiles of other Indian athletes involved in the Commonwealth Games 2018
Updated Date: Mar 17, 2018 11:32 AM