Name: Gagan Narang
Age: 34
Sport: Shooting
Category: 50-metre rifle prone
Past CWG performances: Four gold medals each at CWG 2006 and 2010; one silver and one bronze at CWG 2014
Best performance: Bronze at London Olympics 2012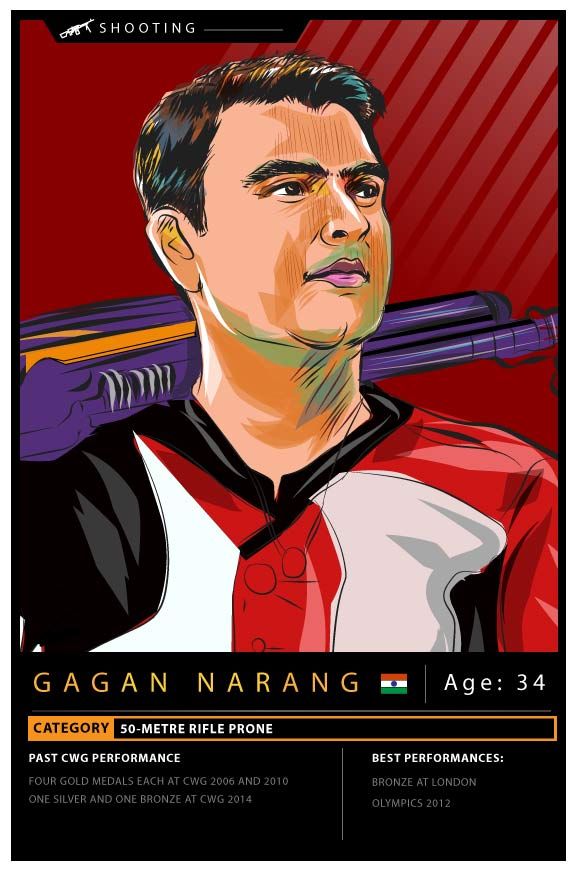 When you think about India's medal prospects at top international multi-discipline events, the first sport that comes to mind is shooting. Indeed it has given India its only individual gold medal at the Olympics. That apart, there has been two silver medals and a bronze at the highest stage of all. There have been a whole bagful of medals won at the Commonwealth Games and Asian Games. And now with the Commonwealth Games slated to start from 4 April, shooting is again at the forefront of India's medal campaign. And when you talk of Indian shooting, the biggest name that comes to mind, among the current crop of players, is Gagan Narang.
The London Olympics bronze medallist, along with Jitu Rai and Apurvi Chandela, would be anchoring India's gold quest at Gold Coast, Australia as part of the 27-member shooting squad for the Commonwealth Games.
Narang, one might remember, had won silver in the 50-metre rifle prone and bronze in the 50-metre rifle three position categories respectively in the 2014 Commonwealth Games at Glasgow. The previous two Commonwealth Games, in New Delhi in 2010 and in Melbourne in 2006 had brought him richer harvests, with Narang winning four gold medals on both those occasions. In 2010, he paired with India's Beijing Olympics hero Abhinav Bindra to win the 10-metre air rifle event. He went on to win the individual 10-metre air rifle event too. His two other gold medals at the New Delhi Games came in 50-metre air rifle three position events in both paired and individual categories. His 2006 CWG golds also came in the same events. His partnership with Bindra did wonders there too as the duo won two golds together.
In the Asian Games, Narang has won two silver medals (in 2010) and a bronze (2006). This is apart from the multiple medals at ISSF World Championships, World Cups and World Cup Finals. Year 2016 wasn't a great year for him. He failed to secure qualification for the 10-metre air rifle category and was dropped from the Indian team for the first three World Cups, and then put up a very meek show at the Rio Olympics. The year 2017 was a bit better which saw him winning silver at the Commonwealth Shooting Championships in Gold Coast.
Narang will be participating in the 50-metre rifle prone event at the Commonwealth Games and his vast experience and pedigree on the big stage makes him one of the biggest medal prospects for India.
Click here to read profiles of other Indian athletes involved in the Commonwealth Games 2018
Updated Date: Mar 17, 2018 12:56:46 IST