When David Warner was going great guns on the first day of the Perth Test, Ishant Sharma (the same bowler who has taken 4 wickets at an average of 81.00) decided to give sledging a shot.
"Come to India and we'll show you," said Ishant. "Your average will drop by at least 10 points"
Warner, who had got to his 50 off 36 balls, didn't need a second invitation to hit back. First, with his words: 'Aren't batting conditions in India better?' And then with his bat: he hit Vinay Kumar for a six and then repeated the dose when Ishant came in to bowl.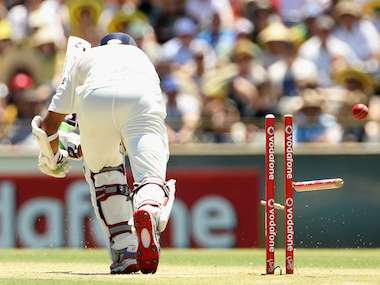 The point is this: Sledging is not always a bad thing. It might even work. But Ishant's choice of words revealed just how much confidence even the Indian players have in their ability when they are 'away' from home.
India aren't just bad travelers. They are probably the worst travelers in the world of cricket because they lose despite having the talent, the money, and the record-holders. But how can a team that does so well at home, do so badly abroad? A 20-30 percent drop in 'away' performances are palatable, but this is more like 70-80 percent. And that can't be good; the results can't be so skewed.
The World Cup win was meant to be something that would herald a greater high in Tests too. But instead, we've seen the game that we love so much, crash and burn.
The dream is dead, and sadly for India, the fans knew it long before the Board of Control for Cricket in India, the selectors or even the players did. And that is a sign of a cricketing establishment that is living in denial. When India lost in England, it was dismissed as an aberration by one and all. What they needed to do then, as they need to do now, was ask the hard question, establish cause and effect. Instead, they wallowed in the mirage of class and its permanence.
The dream of winning in Australia, England and South Africa is now over. It is time for a new generation to take over and learn the hard lessons – just as Tendulkar, Dravid, Laxman and others did when they first started out.
Getting beaten is only part of the problem. It is the manner of the defeats -- getting hammered without putting up a major fight which is the major concern. In the first Test, India lost by 122 runs; in the second by an innings and 68 runs and now in the third, by an innings and 37 runs. And we thought England was bad.
A detailed and objective analysis of failures is called for. Sourav Ganguly, in his post-match analysis, said: "We weren't the World No.1 Test team then. You can't be one without winning in England and Oz. That tag didn't fit us back then."
What does he need to do to get heard? And where is BCCI president N Srinivasan hiding? He never tired of reminding the world of our No.1 status but now, for quite a while, he's been silent… very silent.
This was a team that was fighting tooth and nail under Ganguly. Have the World Cup win and the IPL riches, made them go soft? India need some answers, not just questions.
We need to remember that sport can change quickly. And perhaps in that lies India's hope; the hope that change will be merciful and not merciless as it can often seem to be.
Sadly, though, hope is also the only thing India can rely on because they seem to have run out of ideas and inspiration. When Dhoni was asked what India need to do to get out of this, his reply was vague: 'We need to find a way to win abroad.'
A way... no concrete plan -- just a way. Wish it and it'll turn up… just like that… poof. If only it was that easy.
Your guide to the latest cricket World Cup stories, analysis, reports, opinions, live updates and scores on https://www.firstpost.com/firstcricket/series/icc-cricket-world-cup-2019.html. Follow us on Twitter and Instagram or like our Facebook page for updates throughout the ongoing event in England and Wales.
Updated Date: Jan 15, 2012 19:39:47 IST