China Open Superseries Premier: PV Sindhu last Indian standing as Saina Nehwal, HS Prannoy crash out
Later on Thursday evening, Sindhu will clash with Chinese qualifier Han Yue, against whom this will be her first meeting.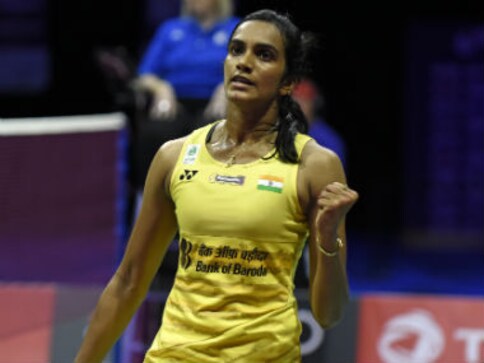 Three of India's four singles exponents on show at the 2017 China Open Superseries Premier tournament managed to cross their opening hurdles on Wednesday, but the country's challenge in all three doubles events was wiped out by decidedly superior opposition.
To make matters worse, early second-round action on Thursday morning saw two of the last three Indians left standing after their lung-openers at Fuzhou's Haixia Olympic Sports Centre meet their Waterloo at the hands of two exciting youngsters, leaving second-seeded PV Sindhu as the sole Indian survivor at the $700,000 competition.
Former World No 1, Saina Nehwal, who had won this tournament in 2014, was the most impressive of the three Indian victors on Wednesday, almost contemptuously dismissing the challenge of American Zhang Beiwen, ranked just one place behind her on the Badminton World Federation (BWF) computer, at No 12. Nehwal took a minute under the half-hour mark to score her third career triumph over her fellow 27-year-old, at 21-12, 21-13, and kept her record against Zhang unblemished at 3-0.
However, on Thursday morning, the Indian ace, who won her third national crown at Nagpur last week, came a cropper against the 20-year-old fifth-seeded Japanese dynamo, Akane Yamaguchi, against whom she had a poor 1-3 record going into the match. Nehwal's 18-21, 11-21 reverse against Yamaguchi meant that she has lost all the four matches the two have played this year.
The No 2 seeded Sindhu, meanwhile, huffed and puffed for almost exactly a full hour while showing Japan's World No 13, Sayaka Sato, the exit door at 24-22, 23-21 in Wednesday's last match that was completed a few minutes after midnight.
Ever since she ascended to the World No 2 position, Sindhu has had to face the burden of playing one of the last matches on the day's schedule, at least in the initial rounds; and Wednesday's opening-round clash was no different. The schedule in the five-court arena was so heavily delayed as a result of several matches going the full distance, that the Indian was stiff when she was finally summoned on court.
In any case, Sindhu is not comfortable playing against left-handers, and the long wait to get her match underway only added to her discomfiture, as her court coverage left a lot to be desired. She also had her by-now-familiar blues in closing out the encounter, but kept her cool and just about managed to get over the line, to take her record against the lanky 26-year-old Japanese southpaw to 2-1.
Later on Thursday evening, Sindhu will clash with Chinese qualifier Han Yue, against whom this will be her first meeting. The 17-year-old Han, ranked a lowly 105th on the BWF computer, hardly broke sweat as she beat Canada's 20-year-old Brittney Tam, born of Chinese immigrant parents, with a 21-10, 21-7 verdict. Sindhu will not have matters her own way against the ambitious Chinese teenager, as she struggles to keep the Indian pennant aloft.
Recently crowned national champion HS Prannoy, who was spearheading the Indian challenge in the men's singles in the absence of Kidambi Srikanth, also struggled mightily to put away South Korean qualifier Lee Dong Keun by a 18-21, 21-16, 21-19 scoreline, in Wednesday's longest match, lasting 89 minutes.
Prannoy, however, did not last long in the tournament, for he was sidelined on Thursday morning by Hong Kong's up-and-coming Lee Cheuk Yiu, who had been promoted to the tournament proper from the qualifying ranks, and is seen as one of the most exciting youngsters to emerge from the former English colony.
Although he was only placed 53rd on the BWF ladder to Prannoy's 11th rank, the 21-year-old Lee used a relentless attack to eliminate the Indian ace by a 21-19, 21-17 verdict in a matter of 42 minutes. The Hong Kong lad rode on the back of vociferous crowd support to play the classic attacking dribble-and-smash pattern and leave the Indian's normally reliable defence in tatters.
The only other Indian player in the men's singles draw, Sourabh Verma, found the doughty veteran Frenchman, Brice Leverdez, a tough nut to crack, and capitulated somewhat meekly in the decider at 14-21, 21-15, 11-21, in 54 minutes on Wednesday.
The two-time former Indian national champion did not have either the weapons or stamina to combat Leverdez when the 31-year-old Frenchman stepped on the gas pedal, and was beaten by the 30th ranked player for the second time this year, following a similar loss in the Thailand Open in June. Leverdez, incidentally, has been a regular in the Premier Badminton League that will take off in a few weeks' time.
On Wednesday, India's doubles challenge had simply evaporated in the face of better-heeled opposition. In the men's doubles, the national champions Manu Attri and Sumeet B Reddy were tamed at 21-18, 21-15 by the top-seeded Indonesian combination of Marcus Fernaldi Gideon and Kevin Sanjaya Sukamuljo, while Satwiksairaj Rankireddy and Chirag Shetty could muster only 13 points in each of the two games against the fifth-seeded Chinese duo of Liu Cheng and Zhang Nan in 37 minutes of fast-paced action.
Rankireddy, who with Ashwini Ponnappa had qualified for the main draw of the mixed doubles with two tight victories in the preliminary rounds, fought gamely against Denmark's towering Mathias Christiansen and Christinna Pedersen, before going down at 19-21, 21-17, 13-21.
Earlier on Wednesday, Ponnappa and N Sikki Reddy had faltered against the unseeded South Korean duo of Baek Ha Na and Chae Yoo Jung, and lost at 14-21, 15-21. It happened to be a bad day at the office for the Indian twosome, who have had some strong performances in the 2017 season, and should have done better.
It was an equally forgettable outing for former China Open champion and No 3 seed, Lin Dan, who was ousted from the competition by Indonesia's Jonatan Christie at 21-19, 21-16. The legendary 34-year-old 'Super Dan', who has two Olympic gold medals and five world titles under his belt, is in the twilight of what has been an outstanding career, and simply failed to raise a gallop against the combative Indonesian, losing for the second time in five career meetings.
Badminton
Veteran shuttler Ponnappa backs the Red Bull Shuttle Up event to improve the standard of women's doubles in Indian badminton and produce multiple champions down the road.
Badminton
Some other notable movements in rankings saw Kidambi Srikanth move up by two spots to gain the world number 12 ranking in the men's singles category.