China Open 2018: Kidambi Srikanth strives to secure narrow victory; PV Sindhu enters quarters after hard-fought win
The 25-year-old Srikanth made the same mistake that he had against Gemke, when he had relaxed just that little bit, and allowed the Dane to get back into the match.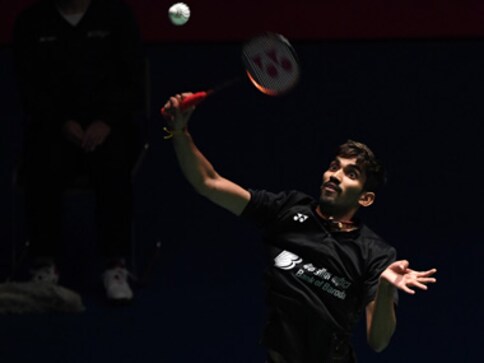 Honestly speaking, Kidambi Srikanth had no business winning his China Open badminton championship second round match against Thailand's Suppanyu Avihingsanon. That he squeaked through by a wafer-thin 24-22 scoreline in the third and deciding game against the Thai battler, after trailing by a match-point, was more a factor of sheer luck than a never-say-die attitude or an inextinguishable fighting spirit.
Looking by far the superior player at the start of the duel against the 28 year old World No 23, the eighth seeded Indian barreled through the first game at 21-12, in much the same manner as he had strolled through the first game at 21-9 in his lung-opener at the $1 million World Tour Super 1000 competition in Changzhou against Denmark's Rasmus Gemke.
It would have been a psychological boost for Srikanth to recall that he had beaten the Thai twice earlier, even though the most recent of those two clashes had taken place as far back as in 2013.
But the 25-year-old Indian made the same mistake that he had against Gemke, when he had relaxed just that little bit, and allowed the Dane to get back into the match. The result had been a heart-stopping 21-19 win in the second game, after trailing 15-17.
Avihingsanon was not one to look a gift horse in the mouth. He capitalised on Srikanth's slight casualness at the start of the second stanza, and jumped out into a handy lead which he never relinquished, while restoring parity with a 21-15 scoreline, as the Indian's sprightly movements slowed.
It looked all over for Srikanth when he trailed 12-15 in the decider, but an aggressive six-point burst took him to safety's door at 18-15, only for him to falter at 20-17, as the Thai fought tooth-and-nail to pick up four points in a reel, and stand on the threshold of victory at 21-20. However, Srikanth managed to keep his nose marginally in front at the tape, to live to fight another day.
The Ravulapalem native, who had won the China Open title in 2014 at the expense of the legendary Lin Dan, will next run into Japan's recently crowned world champion, Kento Momota. The 24-year-old No 3 seed handed compatriot and fellow Thomas Cupper, Kenta Nishimoto, a thorough 21-9, 21-9 hiding, on the back of his equally convincing 21-14, 21-12 triumph over Frenchman Brice Leverdez in the opening round, and will relish taking on Srikanth on the morrow, for the third time this year.
The tale of their head-to-head career meetings is skewed substantially in the Japanese left-hander's favour, with Momota having won on seven of the ten occasions that the two have clashed. The most telling statistic here is that Momota has won their most recent four encounters, including two in 2018. Srikanth was bludgeoned into submission at 21-13, 21-13 at the Malaysia Open in June, but gave a much better account of himself at the Indonesia Open, a week later, losing at 21-12, 14-21, 15-21.
The Japanese southpaw has won an amazing 94 matches against a mere five losses since he emerged from a year's suspension in April 2017. The hunger in his mien has been there for all to see; and Srikanth will desperately need to win his last-eight duel on Friday in straight games, for there is no way he can hope to outlast his indefatigable antagonist.
The only other Indian singles player left in the fray, following the first-round exits of 2014 China Open champion Saina Nehwal and her Gopichand Academy fellow-trainee, HS Prannoy, was PV Sindhu, who remained her hard-to-fathom prodigal self while pipping another Thai, Busanan Ongbamrungphan, by a 21-23, 21-13, 21-18 margin in a rough-and-tumble outing lasting 69 minutes.
Sindhu was sorely troubled by Busanan's deceptive game that is somewhat reminiscent of her compatriot, Ratchanok Intanon, with whom she practises on a regular basis in their national camp. The unimpressive Indian trailed for the best part of the opening game, unable to read the diminutive Thai girl's deceptive overhead drops, and only caught up at 15-all. Despite holding two game-points at 20-19 and 21-20, the Indian was unable to convert, and ended up dropping the first game.
If only she could have implemented her second-game strategy of attacking hit-and-run for the residual portion of the match, Sindhu would have won quite comfortably. But from a 15-9 advantage, she fell fray to fragile nerves, and allowed Busanan to actually go ahead at 17-16. If she managed to win five of the final six points, it was only because she went back into attack mode, and finished rallies by the short route.
In Friday's quarter-finals, Sindhu has been given the task of taming the host nation's Chen Yufei, against whom she boasts a 5-2 head-to-head record, including victories in four of their last five meetings. Strangely enough, the two clashed with each other five times in 2017, with the score reading 3-2 in Sindhu's favour, but did not play each other in any of the World Tour competitions this year.
They did meet at the semi-final stage of the recent Asian Games in Jakarta, where Sindhu sidelined the 21 year old Chinese, seeded No 5 at this year's China Open. As will be remembered, Sindhu was beaten in the final of the individual event by Tai Tzu Ying of Chinese Taipei, but she and Saina delivered an unprecedented two Asiad badminton medals into the Indian kitty.
While on the subject of Tai, the close follower of the sport would probably be puzzled to find that the aura of invincibility that surrounded the long-reigning World No 1 has developed several jagged cracks in the second half of 2018. Having been virtually unbeatable in 2017 and the first half of 2018, the Taiwanese 23 year old has lost in the early rounds in three of her last four tournaments (the Asian Games gold being her sole redeeming feature), and to three different players, all Chinese.
Tai was tamed at 17-21, 16-21 by Gao Fangjie in her very first outing here at the Olympic Sports Centre Xincheng Gymnasium. Gao, who had knocked out Sindhu at the Japan Open last week, has proceeded to a quarter-final meeting on Friday with three-time world champion from Spain, Carolina Marin, who had her hands full while eliminating fellow-southpaw Sayaka Takahashi of Japan, at 21-16, 14-21, 21-9.
But, to continue with the tale of Tai's woe. In the Japan Open, the Chinese Taipei star was beaten in the second round by Chen Xiaoxin at 18-21, 14-21, while in the World Championships earlier in Nanjing, she had to eat humble-pie against a third Chinese, He Bingjiao at 18-21, 21-7, 13-21.
One common thread ran through all these defeats – unforced errors galore from the strokeful, deceptive Tai. Where earlier her drops would trickle over the net or fall well within the service line, they began hitting the net or going wide. Where earlier her deep, flat tosses would stay within a couple of inches of the baseline, they began sailing out time and time again.
With all these mistakes which were alien to her game over the earlier 18 months, Tai's self-confidence has taken a severe pounding. And anyone will tell you that, for a strokemaker, the death knell of confidence equates to a steep drop in results. And this, paradoxically, provides a massive confidence boost to those like Sindhu, or like Saina, who would face Tai earlier with hopelessness in their hearts.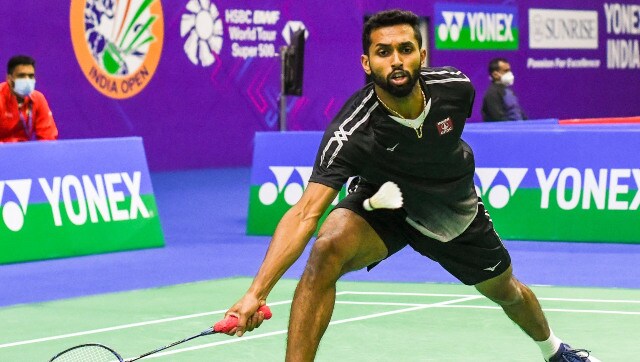 Badminton
HS Prannoy lost 11-21 21-9 17-21 to Naraoka in an hour-long contest.
Badminton
The charges were levelled against the top-ranked Indian shuttler and his family as well as coach Kumar on the basis of an FIR filed in Bengaluru by one M Goviappa Nagaraja.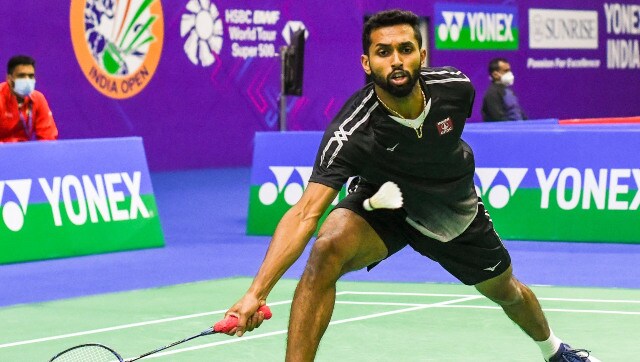 Badminton
Prannoy will be the lone Indian at the year-ending tournament, which was moved from Guangzhou, China, due to the rise in COVID-19 infection cases