Chengdu Open: Bernard Tomic beats Fabio Fognini in thrilling final to win first title in three years
Tomic defeated top seed Fabio Fognini 6-1, 3-6, 7-6 (7) in a thrilling three-setter in southwest China, where he was a qualifier.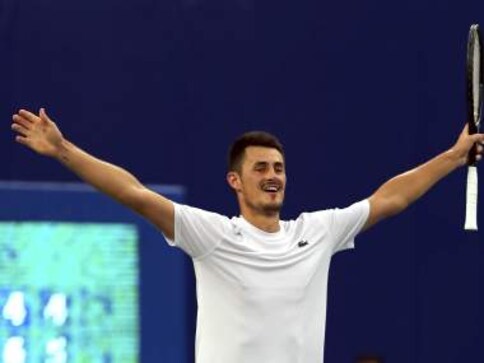 Beijing: Controversial Australian Bernard Tomic won his first tournament in three years on Sunday -- and in the most dramatic of circumstances, saving four match points to triumph at the Chengdu Open.
The 25-year-old defeated top seed Fabio Fognini of Italy 6-1, 3-6, 7-6 (7) in a thrilling three-setter in southwest China, where he was a qualifier.
Tomic sank to his knees in celebration, kissed the court and then looked up to the sky as he milked the moment.
Tomic's first ATP World Tour crown since Bogota in 2015 will propel the World No 123 comfortably inside the top 100 and eyeing a spot at next year's Australian Open.
It was double disappointment for Fognini, the number 13 who had been attempting to become the first Italian man to win four titles in a season.
"I could have lost like five times this tournament," said Tomic, for whom it was a welcome change to be making headlines for the right reasons.
"I was down in so many matches and faced match points against (Lloyd) Harris in the second round as well.
"It's been a rollercoaster week."
Once seen as a rising star, Tomic has had a number of run-ins with authorities over the years, earning him the reputation as one of tennis's bad boys.
In January he faced a backlash after boasting "I just count my millions" in response to failing to negotiate qualifying for the Australian Open.
In 2017, as his once-promising career nosedived, Tomic admitted he was sometimes "bored" during matches and not always giving 100 percent.
Tennis
Carlos Alcaraz will be 19 years, 214 days on 5 December, the 2022 year-end ranking date when he will take the mantle of youngest from Australia's Lleyton Hewitt, who was 20 years, 275 days in 2001.
Tennis
After Novak Djokovic reached the last four of the ATP finals, Stefanos Tsitsipas will face Andrey Rublev in the final group match with a semis spot at stake.
Tennis
The ATP is also increasing its 2023 bonus pools to $21.3 million, an 85% increase from 2022.