Chapecoense Real plane crash: Here's what we know about the Brazil football tragedy in Colombia
A plane carrying Chapecoense Real team crashed in the mountains in Colombia late on Monday. Here's an update on everything that is known about the tragedy.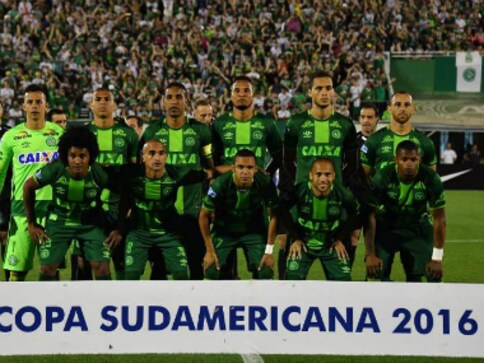 A charter plane carrying a Brazilian football team crashed in the mountains in Colombia late on Monday. Here's an update on everything that is known about the tragedy so far.
What happened?
A British Aerospace 146 short-haul plane operated by a Bolivian charter airline named LaMia, carrying 72 passengers and nine crew members, crashed in Colombia on Monday night while it was on its way to Medellin's international airport. The plane was also carrying members of Chapecoense Real, a Brazilian football club which was scheduled to take on Medellin's Atletico Nacional in the first leg of the Copa Sudamericana final on Wednesday.
How did it happen?
Aviation authorities said the aircraft declared an emergency at 10 pm on Monday (0300 GMT) due to an electrical failure. It is likely that the electrical failure, coupled with poor weather conditions and low visibility resulted in the crash.
The LAMIA airlines flight originated in Sao Paulo, Brazil and had made a stop in Santa Cruz, Bolivia before continuing on to Rionegro, a city near Medellin. The airport statement said, "The plane declared it had electrical failures." It went down about 50 kilometers (30 miles) from Medellin, Colombia's second largest city, in an area called Cerro Gordo.
Who are Chapecoense Real?
Chapecoense Real are a club from a small Brazilian city called Chapeco in southern Santa Catarina state.. They were founded in 1973, and have been in the lower tiers of Brazilian football since 1979. In 2012, the club was languishing in the third tier of Brazilian football, but they fought hard and returned to Brazil's top flight, Serie A, for the first time in 35 years. The club finished in 14th spot in the 2015 edition of the 20-team championship.
They also beat all odds to reach their first ever Copa Sudamericana finals by beating the one of Argentina's top clubs, San Lorenzo. What could have been the achievement from their wildest dreams, has now ended in tragedy. Nine team members did not travel to Colombia.
What is the status of rescue efforts?
Initially rescue efforts were delayed because low visibility and poor weather conditions made it impossible for rescue helicopters to reach the crash site. Land forces were mobilised, and the site was subsequently scoured for survivors. Colombian authorities also had a tough time clearing onlookers from the area.
Elkin Ospina, the mayor of the town of La Ceja near the crash site, said the mountainous terrain was some 3,300 meters (10,800 feet) above sea level and very difficult to access. Rescuers carrying stretchers had to hike for more than half and hour to reach the site. Ospina said authorities were on the scene and hospitals and medical centers were preparing to receive the injured.
Eventually, Colombian police reported that five survivors were rescued from the site, while the 76 remaining passengers were killed. General Jose Acevedo, head of police in the area surrounding Medellin, provided the information. Local radio reports also claim that one of the survivors who was rushed to the hospital has now died.
But the bad weather forced the search to be suspended in the early hours Tuesday. It was to resume at 6:00 am (1100 GMT). Colombia's civil aeronautics agency said it had a team at the airport in response to the crash.
One of the survivors was Alan Ruschel, a 27-year-old defender for the Brazilian team, the head of Colombia's civil aeronautics agency, Alfredo Bocanegra, told reporters. Radio Caracol said two other players -- Marcos Danilo Padilla and Jackson Follmann -- also survived and were taken to area hospitals, along with a flight attendant and a journalist.
What was the impact? 
The South American football federation (CONMEBOL) issued a statement saying the Copa Sudamericana final has been put on hold.
Atletico Nacional, the club Chapecoense were scheduled to face also expressed their support during this tough time, tweeting "Atletico Nacional regrets deeply and is in solidarity with Chapecoense Real after the accident happened and is awaiting information from the authorities."
The Brazilian football confederation has released a statement saying it would wait for more information about the plane crash in Colombia before taking any action regarding local competitions in Brazil. There is one round left in the Brazilian league, which was won by Palmeiras last weekend. The final round will decide which teams will avoid relegation and which teams will secure spots in international competitions next season.
The second leg of the Brazilian Cup final is scheduled be played Wednesday in the southern city of Porto Alegre. Local club Gremio defeated Atletico Mineiro 3-1 in Belo Horizonte.
The players that didn't travel with the club were left distraught by the news:
This pic. Punch in stomach:
club's locker room: players of #Chapecoense who have not travelled,after being told news pic.twitter.com/EZthaTu2yb

— Tancredi Palmeri (@tancredipalmeri) November 29, 2016
Popular footballers also expressed their dismay at the situation and support for the club and the affected families:
my thoughts and sincere condolences go to the families and friends of those aboard the flight #ForçaChape#Chapecoense@ChapecoenseReal

— Michael Ballack (@Ballack) November 29, 2016
Pray for @ChapecoenseReal & their families

— Lukas-Podolski.com (@Podolski10) November 29, 2016
Wow prayers for @ChapecoenseReal God bless you all

— Michy Batshuayi (@mbatshuayi) November 29, 2016
— Neymar Jr (@neymarjr) November 29, 2016
Football clubs from all around also expressed their condolences after the horrible crash:
The thoughts of everyone at Manchester United are with @ChapecoenseReal & all those affected by the tragedy in Colombia.#ForçaChapecoensepic.twitter.com/EUjAnJQkaB

— Manchester United (@ManUtd) November 29, 2016
WE ARE WITH YOU @ChapecoenseReal. #Chapecoensepic.twitter.com/SSWjbUwuia

— Fenerbahce_EN (@Fenerbahce_EN) November 29, 2016
Real Madrid held a minute's silence before training for the victims of the crash.
Minuto de silencio por las víctimas del accidente aéreo en Colombia.https://t.co/falHrCJv4k#RealMadrid #RMCity pic.twitter.com/waqMW5TCQW

— Real Madrid C. F. (@realmadrid) November 29, 2016
(With inputs from agencies)
Sports
City reported club record revenue of £569.8 million ($780 million) for their title-winning 2020-21 season.
Sports
The 26-year-old has not played a single minute since Rangnick took charge in November.
Sports
Marcelino's team will be the underdogs this weekend given they sit ninth in LaLiga, 21 points behind leaders Real Madrid.