15 January, 2017. India versus England in the opening match of the ODI series at Pune. Chris Woakes comes in to bowl the 34th over. Virat Kohli and Kedar Jadhav are playing out of their skin, and India who were in the dumps at one stage after losing four wickets for 63 in the 12th over, are looking on course to chase down the mammoth 350 that England had set.
The second ball of the over is back of a length to Kohli. And what the Indian captain does next would have had you rubbing your eyes in disbelief. A little shuffle in the crease and Kohli sends the ball soaring over the cow corner fence. It's an on-drive, but in actuality is no more than a short-arm jab, played on the front foot, with a straight bat, and with impeccable timing. Classy!
14 May, 2017. Royal Challengers Bangalore versus Delhi Daredevils at the Feroz Shah Kotla in Indian Premier League (IPL) 10. Delhi pacer Corey Anderson comes round the wicket and pitches the ball just a touch short of a length. Kohli extends his arms to play a drive, but it is a shot played with no follow through whatsoever. It looks no more than a gentle push, but the ball flies off the middle of the RCB captain's glistening blade and over the extra cover fence. Classy!
A lot has been said about the many records Kohli has set, the many hundreds he has scored, the complete annihilation that he has wrought upon oppositions, so much so that all that has become a bit repetitive. Any discussion on Kohli invariably starts and ends with a speculation on if it is only a matter of time before he obliterates all the monumental records set by Sachin Tendulkar, with his 86-ball unbeaten 133 against Sri Lanka at Hobart in the 2012 Commonwealth Bank series getting special mention.
Indeed, Kohli, over the years, has taken batsmanship to a whole new level, always striving to break new grounds and push the limits of what can be achieved. The two shots referred to earlier bear testimony to the level Kohli has taken his batting to, and would now be a part of his identity, the same way the upper cut six off Shoaib Akhtar in the 2003 World Cup has become part and parcel of the legend of Tendulkar. These were shots that are incredibly difficult to execute, rarely even tried, and totally out of the ordinary. Hence, they would be etched in memory forever and would add to the aura around the batsman.
Kohli had an extremely modest IPL this year by his exalted standards. A collection of 308 runs from 10 matches is nowhere near the astronomical heights that he reached last season. But then, the whole RCB team failed collectively this year, losing one match after another and finishing at the bottom of the table. It was a new experience for Kohli, who, as the captain of India, had made winning a habit.
Since taking over as the full-time captain in Tests, he has led India to series wins over Sri Lanka, South Africa, West Indies, New Zealand, England, Bangladesh and Australia — which is almost the entire Test-playing world. After Mahendra Singh Dhoni relinquished charge of the limited overs side at the start of this year, Kohli took over the reins and took India to ODI and T20I series triumphs over England.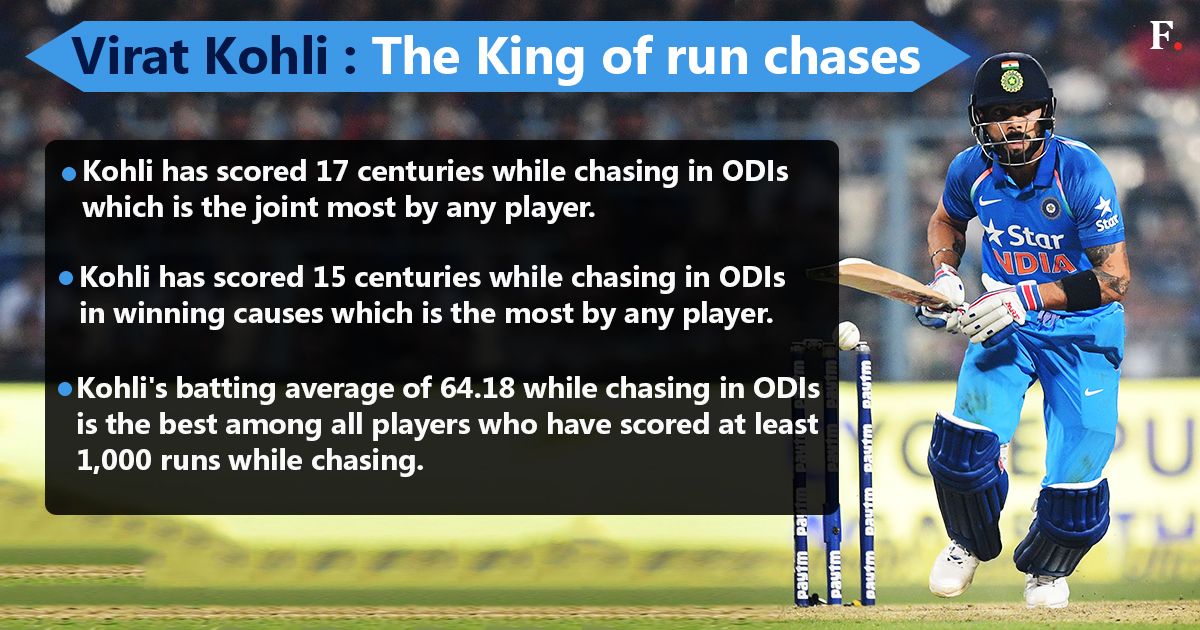 So, the bitter experience in IPL 2017 would have been galling for Kohli, but the mature cricketer that he is, he has been looking to learn from reverses.
"After the kind of season we have had, it teaches you about yourself as a person at a few levels. From the mindset point of view, it made me realise that you can't possibly do everything in every game. As a human being you need to understand your limitations. Sometimes you need to take a backward step. You take a lot away from failures and that is something I have always cherished," the Indian captain said in an interaction with the media in Mumbai before leaving for the Champions Trophy.
These lessons would stand Kohli in good stead, both as the batting mainstay and captain as he prepares his team for a title defence.
England has not exactly been a happy hunting ground for him. He had a horrendous Test series when India last toured this neck of the woods in 2014, and in ODIs too, his record in England pales in comparison to those in some of the other countries, like Australia, New Zealand and Bangladesh. A tally of 424 runs in 14 innings at an average of 38.54 in England doesn't really set the stage on fire. Kohli, however, looks to have played himself into a bit of a form with a calm and composed 52 off 55 balls in the warm-up match against New Zealand.
His returns against Pakistan and South Africa — two of India's competitors in the group stage — could have been better, but he has a fantastic record against the other team in Group B – Sri Lanka. In 40 matches against the Lankans, Kohli has accumulated 1,856 runs, which is his highest against any team. And what's more, he has scored those runs at a robust average of 56.24 and a strike rate of 88.
What really makes Kohli priceless for the team and marks him out from both his contemporaries and predecessors, is that when faced with improbable run chases, he almost takes himself to superhuman levels. It is quite freakish the way a tough chase brings out the best in him. Statistics would bear this out.
Kohli has scored 17 centuries while chasing in ODIs, which is the joint highest by any player. Fifteen of those centuries have come in winning causes, which is again the most by any player. His average, a touch over 64, while chasing in ODIs is the best among all batsmen who have scored at least 1,000 runs. Kohli, in every measure, has been the master of chases.
For this new age Team India, no total is big enough as long as Kohli is around. This is quite a departure from the earlier times when a 300-plus target would invariably set the cat among the pigeons. For the longest time, India looked up to Tendulkar to guide them to shore when faced with daunting totals, but the regularity with which Kohli shoots down stiff targets is extraordinary.
Apart from the chases against Sri Lanka in Hobart and against England in Pune which have been referred to earlier in the article, another of his stellar knocks while chasing that readily comes to mind is the 100 not out off 52 balls versus Australia in Jaipur nearly four years ago. Chasing a massive 360 for victory, Kohli, along with Rohit Sharma (141 off 123 balls) and Shikhar Dhawan (95 off 86 balls), went hell for leather, leaving the Aussie bowlers running for cover. India rocketed to the target with 27 balls and nine wickets to spare. It was a brutal, merciless assault.
Agreed that barring Mitchell Johnson the Australian bowling may have lacked star power that day, but still the way the Indian batsmen, especially Kohli, reduced the over-seven-runs-per-over target into a walk in the park was terrifying for the bowlers. Yet, there was a sense of beauty in the way Kohli went about his batting. The target, incidentally, was the same Australia had set India in the 2003 World Cup final at Johannesburg. How India would have wished to have Kohli in their ranks that day!
Add to Kohli's batting his shrewd captaincy, and you have a complete package. An example of his street-smartness as a captain was evident during the one-off Test against Bangladesh in Hyderabad earlier this year.
Taskin Ahmed was hit on the pads by Ravichandran Ashwin. The ball went off the batsman's pads to the fieldsman close in, who took the catch. There was an appeal, and the umpire went upstairs. The third umpire ruled 'not out' as replays showed there was no connection between the ball and the bat. Kohli, however, sensed another opportunity. He called for a review. Now the appeal was for LBW, and this time, there was no escape for the batsman as ball-tracking showed the ball to be hitting the stumps. It is such situational awareness that great captains are made of.
Kohli, therefore, is a massive factor in favour of India, both as batsman and captain. His command over run chases makes him India's trump card in this tournament, and if he gets going, there would really be no stopping India, and no stopping Kohli himself in carrying forward Dhoni's legacy in ICC tournaments.
With statistical inputs from Umang Pabari.
Click here for the profiles of the other members of India's Champions Trophy 2017 squad
Your guide to the latest election news, analysis, commentary, live updates and schedule for Lok Sabha Elections 2019 on firstpost.com/elections. Follow us on Twitter and Instagram or like our Facebook page for updates from all 543 constituencies for the upcoming general elections.
Updated Date: Jun 03, 2017 10:44:56 IST