Champions Trophy 2017: Kedar Jadhav's versatility makes him indispensable for India's title defence
Kedar Jadhav's all-round abilities, including his batting skills at No 6 and thus will be important for India in their defence of the Champions Trophy title.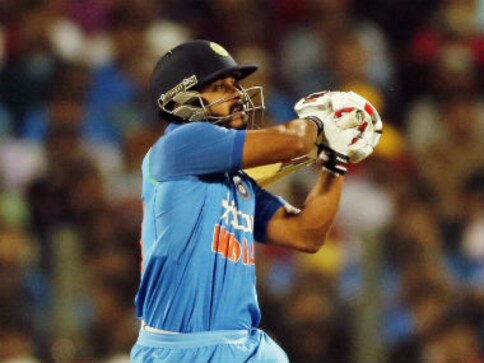 There is always a performance in the career of every successful player that defines him — a piece of brilliance, a moment of sheer magic, or a match to remember.
This is true across disciplines, and whether you take VVS Laxman's 281 against Australia in the Kolkata Test in 2001, Sachin Tendulkar's 'Desert Storm' at Sharjah, Brian Lara's 400-run Test innings, Diego Maradona's wonder goal in the 1986 World Cup, or Usain Bolt finishing a 100m race in a jaw-dropping 9.58 seconds, the world of sports have been replete with examples of men becoming supermen.
To have Kedar Jadhav seated on the same high table as some of the legends referred to above would be more than an exaggeration, but in his own little way, he has also had a breakout performance (in fact, a whole series) that has made him grab the attention of the consumers of cricket in India.
Let us rewind to India's ODI series against England at the start of the year. The visitors were thoroughly beaten in the Test series that had just got over, and were looking to put up a stronger show in the limited-overs series.
The setting was Pune's MCA stadium and a strong show England did put up. Attractive half-centuries by Joe Root, Jason Roy and Ben Stokes took England to a mammoth 350 in their 50 overs. Now, even in this age of slam-bang T20 cricket, when no score seems unattainable, and on a deck as flat as the one at Pune that day, chasing 350 is no child's play.
The England bowlers soon had India staring down the barrel, having reduced them to 63/4. The big guns Yuvraj Singh and Mahendra Singh Dhoni were back in the hut. Captain Virat Kohli was still at the crease, but the target was light years away and the cream of the Indian batting was already scooped off.
The diminutive Jadhav though had other ideas. What followed was a jugalbandi of heroic proportions. Kohli was at his sublime best, which by this time, had become a norm, but what left everyone pleasantly surprised was the fight shown by Jadhav.
The Maharashtra batsman matched Kohli shot-for-shot in that innings and at times even overshadowed his illustrious partner. Now that takes some doing, but that January evening, Jadhav took his game to a different level, against a good international bowling attack, and with it gave his India career the propulsion that was required.
Jadhav and Kohli stitched together a 200-run stand. Both of them scored centuries and by the time Jadhav was out after a fantastic 120 off 76 balls, India had the chase well under control, having brought the asking rate down below run-a-ball.
It was a boon for Jadhav that he had Kohli for support and guidance in the middle during that innings. "I told him (Jadhav) that the best place you can learn is out there in the middle. No point sitting outside and thinking what you could have done. So just push yourself a little more and you will understand how to do it again and again. I am glad I was out there with him, to keep pushing him," Kohli said after the match. The Indian captain noted that it was one of the "best, calculative innings" he had seen.
Jadhav came in to bat with seven overs left in the second ODI, at Cuttack, and played a cameo scoring 22 off 10 balls, an innings totally in sync with the demand of the situation.
In the last ODI of the series, at the Eden Gardens, Jadhav had again to play the role of a rescuer. Chasing 322 to win, India were in a pickle, having lost Ajinkya Rahane, KL Rahul, Kohli and Yuvraj for 133. Jadhav refused to back down and took the chase forward with Dhoni and got fine support from Hardik Pandya as well.
But the England bowlers kept chipping away at the wickets and Jadhav was left fighting a lone, but immensely valiant battle. He finally fell on the penultimate ball of the match, having made his way to a spectacular 90, but more than that, having taken India to a hit away from victory. The last ball did not produce the six that was required, and England finally got a consolation win, but the highlight of that series was the coming of age of Jadhav.
He was adjudged Man of the Series for his efforts, and what would have immediately struck you was Jadhav's ability to adapt and adjust according to situations. He showed in the series that he had a capability in equal measure to either anchor an innings or throw his bat around to get quick runs. And that makes him an important cog in the wheel for India.
The Maharashtra batsman had been one of the success stories in domestic cricket, having scored nearly 5,000 first class, 4,000 List A and a touch over 1,600 T20 runs. Keen followers of Indian domestic cricket would tell you that Jadhav had been indispensable for Maharashtra.
He had amassed 1,223 runs in the Ranji Trophy in 2013-14, which was not only the highest aggregate that season, but also the sixth-highest ever. The year before in the Ranji Trophy, he had scored a breath-taking 327 off 312 balls against Uttar Pradesh.  In his first BCCI-sanctioned match in 2004-05, at the U-19 Cooch Behar Trophy, Maharashtra were in deep trouble at 68/4, replying to Kerala's 318, but Jadhav came in and played an innings of 195 off 262 balls and took his team home, and into the quarter-finals of the tournament. Jadhav started his Indian Premier League (IPL) career with a bang too, hammering a 29-ball fifty for the Delhi Daredevils against Royal Challengers Bangalore (RCB) in 2010.
However, his international career took some time to get started. It was not until November 2014, when he was 29-years-old, that he got his first India opportunity. His next assignment was in July 2015 during a ODI series in Zimbabwe. India had sent a second-string squad on tour, and it was an opportunity for some of the fringe players to make a mark. After a pretty forgettable outing in the first two matches of the series, Jadhav came into his own in the last ODI, hitting an unbeaten 105 off 87 balls, though the innings was not chanceless.
The home series against New Zealand saw him play a couple of handy knocks, but in reality, it was a series in which he impressed more with the ball. He started with figures of 2/6 in three overs in the first ODI at Dharamsala and followed it up with 1/11 in two overs (Delhi), 3/29 in five overs (Mohali) and 0/27 in eight overs (Ranchi). The way he choked the Black Caps with his off-spin was extraordinary.
The New Zealand series gave him confidence, said Jadhav. "Though I did not score big, whatever runs I scored (in the New Zealand series), it gave me immense confidence," Jadhav had said, while adding that he had a gut feeling that he will perform in the England series.
He credited playing tennis-ball cricket in his early days for his incredible ability to hit the pacers straight and long.
The IPL this year did not bring a lot of happy tidings for Jadhav or any of his RCB teammates as Bangalore franchise finished at the bottom of the table. However, early in the competition, Jadhav did show glimpses of his destructive batting with a 37-ball 69 against Delhi Daredevils — a knock that included five fours and as many sixes.
Jadhav has demonstrated that he can get into the Indian side either by dint of his batting or bowling, and can don wicket-keeper's gloves with elan. He is also fitter than you think.
All these factors make Jadhav a vital part of the Indian ODI set-up. He is a reliable batsman at the crucial No 6 position, and a finisher who does the job that Suresh Raina used to do before falling out of favour with the selectors. What he also does is to lessen the burden of finishing on Dhoni, who can then move up the order to No 4 or 5, where he can play more freely and build an innings. Jadhav also gives the team management the option to play an extra bowler.
Therefore, it goes without saying that Jadhav is a mighty crucial character in India's quest to defend the Champions Trophy.
Click here for the profiles of the other members of India's Champions Trophy 2017 squad
First Cricket News
Virat Kohli bowled for about 30 minutes in the nets ahead of the first India-Australia T20I in Mohali.
First Cricket News
Virat Kohli scored his 71st international century while opening the innings for India in the Super 4 match of the Asia Cup 2022 against Afghanistan
First Cricket News
The stylish former India southpaw begins a new innings as an Airbnb host and is set to open up his residence in North Goa, which he calls 'Casa Singh', to guests.