Champions League: Unai Emery's diffidence sees Paris Saint-Germain wilt after promising much against Real Madrid
Before the kick-off, Emery had already made a big call. Angel di Maria's involvement in 16 goals over the past nine matches was not considered worthy of a place in the starting XI.
Paris Saint-Germain lies crumpled in a familiar spot. The Parisians have been here before. The 1-3 defeat at the Santiago Bernabeu on Wednesday would not hurt so much if it was not predictable. PSG wilted when it seemed ascendant; it dreamt of a win but failed to dare.
Much of the blame for that lies with manager Unai Emery. After the match, he chose to shield his failings by focusing on the referee but the result spoke volumes. PSG did threaten to steal a win but the initiative was let go of easily. "They scored when we were at our best," Emery said. The PSG manager was not wrong in his assessment but he may want to ponder why.
Before the kick-off, Emery had already made a big call. Angel di Maria's involvement in 16 goals over the past nine matches was not considered worthy of a place in the starting XI; instead, Giovani Lo Celso was named in the midfield alongside Marco Verratti and Adrien Rabiot. Emery's lack of faith in di Maria sustained throughout the match. When Edinson Cavani was removed around the hour mark, it was full-back Thomas Meunier who replaced him. Strangely, Dani Alves was pushed up to the front three in support of Neymar and Kylian Mbappe.
This was a consequence of Emery's desire for security. But his defensive mindset did not allow PSG to fully assert themselves. At the time of Cavani's substitution, the visiting side was growing in confidence and looked likely to take the lead. But Emery's peculiar decision held his team back. Furthermore, he made only two substitutions on the night; the second arrived after Madrid took the lead as Lo Celso was belatedly replaced by Julian Draxler. Di Maria could only look on from the bench.
Real Madrid's Zinedine Zidane was a pleasant study in contrast. Faced with a team which could potentially overwhelm his underperforming squad, the manager chose Isco to start ahead of Gareth Bale. Control was prioritised over counter-attacking. Zidane trusted what he knew had helped Madrid defend their Champions League crown last season.
Madrid embraced the occasion, unlike PSG, who were eventually overwhelmed by it. In the initial exchanges, the 12-time European champion played on the front foot as they sought to establish control. Isco's presence in the centre of the park gave an edge to Madrid; PSG's decision to play Lo Celso as a holding midfielder made to look rather unwise. Out of his comfort zone, the inexperienced Argentine failed to adapt all night as he gave away a penalty and could have been justifiably sent off.
When PSG did grow in confidence, Madrid responded well. Zidane grabbed the important moments too; his decision to bring on Marco Asensio and Lucas Vazquez eventually proved to be a match-winning move. "We changed because we knew PSG couldn't keep it up for 90 minutes, so we put on width and directness, with Lucas, Asensio and Gareth," the manager later said.
Wednesday's match was another testament to Real Madrid's renewed love affair with the Champions League. European encounters have often brought out the best from the club in recent years and we may well have another addition to their storied triumphs in three weeks' time. After the win, Cristiano Ronaldo alluded to Madrid's special relationship with the tournament; he demonstrated his own love for the Champions League through his 100th and 101st goals in the competition for his current employer.
It was not just Ronaldo who stood out with the goals, Zidane's other trusted lieutenants came to the party as well. Isco's probing display ensured PSG could never sit easy in their own half. But it was Marcelo who outshone everyone else. In addition to keeping a tight leash on Mbappe, the left-back made frequent forays down the flank which had the visiting side in trouble on multiple occasions.
Marcelo's tireless running even brought him a goal late into the match but, arguably, his most striking intervention was in the first half when he played Ronaldo through on a counter with a first-time diagonal pass. His ball took out the whole PSG defence in an instant, serving a reminder of the often understated threat he possesses.
Ronaldo was denied that chance by Alphonse Areola but it was a rare moment of quality in a match where hurried running was the norm. PSG had much reason to be grateful to their two academy graduates, Areola and Rabiot, for providing a sense of calm amidst the frenzy. Although the goalkeeper's performance was besmirched somewhat by his weak parry leading to Ronaldo's second goal, the box-to-box midfielder linked midfield and attack expertly. Understandably, Rabiot's frustration was writ large in his post-match comments.
"We always say the same things and do the same things, but in the end, we always end up getting floored in the same manner. It is all well and good putting eight goals past Dijon, but it is in matches like these that you have to stand up and be counted."
Some of Rabiot's teammates did stand up but not everyone. The diffidence on the pitch, though, stemmed from the manager. When PSG needed inspiration, Emery was found wanting. For all the money spent by the Qatari owners, the team's credentials as a 'super club' remain questionable at best.
Madrid, though, have answered some of the doubts surrounding the team. Zidane is aware that his job security hinges on his side's campaign in the Champions League. Despite trailing initially, Madrid never seemed out of the contest. The host suffered, struggled and fought back. Madrid's comeback win was another reminder of why the side won the Champions League in three of the last four seasons.
PSG, of course, have never even entered the last four of this competition. To change that, the French club will need to be brave in the return leg. However, as witnessed on Wednesday, PSG lack courage. The fixation with the Champions League will continue for Emery's men. But it seems, so will their vulnerabilities and regrets.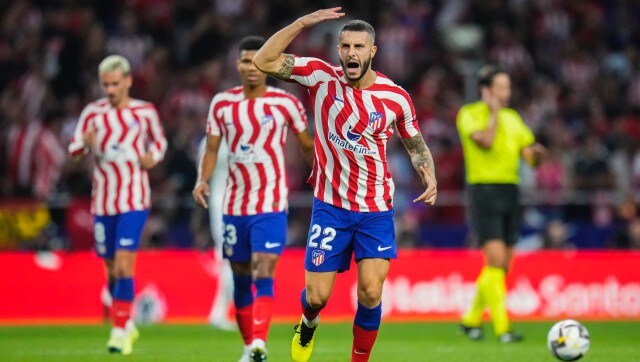 Football
Atletico Madrid visit Sevilla's Ramon Sanchez-Pizjuan on Saturday looking for a vital win to try and keep a grasp on the league frontrunners' coattails
Football
Both Barca and have lost to Bayern Munich in Group C of the UEFA Champions League and Xavi said the upcoming match at San Siro is "huge" as far as their hopes of qualifying for the next round is concerned.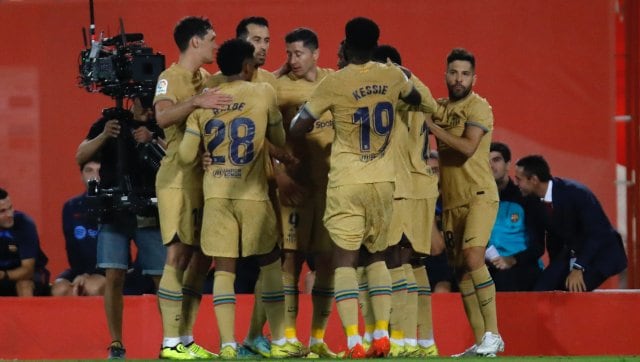 Football
Barcelona visit Inter Milan knowing it will be a crucial match to maintain a good chance of advancing in a Champions League group which has been dominated by Bayern Munich.