Champions League: Tactical profiles of 'favourites' spell end of possession football as another dramatic campaign beckons
Champions League brings with it a Pandora's box of stories and controversies, miracles and mayhem, glory and ignominy. And maybe, just maybe, even a change in the familiar plot line of everyone huffing and puffing on the track, while Real Madrid slow-walks past them with the trophy in hand
The world's most illustrious club competition is back. Champions League brings with it a Pandora's box of stories and controversies, miracles and mayhem, glory and ignominy. And maybe, just maybe, even a change in the familiar plot line of everyone huffing and puffing on the track, while Real Madrid slow-walks past them with the trophy in hand.
Beetles have more than 300,000 described varieties including true weevils (Curculionidae), scarab beetles (Scarabaeidae), stag beetles (Lucanidae), rove beetles (Staphylinidae), and blister beetles (Meloidae). And there may be as many interpretations of how football should be played in the world — the best of which is showcased at the glossiest footballing circus in the world, the Champions League, where football styles and stories metamorphosize seasonally.
Last year's Champions League winners, Real Madrid will have the momentum of winning their last three finals behind them. But there are slight concerns in the camp. New manager, Julen Lopetegui, will have to measure up to the larger-than-life legacy Zinedine Zidane has left behind. Lopetegui's PR faux-pas as the former Spanish national team manager during the World Cup has now left him with a reputation to rebuild, and the scrutiny is nowhere harsher than at Real Madrid.
Serial-winner Cristiano Ronaldo will be plying his bicycle kicks and look-at-me celebrations in the zebra stripes of Juventus, who will look to assert their Italian pedigree. This absence has set the precedent for Gareth Bale and Karim Benzema's early form of Real Madrid this season, as they look to compensate for their former lean-mean-goal-scoring-machine. Tactically speaking, it remains to be seen how the team shifts to Lopetegui's style from Zinedine Zidane's more miserly-mage, pragmatic approach. One of the teams that may benefit from this resultant identity crisis is the Champions of England, the nouveau-riche Manchester City.
The successful drive of Real Madrid and Liverpool into the Champions League final last season is an example of nature working its course. The evolution of Pep Guardiola's style is Darwinism in its most televised form. Skeletal structures and principles (of teams) no longer stand in the way of success when the prize of immortality and sustenance is on offer.
A hop, skip, and Youtube search ago, Real Madrid's staunchest rivals, Barcelona, stomped around with a brand of possession football previously unseen. Now, that style hangs like a token regulation-sized T-Rex skeleton in a dinosaur exhibit.
"Teams with the technical ability and the tactical nous of operating in smaller-than-ever spaces, remaining compact under duress, and hitting counters with the fewest amount of touches will be the ones that prosper," said Carlos Alberto Parreira during his stint as pundit for Brazilian TV during the World Cup coverage this summer. The former Brazil manager, who has the record for most FIFA World Cup final tournaments, has seen the comings and goings of the most successful teams, and knows obsolescence when he sees it. Jose Mourinho's dreary Manchester United would be wary of carrying out that self-fulfilling process.
Manchester United have been humbled in the Champions League in recent history, and no longer have the look of potential contenders. Their results in the group stages will go a long way of deciding whether Jose Mourinho is put out of his misery by an eagerly awaiting Zidane. Abstract qualities such as team chemistry and crowd moral count on Champions League nights — Manchester United lack it.
172 kilometers up the road and down the M62, there's Liverpool. And no one does Champions League nights better than last year's beaten finalists. Liverpool's hounds-from-hell football aided by the legendary Anfield atmosphere allude to the worst-kept-secret in the Champions League football style guide to success: 51% of the goals scored in the competition were a result of a change of possession in the rival's defensive half. In Roberto Firmino, Liverpool had the most effective ball-winning attacking player in Europe's top 5 leagues. His combination play with other front-foot enforcers like Sadio Mane, Naby Keita, James Milner, Gini Wijnaldum, will forge the way for another goal-heavy campaign. As noted by Carlos Alberto, it is little surprise that all of the above ball-winners mentioned in the Liverpool team also have fastidiously nifty feet and clock the most miles on the pitch.
Jurgen Klopp's Liverpool, if they are to do one better this year, will be seen as the vanguard of new tactical paradigm shift. Teams like Jose Mourinho's Manchester United, whose play is based on the strength of the opposition, will be slowly phased out. The road for Liverpool, like always, will not be easy. Their endurance and concentration will be tested over the two months of September and October. Liverpool have a run of games that sees them playing against Paris Saint Germain, Southampton, Chelsea, Manchester City and Napoli.
Forever favourites, Barcelona look reinvigorated with the introduction of Phil Coutinho and Ousmane Dembélé. The flippancy is back, as is a sense of directness that harks back to a time when Frank Rijkaard squatted around the technical area and Ludovic Giuly and Ronaldinho ran down the flanks. The ponderous play has turned plunderous with Coutinho's first-time passes; while Dembele's incisiveness has managed to rack up three goals and four assists, winning more points for Barcelona than any player in La Liga this season.
Chelsea and Arsenal are going through a flurry of changes themselves. However, they will have to undertake their exile in the wilderness of Europe's second-tier club competition, the Europa League, to earn their passage back. They will be going off to play relative unknowns such as BATE Borisov (Belarus) and Qarabag (Azerbaijan), respectively. But if the above-mentioned Champions League favourites have their joy, neutrals won't be missing either of the London teams very much.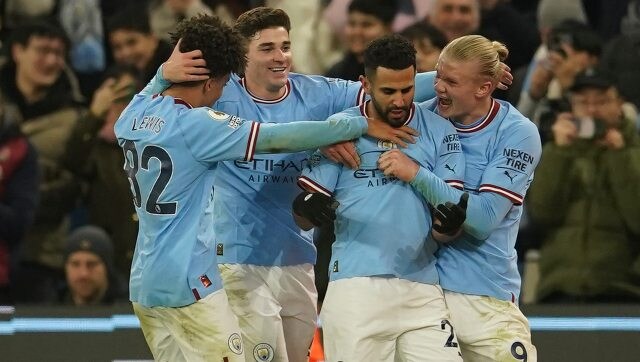 Football
Pep Guardiola took aim at his Manchester City players for resting on their laurels after winning four league titles in five seasons.
Football
Arteta worked for Guardiola as the City manager's assistant for three years before leaving to take over at Arsenal in 2019.
Football
PSG defeated Riyadh XI 5-4 in a friendly that saw Cristiano Ronaldo and Lionel Messi reunited on the field.