Champions League: Real Madrid make most of their opportunities to tame wasteful Bayern Munich in first leg
Real Madrid suffered for large parts of the game but when the scoring opportunities arrived, they were grabbed with both hands to tame wasteful Bayern Munich
Well, Cristiano Ronaldo had a quiet game. But in a match defined by sketchy football, Real Madrid once again managed to offer their usual product. No matter the errors arrived a dime a dozen, Zinedine Zidane's players could still strip down the task at hand to its bare essentials. Eventually, we had a repeat of the two sides' meeting at the Allianz Arena in last season's Champions League quarter-finals – Madrid once again walked home with a 2-1 win.
This victory was a credit to Zidane, and to one of the club's underrated stars Marcelo. Faced with an opposition of considerable pedigree in Europe, the Madrid manager once again showed the willingness to adapt tactically. This has come to be the hallmark of Zidane's team. As is well known by now, he is not wedded to a style or philosophy; pragmatism is key in the search for success.
As for Marcelo, he did what he does best. Providing incision in the opposition half, haring forward with an intensity which refuses to drop, and also swiping a left-foot volley home for good measure. "Totally superfluous", Marcelo's goal as described Bayern Munich manager Jupp Heynckes. It certainly must have seemed excessive to him.
For, after a scrappy start, Bayern had taken control of the proceedings. Despite losing Arjen Robben and Jerome Boateng to injury within the first half hour, the hosts recovered from the blows to assert itself. An advantage came through soon.
Marcelo, for all the wonderful things he did, was at fault for the goal. The left-back was caught up front on the break and Madrid's defence fell apart in a pattern that was much repeated earlier in the season. As players converged upon former Madrid man James Rodriguez, he delivered a sweet ball for Joshua Kimmich to take into the opposition box. As he got close to the goal, his teammates and Madrid goalkeeper Keylor Navas expected a cross. But Kimmich surprised everyone by slamming the ball into the goal.
With the scoreline in their favour, Bayern should rubber-stamped their dominance. However, chances went begging and Marcelo punished the opposition on the stroke of half-time. Although Bayern responded energetically before everyone stopped for the interval, their profligacy remained.
In the second half, Zidane altered the tactical dynamic. He had already surprised many by handing Lucas Vazquez a start ahead of Karim Benzema; at half-time, Isco was replaced by Marco Asensio. This meant that Madrid had two runners on the flanks. Ten minutes into the second period, the duo wreaked devastation.
Rafinha's misplaced pass to Kimmich on the half-line following a Bayern corner was intercepted by Asensio, who broke through and passed it to Vazquez. Suddenly, the simplest of counter-attacking opportunities emerged. A two versus one situation was delectably exploited by Madrid's youngest members on the pitch.
Once the visiting side went ahead, Bayern had problems. Although chances were fashioned, the pattern of play became predictable. In the absence of Robben, most moves were directed by Franck Ribery. The injured Dutchman was sorely missed, for he could have also kept Marcelo on a tight leash. The predictability affected Bayern as a sustained spell of pressure could not be exerted; the threat of Madrid on the counter-attack kept the hosts wary too.
Eventually, though, it was the missed chances which irritated Bayern. After the match, Heynckes could not contain his surprise over the result. "You don't often see a game like this in the Champions League, where you have so many chances and you don't take them. It doesn't happen often at all. It's also not usual for Madrid to allow so many chances, but we weren't able to take them. We didn't take our chances and they were more effective. Those two things came together. We handed out presents."
The gifts allowed Madrid to defeat Bayern for the sixth consecutive Champions League match. But Heynckes remained insistent that his team could play the same way in Madrid and turn the tie around. After all, in the 2017 quarterfinal, Bayern had overturned the same deficit in the away leg before succumbing to defeat in extra-time.
Heynckes, though, was more boosted by the weaknesses inherent in this Madrid side. "Tonight's match showed that Real Madrid are vulnerable, that they can be harmed. We showed that we can hurt them, so we take hope from this," said the manager.
However, Bayern may have to do that without the injured duo of Robben and Boateng. More importantly, for Heynckes, it is necessary to guard against the sentiment of 'lucky' Madrid. Zidane's players are often perceived to ride a good deal of fortune — sometimes, the assumption is correct — but they are also, arguably, the most effective team seen in European football over the past decade.
It is Madrid's ability to grind out victories which has brought the club on the verge of a three-peat. This attribute was apparent on Wednesday as well. Madrid suffered for large parts of the game but when the scoring opportunities arrived, they were grabbed with both hands. This is how winning has come to be second nature for Zidane and his players.
Until next week then, Bayern will have to continue living in the shadow of the 12-time European champions. The painful memories of last season's quarter-final defeat will militate against optimism, but Heynckes and his men believe they have not had their say yet. The trouble is that they will have to make their argument against the paragon of efficiency. Madrid hold complete sway in the present.
Football
PSG defeated Riyadh XI 5-4 in a friendly that saw Cristiano Ronaldo and Lionel Messi reunited on the field.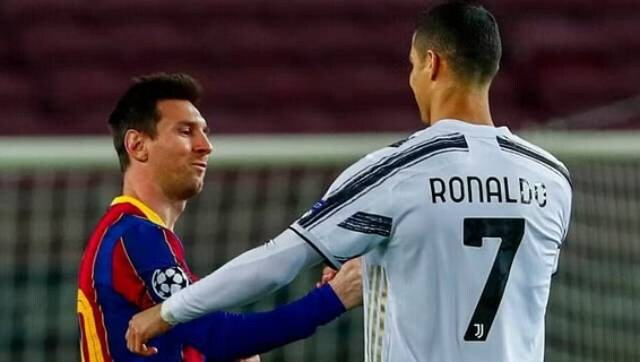 Football
Lionel Messi's PSG will take on a select side made up of players from Ronaldo's new club Al Nassr and their Saudi rivals Al Hilal on 19 January.
Football
In the viral footage, Ronaldo can be seen walking off the field and making his way into the tunnel. Fans cheering 'Messi… Messi' can be heard from the nearby galleries.