Champions League: Pep Guardiola calls Manchester City's win over Napoli 'one of the proudest' moment of his career
Pep Guardiola dedicated the win to the two Catalan separatist leaders detained in Spain
Manchester: Manchester City manager Pep Guardiola described his side's 2-1 victory over Napoli in the Champions League group phase as one of the proudest moments of his storied career.
City took a quick-fire 2-0 lead in Tuesday's game through Raheem Sterling and Gabriel Jesus, but Amadou Diawara's penalty – after Dries Mertens had squandered an earlier spot-kick – made for a nervy finale.
Prior to the game Guardiola had lavished praise on Maurizio Sarri's Napoli, who are top of Serie A with eight wins from eight games, and afterwards he made the surprising claim they were the best opponent he had ever faced.
"I think it was an extraordinary game from both sides. We faced one of the best sides I faced in my career, probably the best," said Guardiola, who previously led Barcelona to two Champions League titles.
"It is one of the wins I am most proud of in my career.
"Today we won against an incredible team. To do that you have to do an incredible performance."
Sterling and Jesus struck in the first 13 minutes at the Etihad Stadium, at which point Premier League leaders City looked set for a victory comparable to Saturday's 7-2 demolition of Stoke City.
But the home side's commitment to building play up from the back gifted Napoli opportunities that the visitors eventually exploited.
Although Mertens squandered their first penalty in the first half, drilling his spot-kick at Ederson's legs, Diawara made no such mistake in the 73rd minute after Fernandinho was penalised for felling Faouzi Ghoulam.
However, when asked if City's tactics had invited pressure from Napoli, Guardiola said the solution was not less passing out from the back, but more.
"We have to do it more," said Guardiola, whose team are now three points clear of Shakhtar Donetsk at the top of Group F.
"You play long balls against that team, in two seconds they are attacking. In football, how fast the ball goes, how fast it comes back.
"You have to play better build-up, to contact with Kevin (De Bruyne) and (David) Silva. If you play long balls, (Kalidou) Koulibaly and (Raul) Albiol are stronger than our strikers. You spend 90 minutes running.
"Instead, they run after the ball. That is the point. There's a risk, but you score goals because after that you can create chances. You have to play as much as possible."
Guardiola dedicated the win to the two Catalan separatist leaders detained in Spain.
"This win is dedicated to them," Guardiola told reporters at the Etihad Stadium, in response to a question on the matter from a Spanish journalist.
"We have shown in Catalonia that citizenship is bigger than any ideas. We hope they will be released soon."
Tens of thousands of people took to the streets of Barcelona on Tuesday to protest against the Madrid-based National Court's ruling to keep Jordi Cuixart and Jordi Sanchez behind bars pending investigations into sedition charges.
It follows the bitterly contested Catalan independence referendum which was ruled illegal by Spain's Constitutional Court.
Guardiola, a Catalan, is one of the most famous figures associated with Barcelona Football Club, having won multiple trophies there as both player and coach.
Huge step forward
Sarri said his side's performance compared favourably with their last trip to a European heavyweight, when they lost 3-1 away to Real Madrid in the last 16 of last season's competition.
"Even after missing a penalty, we managed to come back fighting," said Sarri, whose side trail Shakhtar by three points.
"After this match, we must feel reassured and even more confident. I've seen a huge step forward compared to the match in Madrid last year.
"We were lucky enough to score first there. Here we had to come back into the game after a very difficult first 25 minutes. I think we've definitely taken a step forward."
With half an eye on Saturday's Serie A summit clash with Inter Milan, Sarri started with Allan and Jorginho on the bench.
Lorenzo Insigne hobbled off late on, but Sarri said he was hopeful about the winger's fitness.
"For Lorenzo I hope there's nothing wrong with him," Sarri said. "He had some muscular problems. It's probably just a bit of fatigue."
Madrid went on to win the Champions League after disposing of Napoli last season and Sarri was sufficiently impressed by City's display to suggest Guardiola's men could do the same.
"They're a great team. They have everything," he said. "They're very quick, tactically very savvy.
"If they stay in good physical and mental shape, as they are now, I believe they could really go all the way."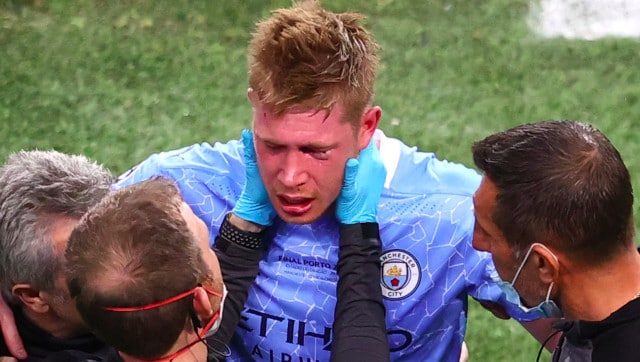 Sports
De Bruyne sustained the injuries in a collision with Chelsea defender Antonio Rudiger while playing for Manchester City in the Champions League final. De Bruyne had to be replaced in the 60th minute.
Sports
De Bruyne scored 10 goals in all competitions and had 18 assists as City also won the League Cup and reached their first Champions League final, losing against Chelsea.
Sports
The Manchester City playmaker suffered fractures to his nose and left eye socket after a collision with Chelsea's Antonio Rudiger in the Champions League final a week ago.