Champions League: Lionel Messi's heroics, Sergio Aguero's absence help Barcelona beat Manchester City
Here are some takeaways from Barcelona's 4-0 drubbing of Manchester City
As Barcelona faced Manchester City in the Champions League group stage at the Nou Camp on Wednesday night, there was more at stake than just three points. Pep Guardiola returned to his footballing home with a new team, two seasons after his formidable Bayern side was dismantled by a rampant Barcelona at the peak of their powers. His pre-game hug with Luis Enrique in the tunnel was a sweet sight for fans and neutrals alike, but the game itself was far from sweet for Guardiola and his men, who suffered a fate harsher than Bayern, and couldn't do much more than watch in awe as Lionel Messi scored a glorious hat-trick. Here are some takeaways from the action-packed but ultimately one-sided 4-0 result:
Playing out the back, at what cost?
Right from kick-off, the game looked like it was ripe for a goalkeeping error or two. Being possession oriented, both teams highly value playing out from the back, which in turn often puts the goalkeeper under tremendous pressure when he's being pressed by opposition attackers.
Marc-Andre ter Stegen wisely made two clearances early in the first half when he saw no viable options for a short pass. It was Bravo who looked the more comfortable goalkeeper, staying calm despite being hounded by Luis Suarez, and making two admirable saves off Suarez and Neymar's efforts on goal.
But the veteran Chilean got found out, when he unnecessarily rushed out of his box and sent a poorly controlled pass straight into Luis Suarez's feet. To worsen matters, he then foolishly handled the Uruguayan's chipped shot while still outside his box, only to receive a straight red card and cause irreparable damage to whatever hopes his team had of staying in the match. From that moment on, City looked rather uninspired in defence, making silly errors, which permitted Barcelona's deadly attacking trio to run amok.
The slight tweak in Barcelona's tactical philosophy under Luis Enrique, which encourages quick counterattacks and link up play among the front three worked in their favour, as they launched a flurry of attacks at the City defence, resulting in four goals. The severe change in City's complexion following Bravo's forced attempt at ball retention raises fresh questions regarding risk-taking for the sake of "cultured" football. Is playing beautiful passing football worth the risks it entails? City's performance on the night may indicate otherwise. For now, tiki-taka's worst enemy appears to be the system itself.
Missing Aguero, lonely de Bruyne
Guardiola perplexed everybody by dropping Sergio Aguero yet again. While his decision to rest the Argentine against Everton over the weekend might have been taken with one eye on the big Barcelona clash, Aguero's absence in the starting XI at the Nou Camp may have cost City the match. Irrespective of his fitness, it is undeniable that Aguero gives Manchester City a deadly attacking dimension.
In his absence, Kevin de Bruyne was tasked with occupying the No 9 spot. The Belgian cut a lonely figure and received inadequate attacking support. Being more of a provider than a goalscorer by nature, de Bruyne regularly created opportunities by running in behind the space between fullbacks and centre backs, where he could receive threaded through balls. However, he was repeatedly thwarted by the brilliance of ter Stegn and the inability of his teammates to get at the end of his crosses, something Aguero thrives on. By the time Guardiola brought his talismanic striker on, the game was already out of City's reach.
Injury crisis
Barcelona were fielding Javier Mascherano at right-back due to their own injury crisis, and had even more cause for concern after Jordi Alba and Gerard Pique had to be taken off in the first half with injuries. City, who were already missing captain Vincent Kompany and Bacary Sagna, then lost Pablo Zabaleta to a horrible injury in the second half.
The game was symptomatic of both sides' defensive woes, with every match adding more names to the casualties ward. Both sides will struggle to fill the holes left by these missing defenders, and we can expect to see plenty of formation changes and players being fielded out of position to fill these holes. Could this lead to a further decline in form for Manchester City, or a relapse for Barcelona, who have only recently recovered their form after a string of bad results?
Messi the difference
Lionel Messi was the difference for Barcelona, as he is in most matches he plays. Argentina and Barcelona both severely missed Messi's football during his injury absence, and Wednesday's performance perfectly summed up his significance to this Barcelona squad. His weaving runs and link up play dazzled City's defenders. A penetrating run and a stroke of luck gifted him his first goal.
But once Bravo got sent off, Messi truly made the advantage count— he drew City's players out of position, played incisive passes, and used his attacking vision to devastating effect. His low finish from outside the box beat Caballero and nestled in the back of the net.
He was unselfishly set up by Luis Suarez to complete his hat-trick. He then presented Neymar with the perfect opportunity to score by winning a penalty, but the Brazilian couldn't convert.
A game of errors
It was game full of errors, the worst of them all being the events leading to Bravo's sending off. Manchester City then had multiple lapses, often getting disorganised in defence, and eventually leading to Messi's third goal off a poor Gundogan back pass. Kolarov was then tricked into lunging into a poor tackle in his box, bringing down Messi and giving away a penalty.
The errors were by no means exclusive to Manchester City though. Barcelona's insistence on holding a high line during set pieces allowed City's players to get on the end of free-kicks, resulting in a great chance for John Stones, who scuffed it.
Jeremy Mathieu's lack of defensive awareness was also exploited by City, and his performance highlighted why he isn't the Blaugrana's first choice centre-back. He made poor tackles, leading to two successive yellows and nullifying the numerical advantage his team enjoyed.
Despite having a wonderful game overall as a part of the lethal MSN trio, Neymar too fell prey, taking a tame penalty which was easily saved by Caballero. He made up for it soon after, however, finishing low into the bottom right corner after a phenomenal run into the box.
Sports
Barca sit ninth in the table ahead of a crunch week that includes league games against Valencia on Sunday and Real Madrid next weekend, with a Champions League match at home to Dynamo Kiev in between.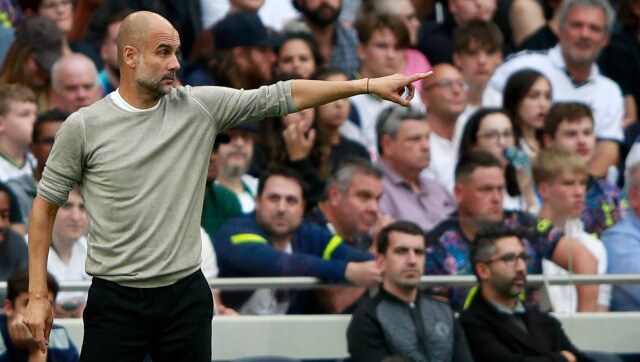 Sports
Bruce, who left his job by "mutual consent" two weeks after a Saudi-led takeover, admitted he could walk away from the game, such was the level of vitriol directed at him and his family.