Champions League: Leicester City's triumph was an assault on football's dogmas and cliches
With their win, Leicester City subverted cliches like the importance of coaches, tactical stalemates, and of simple fairytales. Leicester's win was a thrilling sequel to their 2016 feat.
The anthology of the Champions League in the group stages is simple: Arsenal-Ludogorets 6-0, FC Barcelona-Celtic FC 7-0, Bayern Munich-PSV Eindhoven 4-1, Real Madrid-Legia Warsaw 5-1. It's the summary of the elite of European club football strolling, with much aplomb and a mundane finality, towards the round of sixteen.
In the second round another slate of spangled matches was to follow, and yet the familiarity with Bayern Munich vs Arsenal, or even Barcelona vs Paris Saint-Germain, novel rivalries with almost a derby-like sentiment and a rich narrative texture, began to breed contempt. Here was European football's very own Bullingdon Club, a select society feasting on riches and humming to Joseph Haydn's UEFA-approved hymn, with the rest of the continent locked out, desperately jostling at the tails of the big boys.
This round of sixteen was going to suffer from a pervasive dullness, a repetitive numbing of the senses. The feel was — too much of a good a thing, a cautionary tale of overexposure, but all of those assumptions were pierced, with a big needle.
First, Bayern Munich pummeled Arsenal 10-2, as the London club, for too long cocooned in a parallel 'Wengerian' universe, entered a realm of perdition. They became a self-parody. Then, Barcelona mounted an all-encompassing assault of D-Day proportions against PSG — apocalyptic, and with the desired outcome, even if so implausible with a few minutes remaining. There was Neymar Junior. And again Neymar, and then Sergio Roberto, all in the space of seven minutes in an ending of biblical proportions.
This was the spark the Champions League needed. But perhaps, for all the superlative football from Europe's established powerhouses, Leicester City were the greatest Shakespearean story — forgive the pun, just this once — of the round. On a hysterical night in north England their 2-0 second leg victory against Sevilla was a reminder of Leicester's phantasmagoric existence. In the last three seasons, everything about the club seems a mirage.
Against the Spanish, Leicester were Homeric. They went back to basics, with a solid 4-4-2 formation, last season's success formula, and rekindled their epic qualities in a belated, if somewhat ironic, laudation of Claudio Ranieri, the fallen manager, who proffered the blueprint for surreal glory to a group of upstart players.
An electric Jamie Vardy epitomised a rejuvenated, revitalised Leicester. In a peculiar manner, he weighed on Sevilla's defence. In all, the striker completed just seven passes in the 90 minutes, but he displayed many fine virtues that no stat can encompass — here was an adroit number nine, driving all of Leicester's forward propulsion, harassing and stretching the entire Sevilla back line. Shrewd and streetwise, he pestered Samir Nasri, who had played with so much authority, into an act of footballing debauchery.
Vardy also pressed high, a testimony to the era of the P-word — not possession, not positioning, but pressing. In the first decade of the Champions League, defensive football prevailed, the next ten years possession was in vogue, but now, as the Champions League nears its silver jubilee, pressing is the buzzword. Leverkusen-Atletico Madrid, Monaco-Manchester City and PSG-Barcelona all had one team pushing up to disrupt the flow of the opposition's play. Leicester wielded a similar game plan against Sevilla, who had very much squandered their chances of progress at home, much to the dismay of their high-intensity coach Jorge Sampaoli. The Chilean brought on Mariano and Stefan Jovetic at the half, but too little avail.
The 3-2 aggregate scoreline was a fronted assault against all footballing dogmas and a myriad of cliches that have long permeated the game — of the importance of coaches, of tactical stalemates, and of simple fairytales. Leicester subverted all those notions, with a thrilling sequel to their 2016 feat.
They are interlopers in the last eight of the Champions League, together with AS Monaco. Back in England Tottenham Hotspur, Arsenal and Manchester City are left to ponder why another European campaign was a self-fulfilling prophecy of tragedy. Leicester's journey in Europe isn't scripted and, as England's best club, they will fancy their chances against one of Borussia Dortmund, Barcelona, Real, Juventus, Atletico Madrid or Monaco.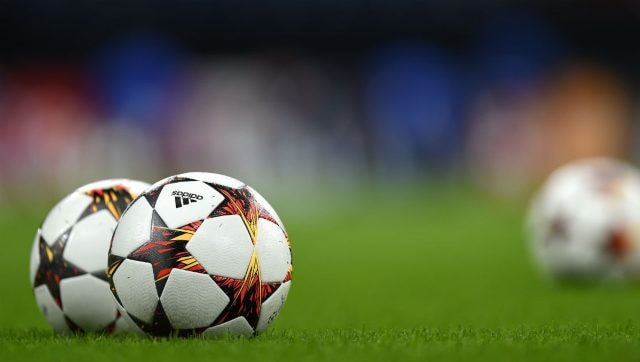 Sports
The Spaniard leaves with the club 14th in the Premier League table having collected just seven points from their opening seven games.
Sports
Luciano Spalletti's Napoli have a perfect 21 points from their first seven league matches thanks to their come-from-behind victory at the Stadio Artemio Franchi in Florence, which came thanks to strikes from Hirving Lozano and Amir Rrahmani either side of half-time.
Sports
Argentina star Messi smacked the crossbar with a free-kick in the first half at Roazhon Park before Gaetan Laborde volleyed Rennes ahead just before the break with his league-leading sixth goal.