Champions League: Islamist 'terror link' probed after bomb attack on Borussia Dortmund's team bus
German investigators on Wednesday detained an Islamist suspect over three explosions that rocked Borussia Dortmund's team bus, prosecutors said, confirming that the probe was examining a possible 'terrorist link'.
Dortmund: German investigators on Wednesday detained an Islamist suspect over three explosions that rocked Borussia Dortmund's team bus, prosecutors said, confirming that the probe was examining a possible "terrorist link".
The roadside blasts left Dortmund's Spanish international Marc Bartra and a policeman injured, with the bombs "containing metal pieces" detonating minutes after the team bus set off to a planned Champions League game against Monaco on Tuesday night.
The blast had a radius of more than 100 metres (yards), federal prosecutors said, adding it was lucky the toll was not higher.
The match was postponed until Wednesday as security was ratcheted up around Dortmund and in Munich where Bayern Munich will take on Real Madrid.
But a defiant Dortmund team vowed it won't "give in to terror", with players returning to the pitch for training.
Extra forces were deployed around team hotels and their buses will take designated safe routes to the stadiums.
Both Dortmund and Monaco fans were also out in force in downtown Dortmund, underlining their support for the players.
Federal prosecutor's office spokeswoman Frauke Koehler said the probe was examining a possible "terrorist link", after three identical letters were found at the scene.
"An Islamist background appears to be possible," she said, noting the letter demanded that Germany withdraw its deployment of Tornado reconnaissance missions in the anti-IS international coalition and close the US air base in the western German town of Ramstein.
"Two suspects from the Islamist spectrum have become the focus of our investigation. Both of their apartments were searched, and one of the two has been detained," she added.
Local media identified the suspects as a 25-year-old Iraqi and a 28-year-old German.
At least one of the two could have been close to the scene at the time of the explosion, they said, quoting unnamed security sources who nevertheless urged caution on linking the individuals to the assault.
'Won't give in to terror'
Chancellor Angela Merkel said she was "horrified" by the "repugnant act", which Dortmund city's police chief Gregor Lange described as a "targeted attack" against the team, also known as BVB.
Germany has been on high alert since a series of jihadist attacks last year, including a Christmas market assault in Berlin.
Tuesday's explosives detonated minutes after the Dortmund team bus pulled away from the squad's hotel.
Bartra underwent surgery on a broken wrist after he was hit by flying glass, Dortmund president Reinhard Rauball said.
A policeman, who was on a motorcycle escorting the team bus, suffered trauma from the noise of the blasts, which shattered the bus windows.
"The bus turned on to the main road, when there was a huge noise -- a big explosion," Dortmund's Swiss goalkeeper Roman Burki told Swiss media.
"After the bang, we all crouched down in the bus. We did not know if more would come." Some players hurled themselves to the ground, he said.
Underlining the severity of the blast, prosecutors said a piece of metal shrapnel was lodged in the head-rest of a bus seat.
As the squad geared up for kick-off at 6:45 pm (1645 GMT), Dortmund's chief executive Hans-Joachim Watze vowed that his side "will play not only for ourselves today. We will play for everyone... we want to show that terror and hate can never determine our actions".
Monaco's vice-president Vadim Vasilyev said "football must not be taken hostage", and pledged that the quarter-final would go ahead.
In a show of solidarity, German Interior Minister Thomas de Maiziere will also attend the match.
'A beautiful meeting'
The announcement that Tuesday's game was postponed was only made to the stadium packed with stunned fans, including families with young children, about 15 minutes before kick-off.
Merkel praised supporters for their "calm" behaviour and the host side for their hospitality, after some Dortmund fans took in stranded Monaco supporters for the night.
Boris Marchi, 26, who was wearing both the red and yellow scarf of his club Monaco as well as the yellow and black of Dortmund, said he was offered lodgings by a German supporter.
"It was really a beautiful moment, and meeting," he told AFP, adding that he was meeting his benefactor for a drink before kick-off.
Bild put out a full-page advert in Dortmund's yellow and its BVB 09 logo, with the message: "You'll never walk alone".
Further south in Munich, where the Bundesliga champions were facing Real Madrid, fans were also defiant.
"They try to scare us and get us to stop going to the stadium, but by going to the match, we show that we're not afraid and that they can't push us around," said Melina Peckruhl, who was heading to the match with her father.
Find latest and upcoming tech gadgets online on Tech2 Gadgets. Get technology news, gadgets reviews & ratings. Popular gadgets including laptop, tablet and mobile specifications, features, prices, comparison.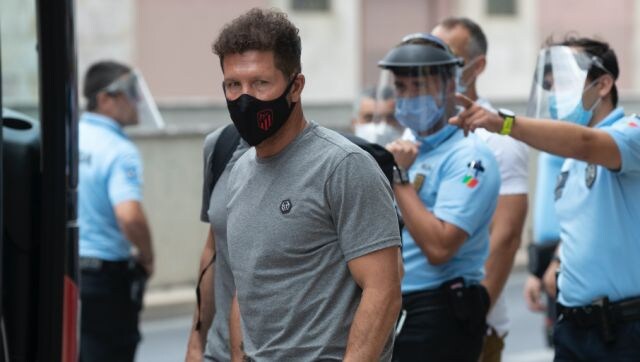 Sports
Diego Simeone and the rest of the team were tested on Friday. Atletico Madrid did not say if anyone else was infected.
Sports
Rakitic, who did not elaborate on the reasons for the decision, made his debut for Croatia in 2007.
Sports
Rankings after the November international break will decide seedings when FIFA draws the European qualifying groups for the 2022 World Cup in early December.