Champions League draw: Manchester City could meet Juventus in quarter-final in Lisbon
Real Madrid trail Manchester City in their unfinished round-of-16 tie of Champions League, while Juventus went down 1-0 against Lyon in the first leg.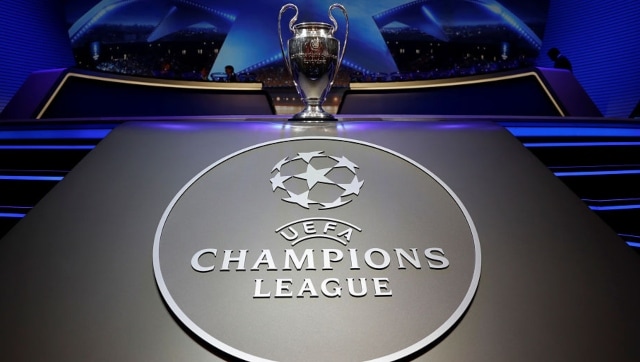 Bayern Munich will face Barcelona or Napoli in the quarter-finals of the Champions League, if they can defend their three goal lead against Chelsea in their last 16 second leg game.
The Champions League will resume in August after being halted in March due to the COVID-19 pandemic with a 'Final Eight' tournament being held in Lisbon after the remaining second-leg games from the last 16 ties are decided.
Two quarter-finals were set by the draw with Germany's RB Leipzig facing Atletico Madrid and Italian club Atalanta up against Paris St Germain.
The rest of the draw depends on the outcome of the second-leg ties in the last 16.
Barca drew 1-1 at Napoli in the first leg and will host the Serie A side at the Nou Camp on 7 or 8 August.
Bayern Munich are strong favourites to make the last eight having beaten Chelsea 3-0 at Stamford Bridge in the first leg of their tie.
Real Madrid or Manchester City will face Olympique Lyonnais or Juventus.
City lead Real 2-1 heading into the return leg at the Etihad Stadium in Manchester while Lyon defend a one goal lead when they travel to face Juve in Turin.
The path to the semi-finals opens up the possibility of Pep Guardiola facing his old club Barcelona if both teams progress to the last four.
QF 1: Real Madrid or Manchester City v Olympique Lyonnais or Juventus
QF 2: RB Leipzig v Atletico Madrid
QF 3: Napoli or Barcelona v Chelsea or Bayern Munich
QF 4: Atalanta v Paris Saint Germain
Semi-Final draw (Matches on 18-19 August)
SF 1: Winner of QF 1 v Winner of QF 3
SF 2: Winner of QF 2 v Winner of QF 4
Football
Haaland scored twice to lead Man City to a 2-0 win at West Ham, netting from the penalty spot in the first half then adding a clinical finish in the second.
Football
Real Madrid are determined not to be knocked off their perch at the summit of European football this season as they prepare to start their campaign against Eintracht Frankfurt in the UEFA Super Cup
Football
Carlo Ancelotti became the first ever coach to win all five of Europe's top leagues when he claimed the Spanish title last season, and he capped a remarkable campaign by winning his second Champions League for the club.