Champions League: Cristiano Ronaldo's wit, footballing intelligence were on display during Old Trafford return
The random bursts of pace, the feigning motions, the audacious dribbles, the exuberant shot only appeared occasionally — Cristiano Ronaldo's charisma never over-indulgent, only appropriate.
He came. He saw. He conquered. Paulo Dybala that is, not Cristiano Ronaldo. While the conversation revolved around Juventus' new summer recruit and his return trip to the Theatre of Dreams, it was the Argentine forward who commanded the game with yet another scintillating performance. As for the 33-year-old Portuguese international, his return to his former home may have been emotionally charged, but the world witnessed yet another instance of the composed, calculated Ronaldo one has been accustomed to in the past few years.
That the Manchester United fans would revel in nostalgia at Ronaldo's return was a foregone conclusion, but the endearing manner in which the Stretford End broke out into 'Viva Ronaldo' chants as their former star remained the last footballer on the pitch following a sapping ninety minutes was as magical as it was tragic for the Old Trafford faithful — a painful reminder of what life was on that corner of Manchester.
"The best team lost today," Jose Mourinho had famously said following Real Madrid's 2-1 victory over the English club back in 2013, during Ronaldo's previous trip to Old Trafford in Sir Alex Ferguson's final UEFA Champions League match — a game in which a still in-his-prime Ronaldo had overcome his initial jitters to score the match-winning goal. A lot of water has flown under the bridge since then, with Mourinho falling out with Ronaldo at Madrid and even hopping clubs in England to find himself at the hot seat at the Old Trafford.
On Tuesday, when arguably United's finest ever No 7 took the pitch in Juventus shirt, things couldn't have been any more different for his former club. While Max Allegri's men were a well-programmed juggernaut with intricate pieces performing in total synchronisation, Manchester United were merely a shadow of their former self, a pitiful portrayal of their actual potential. Blunt in attack, uninspiring in midfield and static in defense – Jose Mourinho's side remained mere bystanders as Juventus ran riot. Except for a brief period during the second half when Paul Pogba's distant shot hit the post and rebounded off a fortunate Wojciech Szczesny to go out for a corner, Manchester United never actually threatened the Pole's clean sheet.
At as early as the fourth minute, the Red Devils fans would have hoped for the clock to turn back when Ronaldo drew a foul off Ashley Young with a clever stepover. Minutes later, he would draw another foul from the perplexed Chris Smalling who looked like he was operating at an amateur level in the EA FIFA video games whose covers Ronaldo has often adorned in his career. The five-time Ballon D'Or winner, in this latest phase of his glorious career, is no longer the dynamo charging at opposition lines, but instead the clever architect of Juventus' complex build-up plays which ends with Dybala sniffing at goalmouth.
Dybala's goal at the 18th minute came through such an intervention as Ronaldo charged down the right flank to set up his younger teammate with a peach of a cross — a threat Smalling failed to deal with and Juventus' most prized possession lapped up with both hands. For those craving for a dollop of the 2007-esque Cristiano, the Portuguese man-machine did serve up a few delicious moments — one in the first half when his bullet freekick was unconvincingly punched away by David de Gea and one in the second half when Manchester United's custodian came up with a superhuman save to deny Ronaldo's pile-driving shot.
Above all, it was Ronaldo's wit and footballing intelligence on display – his performance thoroughly measured in a stark contrast to the Ronaldo who scaled dizzying heights in a Manchester United shirt. The random bursts of pace, the feigning motions, the audacious dribbles, the exuberant shot only appeared occasionally — his charisma never over-indulgent, only appropriate.
The fact that this Manchester United team really had no answer for Juventus' efficiency speaks volumes about how far the club has descended from the one which Ronaldo left for a record transfer fee or even the one which he knocked out of the same competition back in 2013. An intriguing assimilation of well-paid, renowned individuals at the disposal of a brilliant tactician, yet United give the impression of a team stuck in its own cerebral curtailments — unsure of their abilities.
Mourinho applauded the "quality and stability" in Juventus' squad and heralded their sublime style of play following the game, failing to realise altogether that it is Massimiliano Allegri's capacity to draw the best out of them in his preferred tactical system and not merely any divine intervention which has allowed Juventus to become the force of nature it is in European footballing landscape today.
Ronaldo capped off his night with a selfie with a pitch-invader, just like he had started the evening with a different intruder — his smile not only melting the hearts of his fans, but lighting up the entire stadium who had just been handed a soul-crushing defeat a few minutes back. It could have very well been Cristiano Ronaldo's ultimate swansong at the club which shaped him into a global phenomenon and laid the foundations for him to be the best on the planet — the club which can now only dream of nurturing such marvellous attacking talent.
Football
PSG defeated Riyadh XI 5-4 in a friendly that saw Cristiano Ronaldo and Lionel Messi reunited on the field.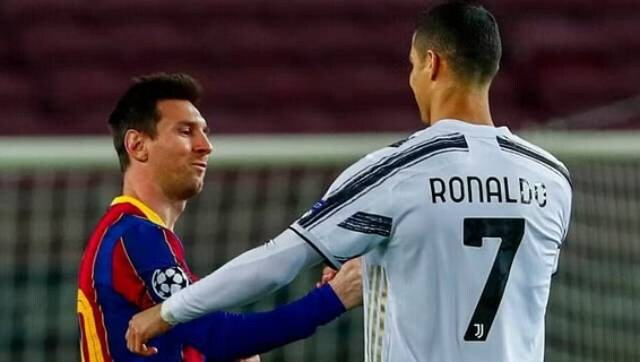 Football
Lionel Messi's PSG will take on a select side made up of players from Ronaldo's new club Al Nassr and their Saudi rivals Al Hilal on 19 January.
Football
In the viral footage, Ronaldo can be seen walking off the field and making his way into the tunnel. Fans cheering 'Messi… Messi' can be heard from the nearby galleries.