Champions League: Chelsea showcase European pedigree against Barcelona but fail to take control of fate
For now, Barcelona hold all the cards for qualification to quarter-finals, but if any team can wrest control away from the four-time UEFA Champions League winners, it is a certain English side with an Italian at helm.
It's advantage Barcelona in the Round of 16 tie of the UEFA Champions League as the first leg at Stamford Bridge finished in a 1-1 draw on a night when Chelsea once again showcased their European pedigree, but failed to take control of their fate, as has been the case quite a few times this season.
A 75th minute goal from Lionel Messi, his first against Chelsea in over 700 minutes across nine games, swung the tie in Barcelona's favour after Antonio Conte's side had all but executed a "perfect" gameplan. A wayward pass from Andreas Christensen in front of his own penalty area eluded both Cesc Fabregas and a lunging Cesar Azpilicueta to allow Andres Iniesta straight through on goal, but Barcelona's skipper pulled it back for Messi to score a comfortable tap-in. The 21-year-old Dane at the heart of Chelsea's defence has been impeccable all season, his rare error coming at an inopportune moment when even the otherwise pristine Azpilicueta erred in his judgement of the situation.
As a jubilant Barcelona celebrated their stroke of luck, Conte and the rest of the Stamford Bridge looked on in stunned disbelief for the visitors had been uncomfortable all night — their attack rendered toothless in spite of lengthy bouts of possession and their defence often crumbling under Chelsea's systematic pressing high up the pitch.
Setting up in a 3-4-3 formation with Eden Hazard as the false nine in a system which had not paid dividends in any games until Tuesday night, Chelsea took advantage of Barcelona's narrow approach — as Willian and Pedro pressed tirelessly, the wingbacks Marcos Alonso and Victor Moses found themselves in space amidst the Catalan club's midfield channels.
Although the absence of a genuine centre-forward meant Hazard was often isolated, which hindered Chelsea's ball progression through the middle of the park, Barcelona rarely looked the dominant side except for a fifteen-minute spell in the first half. Even with the Blues pegged back deep into their own defensive third and failing to retain the ball, the La Liga leaders were ineffective in creating substantial chances or landing a shot on target, their only real chance of the first half coming when Paulinho fluffed a header wide from Messi's sublime lob behind Chelsea's defence.
The hosts, on the contrary, pulled all the stops whenever they seized possession of the ball with Willian, in particular, troubling Barcelona with his direct runs. The Brazilian midfielder, who often draws the ire of Chelsea fans because of his inconsistency, was in a rapturous mood and could have had a hat-trick to his name, if not for the woodwork.
If his blistering shots from twenty-yards out which were denied by either goalpost worried Barcelona, his second-half goal was a true testament to his quality. Not only did Willian rise up to the occasion, so did the likes of Alonso and Fabregas. The former Arsenal and Barcelona playmaker was instrumental in most of Chelsea's forward transitions — his partnership with N'Golo Kante quelling the trifecta of Iniesta, Sergio Busquets and Ivan Rakitic into a submissive mode for better parts of the game.
As Luis Suarez had an uncharacteristic quiet night, it was all down to the Argentine magician to change the course of the game, but every time Messi dribbled through a string of surrounding blue shirts, a Chelsea player stepped up to thwart his advances through sheer defensive guile.
"It was such a shame really. I thought we were very good and went with the game plan and we executed it really, really well. We go home thinking we completed a good work, we competed very well (and) we should be proud of that but at the same time we go home sad. It was an unfair result," a disappointed Fabregas acknowledged after the game, also asserting how Chelsea must now attack extensively at Camp Nou come 14 March, for otherwise Conte's men will be on a 'suicide mission'.
Barcelona haven't showcased their brutal attacking intent away from home in Europe this season, but at Camp Nou, Ernesto Valverde's side always bring out a different element to their game — breaking the shackles with effortless ease and punishing opponents for every minute error.
"It won't be easy, we must be realistic because we are talking about Barcelona, but we can try to do something incredible at Nou Camp," Conte told reporters after the match and the Chelsea manager is right on the money — it won't be easy by any means, but as the Chelsea teams of previous years have proved time and again, touting them as 'the underdogs' only manages to bring out the best of their collective abilities.
For now, Barcelona hold all the cards for qualification to quarter-finals, but if any team can wrest control away from the four-time UEFA Champions League winners, it is a certain English side with an Italian at helm.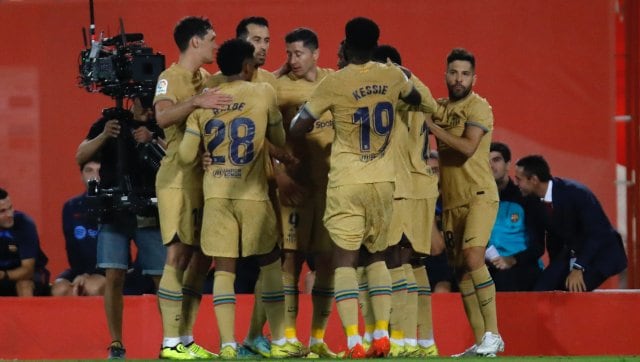 Football
Barcelona visit Inter Milan knowing it will be a crucial match to maintain a good chance of advancing in a Champions League group which has been dominated by Bayern Munich.
Football
Already without the services of Romelu Lukaku, Inter Milan may have to do without Argentinian forward Lautaro Martinez in the Tuesday fixture at the San Siro
Football
Lionel Messi said that his team cannot wait for the World Cup to start but the 2022 event in Qatar will surely be his last and a lot of things are expected to change.