Champions League: Barcelona's historic comeback a result of their imperious demeanour
Barcelona have had many nights to remember in the Champions League. While lot of those comprise of their illustrious history, this one against PSG was the one that defined what they are truly made up of.
"If they can score four goals against us, we can score six. We have nothing to lose and a lot to win."
What seemed nothing more than bluster from Barcelona manager Luis Enrique ahead of their Champions League second leg clash against Paris Saint-Germain, has become a golden script, one that will be revisited time and again as one remembers one of the greatest nights in Champions League history.
When Barcelona defeated PSG 6-1 on a dramatic night at the Cam Nou on Wednesday, while overturning a 0-4 deficit from the 1st leg of the round of 16 clash, the very fabric of European football was altered forever. Not only did the Catalans become the first ever side to overcome such a big deficit, they set a new precedent for the way knockout stage football will be played in the Champions League henceforth.
But when you sit back and allow all that happened  on the night to sink in, you wonder if anyone ever match what Barcelona achieved at Camp Nou. Moreover, would anyone have the audacity to even fathom that? Will we have another manager coming out and saying what Enrique said despite being 4-0 down from the 1st leg? Would anyone dare?
Now when you look back carefully at those words from the Barcelona manager, you could perhaps analyse or comprehend how events at the Cam Nou panned out the way they did. Enrique wasn't speaking to make headlines. He did it neither to pacify the fans, nor to upset the opponents. He was simply saying what he was feeling. The way his players played on the pitch is proof of that.
The Spaniard believed that it was within their means to go out and win 6-1 against a team that thrashed them 4-0 just three weeks ago. That's not just being self-confident, but self-righteous to an extent.
That's how Barcelona took to the field on Wednesday night, and their fans backed their supercilious demeanour by creating an electric atmosphere. That self-belief, that feeling of superiority ran through the place, and the visiting PSG side fell for  it, very easily and very quickly.
They were mere spectators when Barcelona bundled home the first goal. The ball was allowed to bounce, the tiniest of the Barcelona players won a header, and the Catalans were on their way. The tone of the game was set, PSG were locked in their own half as Barcelona brought out their European pedigree.
A 2-0 scoreline at half-time hardly flattered the hosts, who had been systematically and patiently opened up the Parisians twice. Barcelona had a much clearer view of their target then, while PSG were nervous onlookers.
Coach Unai Emery perhaps thought back to PSG's 4-0 triumph over the Catalans in the dressing room at half time and threw their hero on that night, Angel Di Maria, on the pitch. But by then, their lead was reduced to mere bones as Lionel Messi scored a penalty to put the hosts 3-0 up on the night.
It was looking all uphill for PSG when capitalising on a brain fade from Barcelona, they scored an all-important away goal through Edinson Cavani that completely changed the complexion of the tie. The goal sent the Camp Nou into pindrop silence. The zest in the atmosphere vanished, and a feeling of mourning crept in. Barcelona's Champions League dreams were dying, and it needed some inspiration.
Cavani's goal dented the home side's self-belief a bit, but couldn't end Barcelona's desire, nor put wraps on their notion that they belonged to the latter stages of the Champions League.
It took a flash of brilliance from Neymar, where an extraordinary free-kick in the 87th minute opened up a teasing possibility for the hosts. Hope transformed into conviction once again when Luis Suarez was brought down in the box and Neymar converted the penalty to make it 5-1 on the night. The board showing five minutes of added time, just raised Barcelona's hopes, and sent PSG shivering.
The champion of yesteryear in Barcelona rose, propelled with unwavering will to get what they felt was rightfully theirs, and in the shape of Sergi Roberto came the hero deep into stoppage time. He ensured his outstretched leg made a telling connection to a beautiful Neymar pass, and Camp Nou was sent into delirium.
It is important to note that it all started from a free-kick earned by their goalkeeper Ter Stegen who was fouled in PSG's half. The Parisians couldn't even tackle an opponent goalkeeper dribbling in his own half. Such was their despair. Barcelona, on the other hand, had reached the peak of their powers.
After the 85th minute:

Barcelona had 6 shots.
Barcelona scored 3 goals.
PSG completed 4 passes, 3 from kick off situations.

Wow. pic.twitter.com/UN9f0Co2V8

— Squawka Football (@Squawka) March 8, 2017
The above numbers tell all the story. PSG weren't just defeated by Barcelona's talent, they lost to their astounding aplomb. Everton manager Ronald Koeman hit the nail on the head with tweet.
Congratulations to @FCBarcelona! They punished the fear of #Paris.

— Ronald Koeman (@RonaldKoeman) March 8, 2017
PSG developed an inferiority complex, that stemmed from Barcelona's sanctimonious approach in the game. It forced them to believe they were inferior and eventually made them play under their abilities.
PSG couldn't stand up to Barcelona's thrust, barring few minutes in the second half, and the fact that Barcelona's defenders spent more time in PSG's half than their own, goes a long way in explaining the scoreline that we finished the game with.
HEATMAP: Barcelona's back-three spent more time in PSG's half their own tonight. In Barcelona's half (49%) In PSG's half (51%) pic.twitter.com/hd4mf9S0oW — Squawka Football (@Squawka) March 8, 2017
Barcelona have had many nights to remember in the Champions League. While a lot of those comprise of their illustrious history, this one against PSG was the one that defined what they are truly made of.
Sports
The last time Barcelona failed to reach the knock-out stage of the Champions League was in 2003.
Sports
After losing 3-0 to both Bayern Munich and Benfica, Barca sit bottom of Group E with two games against Kiev up next, the first at Camp Nou on Wednesday.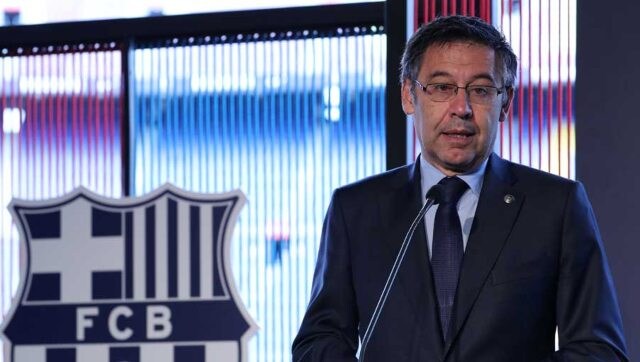 Sports
Josep Bartomeu said that most of the club's financial woes had been caused by the impact of the pandemic, which closed down Camp Nou for more than a year and reduced other sources of revenue.