Champions League: Barcelona's fairytale victory over PSG tainted by 'dark arts' and poor refereeing
If the awarding of Barcelona's first penalty was, at best, dubious, the second penalty, the lubricant for the Sergio Roberto induced-delirium, subverted Barcelona's fairytale.
For all the pre-match apprehension — Luis Enrique's resignation, Andres Iniesta's demise, Barcelona's feeble back line — Barcelona showed against Paris Saint-Germain that football was a game to be played and enjoyed. They demonstrated joy, fantasy, boldness, togetherness, sophistication and flair in their play. Once more, the Catalans were masters of the beautiful game, and yet, amid all the hullabaloo and adulation, with superlatives of celestial football, the very argument of the greatest comeback was invalid in a match tainted by poor refereeing.
Notwithstanding the global laudation for Barcelona — elating and exhilarating, or simply corybantic — the protagonist in this Champions League's round of sixteen was not Neymar, the brilliant Brazilian and princeling in the shadow of Lionel Messi, but an internet entrepreneur from Oberasbach, Germany, because referee Deniz Aytekin tweaked, consciously or unconsciously, the outcome of a match that will, in the annals of footballing history, serve as a reminder of how football should be played. And how it should not be played.
In theory, Barcelona's 4-0 thrashing in Paris had sucked the life out of the return leg, with Barcelona, a global institution of footballing delight, one built on the precise science of triangulation, and, in the Guardiola era, on possession, pressing and positioning, needing to complete a rearguard action of impossible proportions.
What they offered was a brutal assessment of PSG's weaknesses and a lofty version of their own game. Arguably, Paris's defending was suicidal. Unai Emery, ever-looking the Basque dracula, had his defensive line so deep that it reeked of folly in trying to thwart a potent forward line. Was PSG's coach really intent on applying a trusted and tested method of failure — sit back and absorb the pressure from Barcelona to ultimately yield?
PSG lubricated Barcelona's historic feat, but so did the referee. First, in the 50th minute, Thomas Meunier stumbled, and stumbled, his body position all wrong, and Neymar, with his street-wise, ran into the Belgian full-back. Then, in injury time, with PSG's advantage shrinking, Luis Suarez's semi-schwalbe — drawing contact, but not eliciting a conclusive fault — provided Barcelona with another penalty. The decisions were peculiar and offered Barcelona, who need but a spark to play transcendent football, a path to success.
Meunier was guilty of falling over in close proximity to Neymar, but not of a penalty offense. If the awarding of Barcelona's first penalty was, at best, dubious, the second penalty, the lubricant for the Sergio Roberto induced-delirium, subverted Barcelona's fairytale. It was a disheartening sight, but a recurrent one, for Suarez to tumble, with the grace of a ballerina and the smart of an urchin, to force a penalty. This was the act of a conman, arguably a brilliant one, but ill-befitting the aura and footballing excellence of the Uruguayan striker. With much enthusiasm, he threw himself downwards, excelling in the devilish art of simulation, one that Barcelona and, in particular the MSN-trident, have perfected over the years, somehow, and strangely, tolerated, time and again, by UEFA's referees. Think Chelsea a couple of seasons ago at Stamford Bridge.
This was all a bit Shakespearean and questioned, amid all the confetti celebrations, the clinking of crystal champagne glasses and a global 'foot-gasm,' the morality of Barcelona's victory.  But in a context of the greatest comeback this argument of the dark arts was marginalised — 'the controversy' was just a small plotline in the story of brand Barcelona rolling on and into the last eight of the Champions League.
Is it unpalatable then for both observers and referees to apply regular parameters to Barcelona, and in eschewing that revealing a favoritism that is in compatible with their status as guardians of the truth? In those last minutes Barcelona strangulated PSG with rampant, attacking football, but they also sought out a penalty. They poked and probed for it, got it and then delivered the coup de grace.
Suarez's dive was an attack on the values of the beautiful game and symptomatic of a culture that Barcelona have cultivated for too long — assaulting the referee in nefarious ways, almost mocking him. For all their brilliance and compelling football revolutions, Barcelona's victories shouldn't transpire in a contentious way. Neither should they be tolerated.
Sports
Goals from Rodrigo De Paul and Lautaro Martinez rounded off a successful night for Lionel Scaloni's team in Buenos Aires as they maintained their unbeaten start to the qualification campaign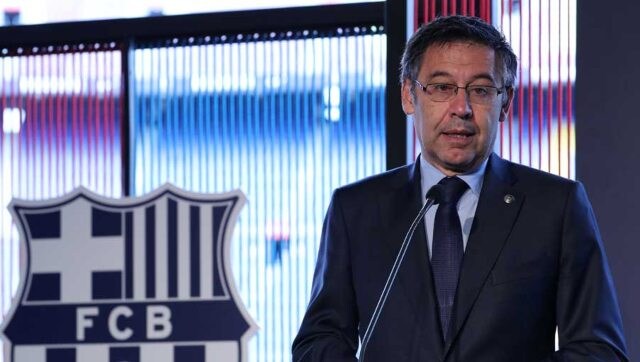 Sports
Josep Bartomeu said that most of the club's financial woes had been caused by the impact of the pandemic, which closed down Camp Nou for more than a year and reduced other sources of revenue.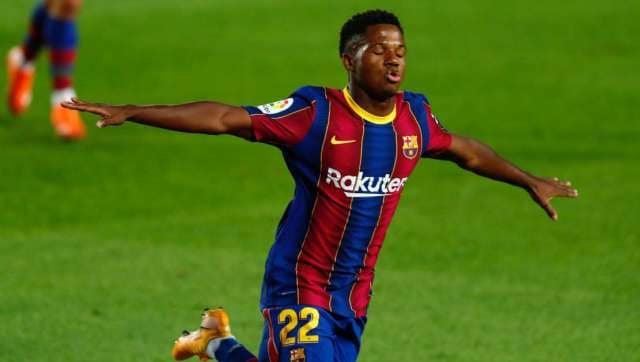 Sports
Fati, who has recently returned after almost a year out with a knee injury, will have a release clause in his new deal set at one billion euros.